Yes, it is furniture!!!
I wanted it, I contemplated and I finally got it. No regrets and it was so worth every penny. I use this for lying back and watching TV, Cuddling on, To elevate my hurting legs after 12 hour shifts and yes I even use it for sex!!
Published:
Pros:
Many, Many Uses
Easy to clean
Soft cover
Cons:
Big to store
The Ramp......
Well this is a piece of furniture. I finally own one! This is great for use as a positioner. As we get older (cough, cough) our bodies just cant do what we used to be able to do. You know the leg cramps and ooh my hip and back. Well this baby can help you to have a much more enjoyable evening. Let's be real the pillow just don't cut it. The ladies can use this to help prop their hips up to help achieve g-spot stimulation, oral sex may be better for the giver because it can help reduce neck strain. It has many uses you can use it in a multitude of sexual positions but you can also use this for laying on watching TV, when you need to elevate your swollen legs after running or a long day at work. I really wish that we would have owned this after my husband's open heart surgery. So if you are recovering this prop is great!! It works for sex while pregnant when you can't ever get comfortable. You can use this for yoga and exersize purposes. This is a very sturdy piece of furniture that with proper care will last for years.
Size/Shape/Material
All of the liberator products come with a logo stitched on it.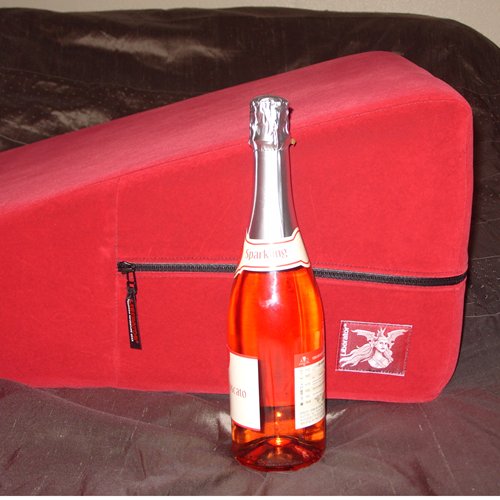 The Ramp is 33 inches long, along the bottom edge, the angle is 34 1/2 inches across, and it sits 11 inches high.The ramp has a 90 Degree angle. The basic shape of the Ramp is a rectangular box cut in half diagonally. The Ramp has a waterproof liner that sits over high density foam. The foam maintains it's shape despite weight and pressure on it.(It can handle my husband and myself for an extended period of time!)
Over the top of a waterproof liner sits your colored micro fiber cover. It comes in red, blue, purple, black and leopard. I have the Red of course. The micro fiber cover is very plush feeling, it's soft and has lots of drag on it so it doesn't slip on the sheets, comforter, or the carpet. The waterproof liner protects the foam from your juices and lube. You can remove both the micro fiber cover and the waterproof liner to wash them. They are easily access able by heavy duty zippers. The microfiber is very plush and non irritating to my skin despite long periods of usage and I didn't notice any noise or sweating due to the waterproof liner.
As for washing, wash in cool delicate setting and don't use heat to dry. I have also just used a wet wash rag to wipe up some stuff on it and it seems to repel stuff easily.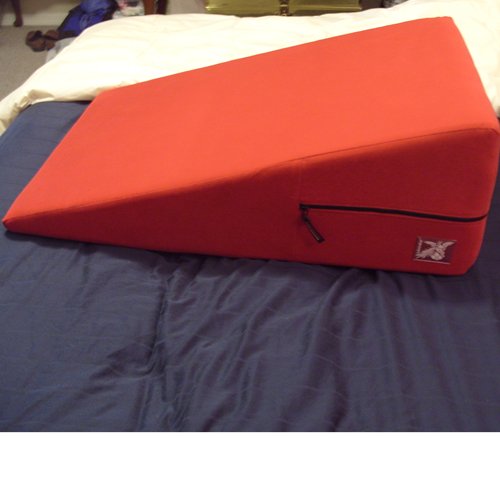 It does tend to collect lint so a lint roller works great on it. Storage does become an issue due to its size. Mine has currently been living propped up on floor resting on the end of the bed. This way we have easy access to it when we need it. The ramp has been used every day for more than a month now so we keep it handy. It does have a storage bag but I have only had it in the bag once.
Follow-up commentary
4 months after original review
Yes it is big and it sits on my hope chest in the corner. It hits the bed and the floor quite often. I will actually walk into the bedroom to see my husband lying on it with the wedge as a pillow kicking back and watching TV. I try to tell him that since he got it out he has to use it for it's intended purpose. This doesn't always work for me.

The liberator pieces are wonderful and they clean up sooo easily. I swear I would love to be a product rep for them.
This content is the opinion of the submitting contributor and is not endorsed by EdenFantasys.com

Thank you for viewing
Liberator ramp
– position pillow review page!