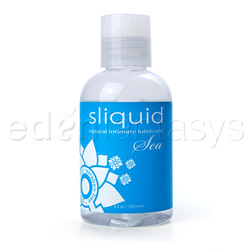 Sea
Lubricant by Sliquid LLC
Benefits of The Sea... Without The Sand!
Sliquid Sea is a water-based lubricant that is compatible with all toys and condoms, is glycerin and paraben free, and is a happy medium between being thick and thin. It leaves no sticky residue and it slick right from the start, quickly refreshed during use with a bit of water. Perfect for solo sessions and couples, this vegan friendly lube is sure to please.
Published:
Pros:
Water-based, glycerin free, paraben free, semi-thick formula, vegan ingredients.
Cons:
Might not be thick or thin enough depending on preference, can't be used in the shower.
Sliquid Sea is a water-based, vegan friendly lube made especially for sensitive people who can't take the synthetics normally put into lubricants. The ingredients are purified water, plant cellulose, carrageenan, nori and wakame, cyamopsis, potassium sorbate, and citric acid. So rejoice if you you're allergic to parabens or glycerin as this lube contains none of those!

The bottle is very simple yet stylish. The label is teal in color, showing the logo and the flowers, one of which has 'glycerin free' and 'paraben free' on it. Under the name logo is says 'natural intimate lubricant' so this bottle might not be very discreet, so I would caution about leaving it out where others can see. The cap is a push top lid that is clear in color. Do make sure you close it all the way and the lid is firmly pressed down to avoid leaking and store the lube upright.

The lube itself is clear. It is a medium viscosity; not water thin but not hair gel thick either. I think of it more like body shower gel thickness, or almost like Pink Water, another water-based lube. It has a very slight odor that I can't quite define but that only be smelled if you put your nose right up against it. It's completely tasteless so if you want to perform oral while using this lube there are no worries about a foul taste in your mouth.

The interesting thing about this lube is it's made with seaweed extracts. Carrageenans are extracted from red seaweeds and are used in place of gelatins. It's the base that holds different molecular structures together, a 'gum' if you will, so different parts of a substance don't separate from each other. It also functions as a topical microbicide. The different seaweed extracts used also help condition and skin and provide vitamins and other nutrients.

Because it's water-based, this lube is safe to use with any and all condoms and toys, including silicone ones, so no worries about incompatibilities. However, using it in a place with water, such as a shower or a tub, would not be a good idea as it will wash away. It's great for solo sessions and during sex; just add more lube or add water when it dries out during use to reactivate it. It may or may not work anally, especially if you typically use or prefer a thicker lube.
Experience
I like this lube. It's not my absolute favorite as I typically love the real thick gel-like lubricants, however this one is thick enough and pretty slick. It glides onto skin and toys easily, though with silicone it takes a bit more to coat the toy. It doesn't leave a sticky residue either and dries clear, so no stains to worry about on towels or bed sheets. I did have to reapply it at one point, but not excessively so or too much. It also washes off very easily with soap and water.

I also want to say as I only use toys currently at this point in time, I don't know how long it will last during intercourse, nor do I know how well it will work anally as I don't do anal. However I can't see why this lube wouldn't be a good choice as it's not extremely thin and stays well enough where you put it.
Follow-up commentary
3 months after original review
I still like this lube a lot. I use it for my quickies with bullets, always works great, no mess or residue, thick enough for my liking, easy to clean up, etc. It's not going bad or anything either, unlike other lubes I have had that turned yellow.

This lube is for sure a keeper and I highly recommend it.
This product was provided free of charge to the reviewer. This review is in compliance with the FTC guidelines.

Thank you for viewing
Sea
– lubricant review page!