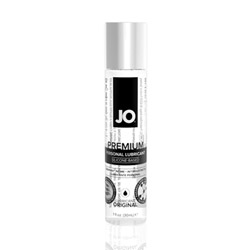 JO premium lubricant
Lubricant
by System JO
First time silicone user and I found a winner
This was my first try at using a silicone lube. I never felt the need before, but with more frequent anal play recently, I decided to give it a try and I am glad I did. I really have no complaints about it. It is slick, lasts long, a little goes a long way and it is waterproof. It even leaves your skin feeling silky smooth like a massage oil. Makes for a great anal lube.
Published:
Pros:
Slick, long lasting, waterproof, leaves skin soft, little goes a long way, excellent for anal
Cons:
Expensive, not compatible with silicone toys
Use
System JO premium lubricant is good for any sexual activity (vaginal, anal, masturbation, toys, massage), except probably oral and silicone toy use. You can spot test to see if it is harmful to your silicone toys before using, since there are conflicting reports on compatibility (do so at your own risk), though EF recommends not using Silicone lube with Silicone toys in general. I find it ideal for anal play, but it can be used as massage oil even.
I have never used a silicone lube, so this is my first foray. I primarily got it to try for anal play, since it lasts longer than water based lubes, but don't think I will need/want it for vaginal sex. It is probably good for hand jobs or jacking off too, but I have other lubes for HJ's that clean up easier. Another plus is that it is waterproof, so you can play in the shower/tub/pool if you like that too.
What's in it
System JO premium Silicone lubricant contains: Cyclopentasiloxane, Cyclotetrasiloxane, Dimethiconol, Dimethicone. It is L-arginine and paraben free. Those with highly sensitive skin or frequent infections may need to more closely consider the ingredients.
Packaging
I got the 1 oz bottle to try. It is a clear plastic bottle with a press/flip top lid with the letters "JO" clearly printed in black on the label, so anyone with half a brain will know it is a sex lube. Nonetheless, it is a good travel size if you are checking a bag. You could easily peel the label off if you wanted to carry this discreetly in your purse or luggage. It is a perfect travel size container.
Taste/Smell
I did not taste the lube, so I cannot comment on the taste. I would think having a silicone lube on your tongue and mouth would be unpleasant though. There is no noticeable odor that I could detect.
Texture/Viscosity
JO premium is kind of oil like in texture. It is medium thick, but not gel like. It does not run like a water based lube (ie: Astroglide). It clings nicely to toys and makes for easy insertion and removal. It goes on your skin like a massage oil and leaves your skin feeling soft, not sticky. This came as a pleasant surprise to me. I assumed it would be sticky and hard to remove, but it washes off fairly easily and never gets sticky in my experience.
Performance
JO Premium silicone exceeded my expectations. I am so glad I tried it. While water based lubes like Maximus are adequate for anal play, I find this stuff to be very pleasurable and long lasting. I can say my experience using this with my favorite anal toys was definitely enhanced by using them in conjunction with this lube.
We did not try it with vaginal sex or hand jobs, though I did put some inside a condom for PIV sex and it performed wonderfully. Currently we are using Probe Silky light (see my review:
link
) for vaginal sex, since it performs great and has no taste/odor and lasts long, but JO silicone will definitely be a mainstay for anal play.
A little bit goes a long way and for my uses did not need any reapplication.
Aftermath
To my surprise, JO silicone lube was not sticky after use. It feels like a massage oil was rubbed into your skin. In fact, I have read other accounts of people using silicone lubes for massages or shaving even. I can see why, though it would be an expensive alternative to conventional products for such use. The lube washes off with soap and water. I found using an Eden wipe was even enough to get the job done mostly, if you didn't want to get out of bed to wash up.
As others have noted, be careful if using in the bathtub or spilling on a hard surface floor. Silicone lube is very slippery and waterproof.
Experience
I really like this stuff and am glad I tried it. I will be buying more once I exhaust my small supply. I cannot compare it to other silicone lubes, because this was my first. I can only compare to water based lubes. I highly recommend this for anyone who wants to try a silicone lubricant or who enjoys anal toys/anal sex especially. I am sure it performs just as well for vaginal sex and hand jobs, but we have not tried that yet and are satisfied with our current lineup of specialty lubes.

I did have problems with water based lubes drying out/absorbing during extended anal use with toys and had a very uncomfortable feeling of sticking to my insides when removing them. I find when removing a toy with JO premium that they slide out very easily, just like when I inserted them.
Follow-up commentary
3 months after original review
I love this lube and it is my go to lube for anal play with non-silicone toys. I never thought I would go for silicone, but I've come to love it and even feel a slight let down buying silicone toys now, because I know I will have to use a water-based lube for anal play. There are some good water-based lubes, but this stuff is a real joy to use. It's not nearly as hard to clean up as I would have expected either.

It's a specialty lube for us though and we use water-based lubes for vaginal sex and masturbating. It's still the only silicone lube we've tried, so there is nothing to compare it to apples to apples, but still love it and plan to get more when this is gone. We are about halfway through a 1 oz bottle after 2 mos, so a little really goes a long way.
This product was provided at a discounted price in exchange for an unbiased review. This review is in compliance with the FTC guidelines.
Thank you for viewing
JO premium lubricant
review page!