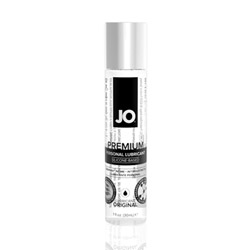 JO premium lubricant
Lubricant
by System JO
Some lube for my glass!
A thick, scentless, tasteless lube is great when you need something perfect for that favorite toy or need a little more slip-and-slide in your sex life! System JO Premium Lubricant offers a nice, silicone lube with no real mess and plenty of life in each application!
Published:
Pros:
~Thick
~No-mess bottle
~Lasts a long time
Cons:
~May not be thick enough for some users
~Can't be used with all silicone toys
I came across
System JO
's
Premium Lubricant
when I went in search of a very thick, silicone based lubricant. I found that this lubricant had a lot of positive reviews, and I decided to give it a try. I am currently in search of a perfect lube that will do several things. It must please my guy, who loves a nice
thick
lube, while being able to lubricate my favorite glass toys up for play.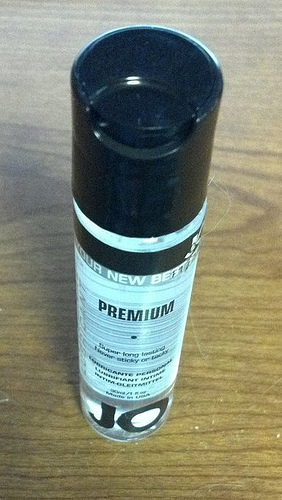 The ingredients list on the lube is great, because there are only a few ingredients to it! (INCI) Cyclopentasiloxane, Cyclotetrasiloxane, Dimethiconal, and Dimethicone.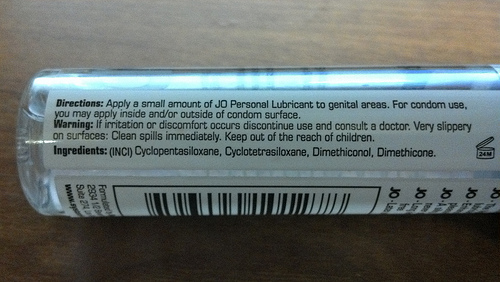 The bottle itself is clear with a black screw-on snap-top lid. Prior to opening it up, of course there is a foil cap to make sure that the lube does not spill, so you will need to remove the lid and peel this off. Once the lube is ready to use, it pours smoothly and quickly but not too quickly. I've never experienced a clog while using this lube. The label is clear, allowing black lettering to sit on top to be read. The label gives all of the vital information needed for a lubricant. It lists directions, warnings, ingredients, product information and company contact information. The design of the bottle allows for one-handed use and easy to use without it becoming sticky on the outside.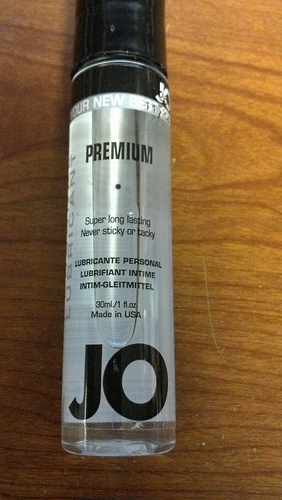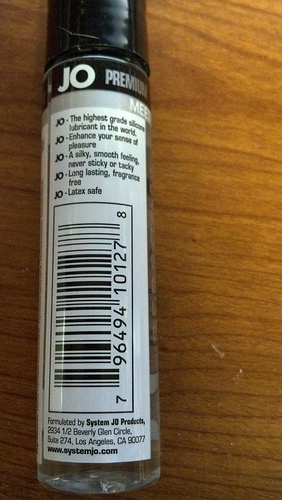 System JO Premium Lubricant comes in 3 bottle sizes: 8 fl. oz., 2.5 fl. oz., and 1 fl. oz. For my first attempt at using this lube, I chose to buy the 1 fl. oz. bottle just to see if I liked it first. For the price, I was surprised to see such a small bottle. $5.99 for 1 fl. oz. of lubricant? Luckily, though, this lube lasts longer than I'd expected! It takes such a small amount to work, that it will last you a good while.
To use this lube, I typically pour a small amount on the toy I desire to use and reapply if needed. Not much reapplication is needed, however, with this lube. It did not leave my skin feeling oily, greasy, sticky or uncomfortable, but I prefer to wash up after use anyway since I do still
feel
it, even if it isn't bad. It washes off easily with soap and water or a toy wipe. Because this is a silicone lube, of course I do have some restrictions. Not all toys are compatible with silicone-based lubricants, especially silicone toys. Silicone lubricants on silicone toys tend to break down the material of the toy many times, so you will want to be selective about which toys you use with it.
With my glass toys, in a half-hour session I do not need to reapply the lube. Men masturbating with this lube for half an hour may need one reapplication, if that. For intercourse, vaginal intercourse should not require more than 1 application and anal typically only takes about 2 applications for half an hour! We find that if it does need more "life" to it, we just add a little spit and it comes back to life! It pours out clear, thick and scentless. This is an excellent lube for all of your play-time needs!
Experience
While this lube did meet all of my needs, it was not as thick as my guy likes it. He prefers a very, very thick lubricant, while I just prefer something thick enough to last. I gave this 5 out of 5 stars, though he would've given it 4 since it isn't as thick as he likes it.
This product was provided at a discounted price in exchange for an unbiased review. This review is in compliance with the FTC guidelines.
Thank you for viewing
JO premium lubricant
review page!