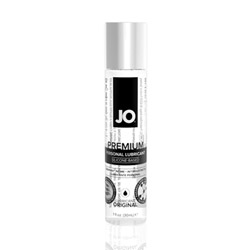 JO premium lubricant
Lubricant
by System JO
JO Premium Lubricant
I would definitely suggest this lube to anyone who is looking for a reliable silicone (or any) lube for almost any reasons. Although you can't use it with your silicone toys, you will find plenty of other uses for this! It's silky, cheap, and you won't find yourself ruining the moment to try to find the bottle and reapply during those intimate moments.
Published:
Pros:
silicone based
long lasting
can use it in water
Cons:
chemicals
System Jo has hit it out of the ballpark with this amazing silicone based lubricant. Clear, unflavored, and and long lasting, this stuff is perfect for those play sessions that last awhile. It's thick and truly moisturizing, so if you're looking for something that will last awhile, won't leave you tacky, and you won't have to worry about reapplying over and over and over, this stuff is definitely for you.

I picked this up in the smallest size available, since I wasn't sure if we were going to really like this stuff or not. I now realize that I'll need to pick up a bigger bottle next time! Because it's silicone, this is great to bring into the shower with you. It would also be great for massaging, because it's so thick and moisturizing. But what this works the best as is, of course, a sex lubricant.

Make sure not to use this with any silicone toys or toys that you're unsure of the material, because it will have a chemical reaction and melt your toys! And you don't want something like that anywhere near you, trust me! Not to mention, it will ruin your toy forever, and that's a real bummer.

Now as for storing this stuff, it's not exactly the most discreet thing ever, so if you have frequent guests who frown upon things of the sexual nature or kids, then you want to keep it hidden. It proudly proclaims it's use right on the bottle. However, if you pick up the small size, like me, then it's very easily hidden in your drawer, under the sink, really anywhere. It's super small. I personally keep mine in my EF tote in a drawer, and since the top stays on the bottle so well, I have zero worries that it will spill out and ruin my toys.

The ingredients in this are cyclopentasiloxane, cyclotetrasiloxane, dimethiconol, and dimethicone. Now, I'm gonna go ahead and be truthful when I say that I'm not 100% sure what any of those are, but I will tell you that I'm 98% sure that anyone who is super sensitive to chemicals or just has sensitive skin in general should probably steer clear of this lube, unfortunately. And if you're wondering about the taste? Well, let's just say it doesn't taste like cherries. I personally wouldn't put this in my mouth but some of you may take the risk and I'm not sure if that's okay or not, I'm gonna go ahead and say no, but that's definitely your own personal choice to make.
Experience
This stuff has been a lifesaver for us, to be honest. We've been searching for a good lubricant for awhile and I really think we found it when we bought this one!
Here's a photo of the smallest size available, with a lego minifigure beside it to scale.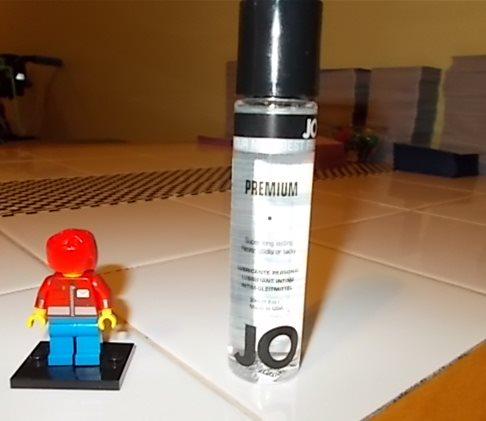 This product was provided at a discounted price in exchange for an unbiased review. This review is in compliance with the FTC guidelines.

Thank you for viewing
JO premium lubricant
review page!