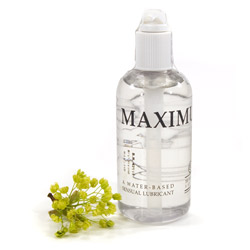 Maximus
Lubricant
by Bodywise Limited
Maximus! Maximus! Maximus!
Maximus is the best…lube...EVER. It's perfect for every sexual activity you can dream up, and it lasts a looong time. It's slick and just thick enough for anything you could want to use it for.
Published:
Pros:
Water-based, glycerin free, odorless, slick, no need to reapply, perfect for EVERYTHING.
Cons:
Slight bitterness, contains parabens.
I've always wanted to try
Maximus lubricant
because of all the five star ratings and rave reviews it has, but I figured it was mostly for anal play and I wouldn't use it much. I can't believe how wrong I was.
Maximus is a water-based lube
that's good for…well, pretty much everything. I thought it would be too thick to give my husband a hand-job. Nope. It was perfectly slick and I barely had to reapply, and it didn't get gummy or stringy. He absolutely loved the feel of it. And when we used it for vaginal sex, it was perfect again. I didn't have to reapply and it kept things wonderfully slippery the whole time.
Of course,
Maximus is perfect for anal play
. I have a few anal toys in my collection, and when I've used them with other lubes, I've had to reapply the lube or I've ended up with some kind of runny mess. Not so with Maximus. As with every other type of sex, it is perfect with anal. The only thing it isn't so great for is oral sex. It has no smell and it doesn't have much of a taste, but I noticed a slight bitterness I don't really care for.
A little added bonus is that Maximus comes in a great pump bottle to reduce the usual messiness that can happen in the heat of the moment. Also, it doesn't contain glycerin like many lubes, which can irritate some more sensitive vaginas. It does contain parabens, however, which can also irritate some women, but aren't a problem for me.
Maximus is definitely my new favorite lube. It's water-based so it's safe to use with silicone toys and won't stain your sheets. It's thick, yet slippery and perfect for every sexual activity you could think of. It has no smell and only a slight unpleasant taste.
It's better than any other lube I've tried, and if you don't have some already, get some.
Follow-up commentary
27 months after original review
I still love my Maximus, but not the way I used to. I first started using it for anal play, and while it certainly is great for most people, it isn't so great for me. I have realized that the parabens or glycerin in it, I'm not sure which, really irritate me and cause a pretty unpleasant burning sensation when I use it anally.

I still love it for vaginal sex and hand jobs, though, and it's still a fantastic lube.
This product was provided free of charge to the reviewer. This review is in compliance with the FTC guidelines.
Thank you for viewing
Maximus
– lubricant review page!