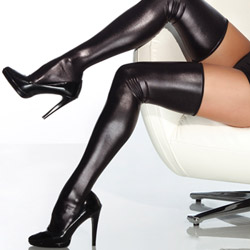 Wet look thigh high stockings
Thigh highs
by Coquette
These boots are made for rollin, and that's what they're gonna do
These wet look thigh high stockings can be a very sexy addition to your lingerie, if you have the right legs for them. They are very comfortable and well made. Unless you can get them to stay in a garter belt or tape them they are going to roll down. They are worth the price, if you can get them to work for you.
Published:
Pros:
Great material, Well made
Good for long legs
Keeps you warm
Easy to clean
Cons:
Bad ankle and foot design
Not good for shorter legs
I was really excited to get to try the wet look thigh highs by Coquette. I've had my eye on them since I first saw them added to EdenFantasys lingerie stock. They are really sexy and you can wear them with a pair of black heels to make it look like you are wearing boots. I love boots, but I can never seem to find sexy ones that fit my legs right, or else they are really expensive. I thought this would be the next best thing, but as we all know, looks can be deceiving.

After reading a review, I decided to get the plus sized ones. When I finally got mine I couldn't wait to try them out. I was really disappointed when I realized that I must fall right in middle of the two sizes they offer.
They are made out of 80% nylon and 20% spandex, so they are really stretchy. Without being stretched, they are about 33" in length. I am 5'7" and they cover all but about 2 inches of my leg. When laid flat the width of the top of these are 10" and stretch to about 20". The part of my thigh where I like thigh high stockings to sit measures 25". If your thigh is smaller than that, I would recommend getting the smaller size. If you are about the same size and would love to get these, then you could easily fix them with some needle and thread if you know how to do things like that. I would have done that, but I don't like them as much as I thought I would.

I did give them a try though, to see if maybe I would start to like them more. I tried them out a few different ways. The first way I tried was wearing them exactly how they fit me. They quickly became annoying. The top of them do not fit snugly around my thigh, so whenever I would walk; they would roll. There is nothing sexy about stopping every few seconds to roll your thigh highs back up. I also noticed they did not fit around my ankles very well. It was almost like a balloon effect. They would bubble out and when I would bend my ankle they would scrunch up. I thought the problem might be that they are too high up on my leg, so I tried sliding them down to where they would normally sit and I could tuck the bottom of the feet into my heels. That turned out to be no better. First of all, they are a lot thicker than normal stockings, so your feet do not fit in your heels the way they should if you tuck them in and I had the same rolling problem. Finally, I decided that maybe I could get them to work with a garter belt. That was a huge pain. Like I said earlier, they are thicker than normal stockings and it was very hard to get them hooked into the garter right. I finally gave up and decided that I did not like them at all. They were just not meant for me.

While wearing them, they do give the effect of wearing boots if you wear them with some kind of dress shoe (preferably black heels). The material does have sort of a thick feeling to them, but are thin. They are very comfortable and smooth feeling. The stockings did not feel itchy at all. It is almost like wearing a thin pair of pleather pants. They would be great to wear out in the cold weather. Your legs would definitely stay nice and warm, but not get too hot. Since it has not been hot outside where I live, I am not completely sure if these would make you sweat a lot if you wore them out in hot weather; I can say I keep my house really warm and I did not have that problem.
Experience
I don't want to give these thigh highs a bad review because they are of very good quality and are made really well for the most part. The feet are shaped a little weird and they do not fit around the ankles the way they should. They would fit better on people with longer legs than mine. My legs are about 33" long. These were just more of a hassle for me than I wanted. If you decide to give these a try and find the same problem you could try using special tape like
this
. It may help keep them from rolling down.
The wet look thigh highs are really easy to care for. The tag states that you hand wash and hang to dry, but I don't think there is a need for that every time you wear them. They can easily be wiped down with a cool damp cloth and dried with a towel. After cleaning, you can either store these in the plastic wrapper they came in or where you store the rest of your stockings.
Follow-up commentary
3 months after original review
I didn't like them as much as I thought I would, so I gave them to a friend. She seems to like them more. I think they were just more of a hassle for me.
This product was provided free of charge to the reviewer. This review is in compliance with the FTC guidelines.

Thank you for viewing
Wet look thigh high stockings
– thigh highs review page!