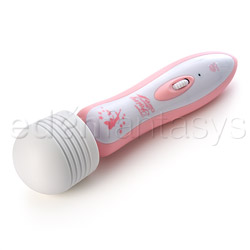 Fairy rechargeable wand massager
Wand massager
by Media Craft Inc
A Fairy Nice Toy
This toy may not be a 100% just as it is now but it's certainly worth grabbing if you are a wand enthusiast or looking to go a bit greener and stop fighting with cords and batteries.
Published:
Pros:
Rechargeable, powerful, good size, carrying case
Cons:
Loud, could last longer on a charge, some design flaws
Wand style vibrators are arguably my favorite kind of vibrator. The Fairy rechargeable wand massager by Media Craft Inc. is particularly exciting because it is a powerful wand massager that takes away the annoyance of power cords and batteries!

This wand is extremely powerful, a nice handheld and travel size, and rechargeable! One of the problems with battery operated wands is that they simply don't offer the power of the corded ones. And of course the problem with something you have to plug into the wall is that you are then tethered to the nearest outlet. This toy is a nice mix of convenience and functionality and it's super cute to boot!

The handle is hard plastic and the head is a firm rubber, it's the same idea as the classic Hitachi style wand. It is operated with a dial wheel on the side and can be dialed from low through medium to high settings. It is charged with a power adapter, the port for which is on the side of the handle and covered with a waterproof plug when not charging.

The toy is a nice size. Much as I love my regular wand, it's kinda huge. It's hard to store and it can be unwieldy during masturbation and play. The smaller handle and head on this make it much more user friendly with something close to the same power. It's not quite as strong and a toy drawing constant power but it's great all things considered.

So, there is a lot to recommend this toy but there are some downsides you should be aware of should you be considering purchasing it. For one thing, it's incredibly loud. Corded wands are also very loud, but I had hoped this would be a bit quieter being smaller and all. Not only is it loud but mine emits a high pitched noise when it's dialed back to the lower settings. This can be very distracting and it's not helpful at all if you are looking for clandestine fun.

The other complaint is that with a dial wheel on the handle, it can be extremely easy to hit it and change the setting without meaning to. This can get very frustrating if it happens at the wrong moment.
I wish this toy lasted longer on a charge. I get something like an hour out of it which is generally more than enough but I wish I didn't have to plug it back in after every use to avoid it dying on me.

The last complaint I have about this toy is the plastic plug that protects the charging port. It is not attached to the toy in any way when it's unplugged so it's a bit too easy to lose. It is of course needed to help keep and sort of moisture out of the charging port.

If you can get past these things, and for the most part, I personally can, then you'll probably really enjoy the power and convenience of this rechargeable wand! It comes in a box with a lot of Asian characters on it I couldn't read. Inside it sat in a molded plastic tray along with it's charger and a cute pink bag to keep it in. I find the bag is just big enough to keep the charger with it for travel!
This product was provided at a discounted price in exchange for an unbiased review. This review is in compliance with the FTC guidelines.
Thank you for viewing
Fairy rechargeable wand massager
review page!