Mia2 vs Mia (original)
While the Mia2 is a good improvement over the original Mia, I just don't think it's any stronger. If you like a variety of patterns and want to try it out in water then Mia2 might be a good choice for you. I still think that if you want a reasonably priced rechargeable bullet/lipstick sized vibrator Mia2 is a great choice.
Published:
Pros:
More patterns than original Mia
Waterproof
USB rechargeable
Cons:
Same vibration strength as original Mia
The Mia2 by LELO comes packaged in an outer box which is the color of the toy you purchased. Mine is a purple/pink fuchsia color called deep rose. On the packaging box there are some details about the product. It's somewhat discreet unless you start reading the writing. Phrases such as "Pleasure Object" keep this from getting discreet packaging points. If you're familiar with other LELO products then the packaging is exactly the same.
Outer Box: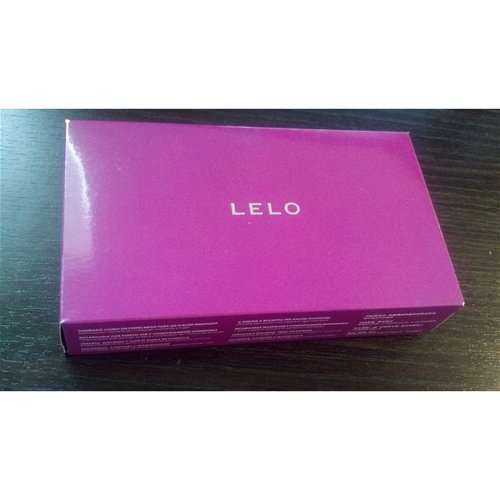 Outer Box Details: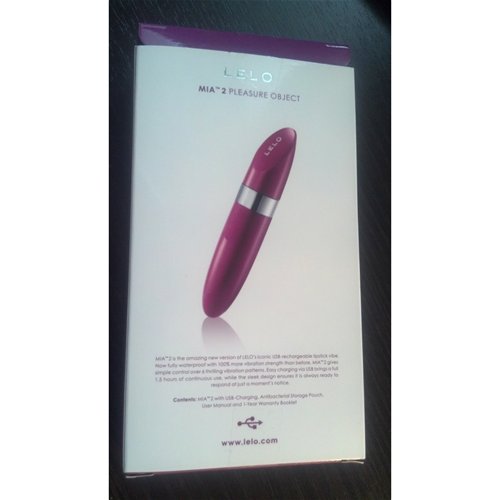 Inside the packaging box is a sturdy black box which can be reused for storage.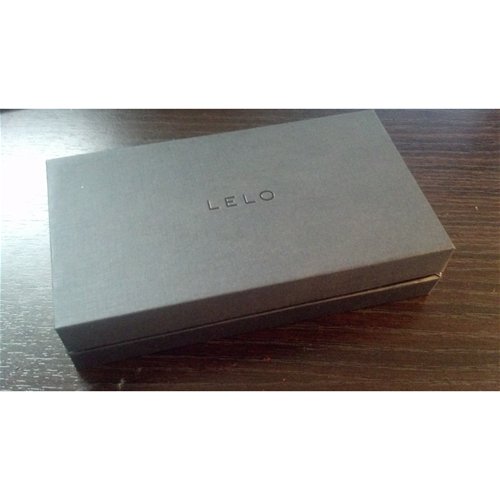 Inside this black box is the instruction booklet, warrenty card, a sample of waterbased lubricant, a satin pouch and a platform holding the Mia2.
Mia2 Box Contents: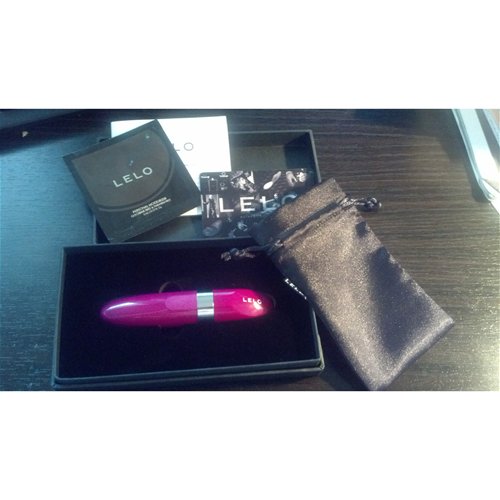 In contract to the
original Mia
, Mia2 does not come with a USB extension cable. Make sure that the area surrounding your USB port is large enough to fit the diameter of Mia2 or use your own extension cable.
Mia2 is a rechargeable vibe which charges via your computer or laptop USB port. Mia2 appears to have a good battery life. Mia and Mia2 both indicate they're plugged in and charging by a flashing light. When the light goes solid the toy is charged. Much like the
original Mia
, Mia2 features a press button control pad with 2 buttons: a plus and a minus. The buttons have a locking function to avoid accidental power loss while traveling. This is activated by just pressing the two buttons together until the indicator light goes out. To deactivate it you do the same until the indicator light comes back on again. There are 9 levels of vibration ranging from extremely light vibration to stronger vibrations. I think there's a vibration strength for most users. If you prefer super strong vibrations then this is unlikely to work best for you. The motor is located in the tip of the piece with the buttons, not the USB cap which says LELO on it. Mia2 boasts about its 100% more power compared to the
original Mia
, sadly though I cannot say I observed this to be true. My
original Mia
seems just as powerful on the highest setting as my new Mia2. I consider Mia2 to be a high 3 vrooms. A while ago I
reviewed
the
original Mia
and gave it 4 vrooms. In retrospect, now that I've had more experience with toys, I should have given it 3 vrooms like the Mia2 but unfortunately I cannot change this now. Mia2 and Mia both sound the same on the highest setting. I rate them both at 2 bees, which can probably be heard through the covers but unlikely to be heard through a closed door.
One of the major differences between the Mia2 and the
original Mia
is the vibration patterns. The
original Mia
has 3 pulsing patterns where as the Mia2 has a total of 5 patterns, excluding steady vibration. The patterns are slow pulse, fast pulse, fast escalation, slow escalation, and a pulse/escalation mix. Accessing the patterns is a little difficult and can take some practice since there are only 2 buttons on the toy. Once you're at high speed you hold down the plus button for a few seconds and then it will begin the pulsing patterns. To go back to the normal vibration, just press the minus button. To turn Mia2 off you can press the minus button until its off but I prefer pressing both the plus and minus button together for a second to turn it off immediately. This quick turn off feature can certainly come in handy if for instance, someone knocks on your door.
Mia2 is made of plastic and doesn't smell or taste of anything. Plastic is rated 8 out of 10 on the Eden Fantasys material safety scale. It's also easy to clean with soap and water. Be careful and make sure to avoid water splashes or getting any water inside the USB port. It is possible to use any water based lubricants with this toy but beware that it does get a little slippery. Mia2 measures about 4 1/2 inches in total length with the USB cap on and has a 7/8 inch diameter.
Experience
I recommend using Mia2 for clitoral stimulation, it's a bit too small for vaginal insertion and lacks a flared base for safe anal insertion. In addition the buttons can be a little tricky to press making it difficult to adjust speeds while you're using it. I find it best to choose a speed and then begin using it as opposed to switching in the middle of play. Sometimes the indicator light lights up when you press the button but it doesn't seem like the toy changed function, so I just press again and then it works.
I also wanted to share my observations concerning the other differences between the
original Mia
and the Mia2.
Mia2's USB cap twists on as opposed to
original Mia
whose cap snaps on.
Mia2 has a plastic chrome colored inside surrounding the USB connector.
original Mia
had some silicone like material instead. You can see that best in the below picture: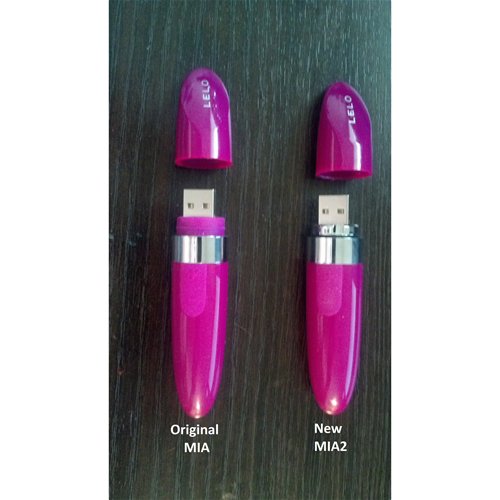 Mia2 has a smaller less blurry light to indicate it's charging or you're pressing a button. This can be seen best here: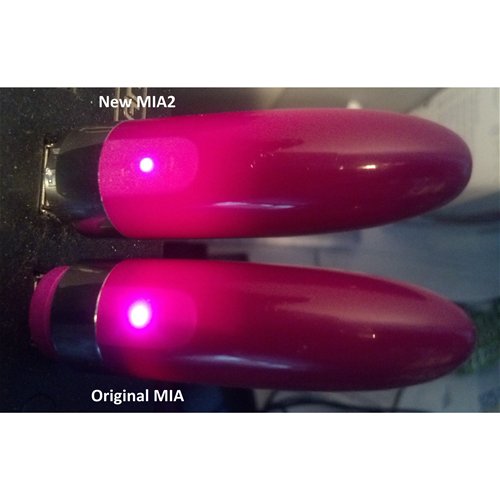 Mia2 is also supposed to be fully waterproof where as the
original Mia
is only splash proof. I have not tested this myself.
This product was provided free of charge to the reviewer. This review is in compliance with the FTC guidelines.

Thank you for viewing
Mia 2
– discreet massager review page!