The Amante... is it really worth it???
A novel idea remote control vibes they bring to mind erotic and kinky thoughts, and some exhibitionist play as well. But unfortunately the Amante falls a little short. I wish it had more rumbly/deep vibrations over the buzzy kind.
Published:
Pros:
waterproof, fun patterns
Cons:
It take 2 different types of batteries, large, tails shreds
The Amante is silicone coated, making it a very safe toy to use. It is 2¾ of an inch insertable and 1¼ of an inch in diameter, with 2 2/4 tail. It is actually a very light weight toy at 5.5oz. Running along the centre there is a plastic line, so you know where to place your thumbs to remove the lid to replace the battery. The remote portion of the toy is plastic with two buttons.

Pro's: WATERPROOF!!! And made from silicone so it is very body safe. The signal range is pretty decent, between 5 to 8 metres (the further apart you go from the remote, the signal may or may not catch it). It is very discrete when worn in public, and you cannot hear the vibrations when it is on even at the highest settings. It really turns a man on when he realises that you might be dressed up looking very prim and proper, but he is the one controlling your squirming. The remote control can be slipped into a pocket, and fits so very very comfortably in your hand. The buttons are easy to work with just your thumb, and depress easily, and you can feel the clicking of them and hear it too. I've found sitting down while wearing this is the best way to wear it, as standing causes too much slippage.

As with all silicone toys, this one is no different. Scentless, tasteless, and a lint magnet.

Con's: The remote control is not waterproof, its shiny plastic. It runs on HORRIBLE batteries that are hard to find (12V and N), and it really does eat up your batteries, I only got maybe 40minutes in total from the batteries. The backing was a little tricky at first to get on and off, but with practice it got easier and easier. Works best on line of sight, and if there is a wall between you and the man holding the remote, it doesn't always catch!! The vibrations are VERY buzzy, and not intense at all, more like a cheap bullet vibe. I found the tail end of the insertable portion frayed with each pull. So even though it is made from silicone and silicone is body safe, it is only body safe if there are no holes, or fraying parts.

When I wore this to a government dinner, he changed the settings. When I texted him to turn it off, he pressed the buttons, removed the batteries and tried again. The bloody toy wouldn't turn off! I had to nip away to the bathroom to remove it, take out the batteries and put it away for the rest of the night. The insertable portion I found to be too large for comfort. Every time I squeezed my muscles to keep it in me, resulted in more slippage! If I didn't squeeze, slippage! I couldn't win. I did find that attempting to insert him before I left the house was a little difficult because I was not aroused.

Use: Vaginal use ONLY. I have heard stories of people trying to use this anally as there is a pull string, but for me personally, I don't feel the pull string would be strong enough.

Cleaning: If you need to, wipe down the remote with a hand wipe, or a damp facecloth, just remember; The remote control is not waterproof. The insertable portion of the toy; wash with antibacterial soap and hot water and let air dry.

Packaging/Storage: When I opened the parcel with the Amante in it, I was a little disappointed. The Amante's package had opened and all it's content were scattered throughout the parcel box. When I got it all put together to see what came with it, the instruction manual, a set of batteries for both the remote and the egg, and the toy in a cheapish white cardboard box. For me it didn't matter, I was in Canada, and had to travel back to China, and it would only have taken up space. So I recycled it. When you are storing Amante remember to remove all batteries to extend the life of your batteries and to prevent battery spillage. I actually found that by removing the batteries, I can extend the life of my batteries.

Would I recommend this toy? No. I wouldn't. With a price tag of $70, and a need for odd batteries that you might have to order online? No. I like this toy, I really do, even if the vibrations are buzzy rather than deep, but. If I could find a toy exactly like it that does not require such odd batteries, or is rechargeable… then yes I would recommend it. It is a fun toy for public partner play.
Experience
I used this toy the first time at a government dinner and was a little disappointed because of all the slipping, quick visits to the bathroom to fix it's positioning. The second time I used it was when I gave a class and the man I was seeing joined me in class. But I found it most enjoyable when I had to walk up and down the stairs to reach my classroom. Using the stairs and setting it on a pulse pattern is the way to go!!! I found that the Amante never stays where I want it to stay. I want it to stay pressed up against my g-spot but with certain movements, laughing, standing, sitting it slips from that position lower within my vagina. It means, people think I am pregnant or had way too much coffee with all the visits to the bathroom to fix it's positioning. After about four trips to the loo, I just get annoyed and remove it.
When I used this as I would usually use any bullet vibe I found it enjoyable as well. But... you know how people say use Smartballs or a kegels exerciser while doing yoga? Try the Amante out instead!!! Adds a new type of stimulation when you do the five pointed line. But be warned, this thing eats the oddly shaped batteries!!!
I didn't orgasm while wearing this toy, and for that, I am sad I spent 70USD plus shipping!!!! for this one. It was such a kinky feeling to have someone else controlling the vibrations and wearing a vibrator out in public. But was it really worth it when I could have just worn my Ami kegel exercisers and sent racy text messages? For me the answer is yes.
Because of the batteries, and the fraying of the tail, I only feel comfortable giving this a three star rating.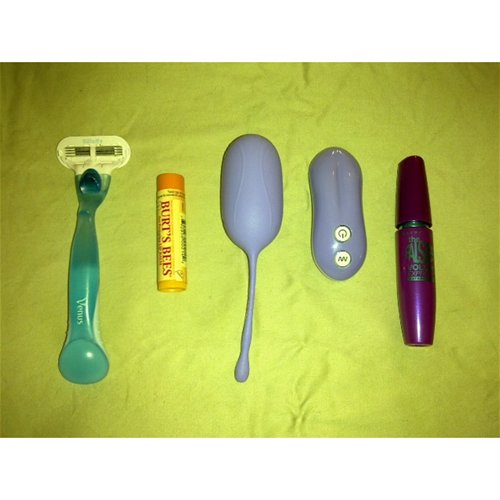 Left to right; Venus razor with original head, tube of Burt's Bee's Lip Chap, Amante silicone egg with tail, Amante shiny plastic remote control, Maybelline Falsies mascara.
Follow-up commentary
1 day after original review
I've spent months and months with the used batteries in a baggie in my purse walking around the city and some of the other cities I've visited, and every shop and store I go into, trying to find them. I've tried electronic stores, other sex shops, department stores, Walmart (is you have pickled frogs at your Walmart then we might live in the same country!), Metro, Carefoure... with no luck.

This toy lives in a toy pouch in the bottom of the Rarely Used Toy Box all because the batteries are impossible to find.

Sure, I could order in some batteries from EF, but as this requires two different batteries, and EF only carries the N batteries... I am SOL. I could always ask someone to send me batteries in the mail, but as soon as those go, I would be SOL again. To me, it just doesn't seem all that practical.

If you are looking to buy this, BEFORE you order it, make sure that someplace near you sells both kinds (12v and N) or that you can order them from online. And then to top it all off... would you want to go through all that hassle? I'd suggest looking at a rechargeable.
This content is the opinion of the submitting contributor and is not endorsed by EdenFantasys.com

Thank you for viewing
Couture collection Amante
– egg vibrator review page!