French connection
Very Personal Lady Tips On Buying Your First Vibrator And Loving It
So you've decided to delve (further) into the world of pleasure. Perhaps you wanted something new, or something more. Or maybe you are looking to scratch that itch with (or without) your significant other. Maybe your close friend has gushed about her vibration adventures for years, and you've decided to have some, too.
Regardless of your reason - a vibrator is a fantastic addition to your sexual life, and the stigma tied to using one is unwarranted. We'll go over nine very personal tips on buying your first vibrator - and most importantly - loving every inch of it.
1

What Kind Of Pleasure R U Seeking?
Shape, type, and size determine a toy's intended use - but you can always get creative when you pick your first vibrator. There are thousands of vibrating toys out in the world, in all kinds of shapes and sizes. Some are intended for penetration but work for outer play as well. Some are super ergonomic, meaning they offer almost no variety in the way they are meant to be used. In any case, they are far from one-size-fits-all, so choosing one carefully is key.
One piece of advice - if you plan to insert your vibrator, start small. A smaller shaft is always a good starting point, and you can always explore those that are bigger and better later.
What Might You Like Doing With Your Fingers?
Do you find yourself spending most of your self-loving time rubbing away at your clit, or sinking your fingertips into yourself, aiming for your G-spot? Are you always trying to reach deeper, but your fingers just can't reach? Or, maybe you're looking to have some backdoor fun with your partner. Answering these questions will help you choose the perfect first vibe for you.
Some vibrators are explicitly made for clit stimulation, some are aimed at G-spot pleasure, and others caress the U and A-spots.
If you don't want to restrict your fingers' fun, there are super flexible vibrators that give you limitless freedom to experiment.
2

Narrow Down What Type Of Pleasure You Want To Get
Bullets, Eggs & Panty Vibrators: Out'n'Bout
If you're betting on something small, discreet, and are not too keen on penetration, these are right up your alley. Being 1-4 inches in length, bullets and other clit teasers can easily fit in your purse or pocket. Their primary function is to buzz up the clit and labia. Some options include remote controls, which widen the range of your play far beyond the bedroom. Bullets and eggs are usually classified under the "buzzy" category and are not intended for thrusting or anal use. Hop in here to find out how to choose a bullet or an egg.
Traditional Vibes: Never A Plain Jane
Classic vibrators usually are cylindrical and phallic in shape. Typically they have 4-6 inches in length with varying diameters - they are as straightforward as it gets, but they get the job done, piercing your hot spots with vibration. So, for penetration, traditional vibes are real good. Especially considering some of them have pronounced bumps to target certain erogenous zones such as the G-spot or A-spot. Most do not have a larger base, so don't use them anally. Learn more about "How to choose a classy traditional vibrator."
Rabbit Vibrators: Get More In One
Rabbit vibrators are a lovechild between clitoral and standard vibrators and are a favorite toy of many. Combining a shaft of a classy G-spot vibrator with a mighty clit attachment, they give you the ability to stimulate two areas at once - hence the marvelous blended orgasms. A rabbit vibrator is the most fab choice for a first buzzer, because of how much it has to offer.
Some rabbit vibrators are function-loaded - they have rotating beads, dancing shafts, finger-like motions - all for better G-spot stimulation. Others offer cool clit attachment features - separate motors, intricate shapes, even oral imitation. It is important to note that different rabbits may feel differently on your G-spot and clit. Just as our anatomies differ, so do those of our toys. See how to pick the perfect thumper.
Wand Massagers: Unleash The Power Beast
Wand massagers are more powerful and usually bigger than other toys, so they provide thunder-like stimulation while pleasing more of your sweet spots. Wand vibrators are fantastic for easing sore muscles, as well as sparking pleasure-packing orgasms. Find out how to choose the perfect wand massager.
Some wand massagers also feature attachments for more precise C- or G-spot teasing. You know what that means - more toys in one package.
Massager And Three Attachments Kit
Save 30%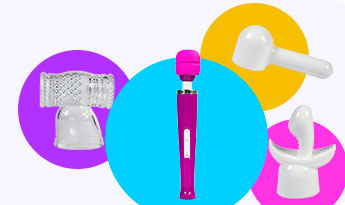 Pressure Wave Toys: High-tech Caress
These are more than just vibrators. Pressure wave sex toys feature exclusive technology, creating sound waves to tremble on your clit. It's your next-step oral-like stimulation, and it's a luxury segment of the market that offers unearthly pleasure. Pressure wave toys are usually super discreet, waterproof, and fit perfectly in your hand. So, if you're looking for something classy as your first vibrator and if cunnilingus makes you see the stars, pressure wave toys are safe bets.
Vibrating Cock Rings: Pleasure to share
If your solo time feels fine, but your couple's play is lacking, vibrating cock rings can be fantastic for both you and your penis-bearing partner. The band of the ring keeps your bae hard and going for hours, while the perky and ergonomic vibrating attachment delivers Grade-A vibrations to your clit. It's a win-win deal! Learn more about how vibrating cock rings work.
3

Rechargeable Or With Batteries?
Many amazing battery-operated vibrators do their jobs flawlessly, getting you where you need to go. But you can add peace of mind to your pleasure by purchasing rechargeable toys! They make sure you get the orgasm you need while keeping the planet green. Rechargeable vibrators tend to be more expensive, meaning they are made from higher-grade materials and last much longer. If you are ready to make an investment, go with USB!
4

Body-safe Materials & Waterproof-ness
Sex toys can be made with all kinds of materials. When it comes to safety and comfort, silicone is the safest and softest to the touch. It's also one of the easiest to clean and maintain. Other materials surpass silicone in terms of the realistic feel, but cleaning them is tough.
While considering the material type, you may also want to steam up your bathtime - only do so with waterproof toys. Playing in the bathtub is one of the safest places to enjoy your first vibrator and learn about your body. You are already relaxed, all wet, and enjoying some alone time - why not buzz it up?
EdenFantasys will always list if a toy is waterproof.
Almost all vibrators we carry feature an intensity measure (out of five) on the box. Do you find yourself climaxing with gentle stimulation - or is your clitoris a multi-carat diamond? If you're unsure, you can aim for the midrange intensity, just to be safe. If you're looking to make your playtime more interesting, or to surprise your partner, you can take a glance at patterns. Many reviews describe the patterns on a given toy.
6

Discreetness, Sound, & Privacy
We all share at least one fear - family members or friends discovering our personal toy collections. Whether you live with your parents, have children, or have nosey friends - check out these discreet toys, including the Naughty rose, Sweet Bunny, and Sexy Lipstick. They let you leave those worries behind - they don't even look like sex toys!
If your home has thin walls, you may also want to check out the noise rating (out of five). Anything rated three or below will likely go unheard beneath a blanket or closed door.
7

Cleaning And Taking Care Of Your First Vibrator
Most toys can be easily cleaned with a cloth doused in toy cleaner or water. If your toy is waterproof (and silicone), you can use soap and lukewarm water. If you are unsure, check out your toy's reviews, as those often describe the best cleaning methods for that product. Or, get into this guide and learn the ins-and-outs of sex toy cleaning and care.
8

Determine Your Comfort Zone
Looks can be deceiving. Because there are so many different shapes and sizes, there's a chance the vibrator you're feigning for may not fit your anatomy. The good news? This makes it easier to figure out what you're comfortable with. For example, if you're interested in a penetrative toy and don't know what your body's limits are, you can safely figure this out by inserting a number of fingers inside yourself and measuring the total diameter with measuring tape.
Most items on EdenFantasys offer detailed measurements including diameter, circumference, and length. Many of the product reviews include comparison photos, showing the toy next to common items to compare. Explore honest feedbacks from our customers.
There is also a "real size" chart on any given product page.
There are dozens of affordable toys on EdenFantasys, so much so that you may want to buy them all! On top of that, we have huge sales every few weeks. With each purchase, you can stock up Eden points, which count for up to 15% off of your next purchase. And there's no pressure to buy an expensive toy right away.
If the item you're looking to buy is not on sale, you can grab an affiliate code from another user (just search for their codes posted in their reviews). Using the code doesn't cost you anything, but the affiliate will receive a small commission. You can also explore this list of nine low-budget sex toys to pick a first vibrator of big value but little impact on your pocket.