Three Cheers for Queers
A great buy if you're a fan of big names in the queer porn industry. It really was just an "okay" film, and the reason I bought it is because it's a little more personal than most mass produced porn and when I get in the mood for something like this, it works for me. I'm an avid watcher of queer porn and know that most of the stars have been together in other films, so I enjoy knowing there's underlying relationships already with the stars.
Published:
Pros:
Cast of all sizes/sexes, Live audience, Great sound quality, Friendly setting, Intimate
Cons:
Poor camera angles, Poor lighting
Produced and directed by Courtney Trouble, "Live Sex Show" is a queer friendly porn film that includes a cast of all sexes, sexualities, sizes, and ages. I appreciate the diversity given in the scenes, and it's interesting to see porn that gives a relationship between the cast stars that goes beyond just sex.
Cast:
Nina Hartley, April Flores, Matador, Tina Horn, Kimberlee Cline, Jolene Parton, Courtney Trouble, Jiz Lee
The packaging is simple and isn't at all discreet. It's a standard DVD case with Jiz and Nina nearly kissing on the cover. There is nudity on the cover and if you want to store this with other DVDs on your shelf, the title stands out and will catch the eye. I store this away from my other DVD for that reason. The DVD itself is nicely decorated with pictures from a scene from the DVD.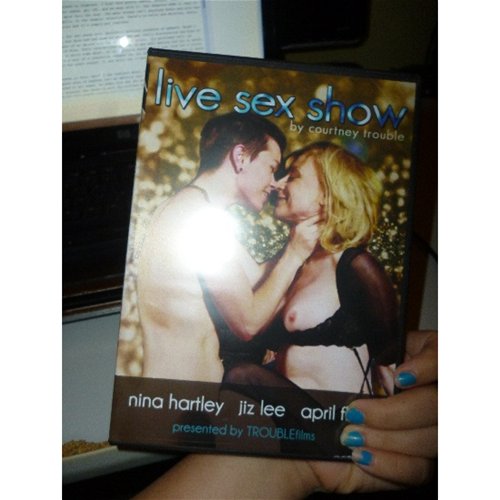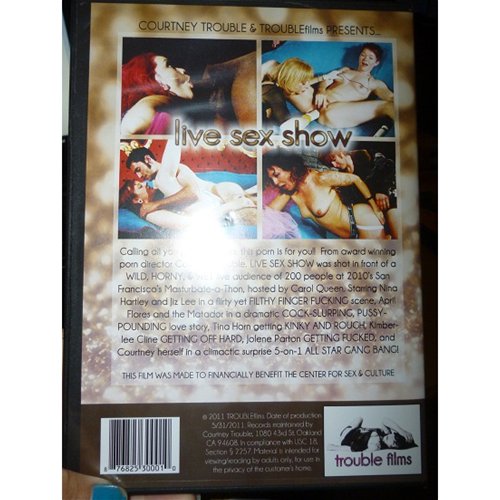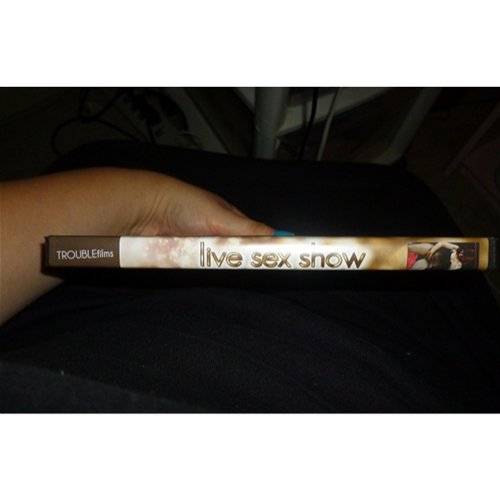 The DVD can be watched fully, or be watched in Chapters. I find this pretty useful, because sometimes when I masturbate, I want to watch a specific scene, get off, and be done with it. The chapters make it easy to skip to different scenes you may like more than the rest. The menu screen isn't anything fancy and only has two selections, to watch the DVD normally, or the chapter selection. There's no bells and whistles, music, or moving clips on any of the selections and it's simply put together.
I buy anything
Jiz Lee
is in, but her scene with
Nina Hartley
bordered on awkward. Maybe I just have too high of expectations, but Nina had her moments where she was really disconnected and kind of silly with Jiz's vag like it was more of an object than connected to a person. Jiz performed well, as usual, and seemed really admiring of Nina. Their interactions outside of sex were amusing and fun to watch, but the actual sex isn't anything to write home about. It is a fisting scene, and I just look for a little more intimacy during them. There's a hint of a connection between the two and humor is shared, but it feels a little disconnected compared to the other scenes. It was still fun to watch, nonetheless.
There are two "straight" sex scenes in this, which I was confused about, but no label ever said it was
strictly gay
porn. Queer kind of expands into am umbrella that includes those who are fluid with their sexuality and are attracted to all sexes, so women with men who may still consider themselves queer definitely applies. The first straight sex scene is with
Jolene Parton and Peter Devries
. It's a little lack luster because of the dull camera angles and it's very slow paced and quiet. It could be considered pretty intimate, but I would have liked to see a little more cock action in the camera.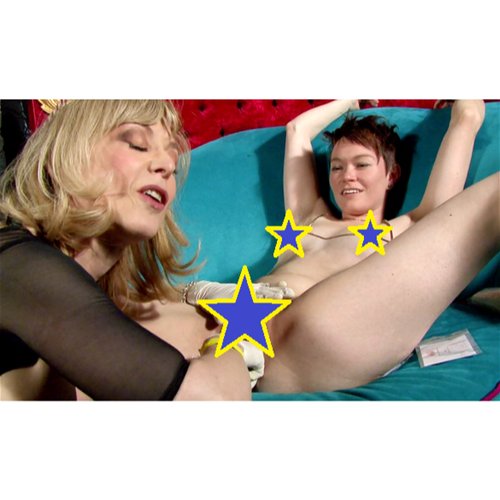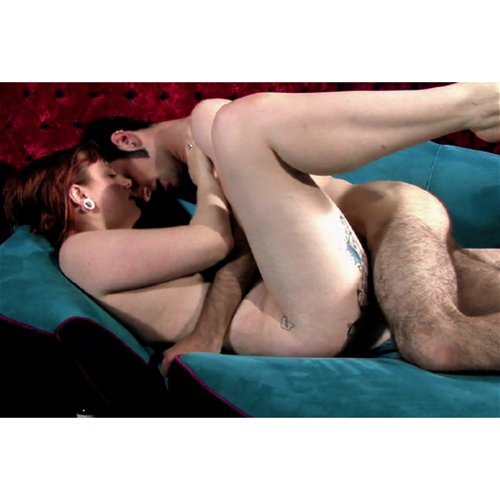 The second "straight" scene comes next, which is
April Flores and the Matador
. The Matador is simply a masked man that enters the room after the camera is finished filming April masturbating and giving us a little tease. We get a little bit of everything in this scene, from oral given to April, oral given to the Matador, April on top, April on her knees, April on her back, fishnets ripping, a little masturbation. I enjoy the masked element of this scene, and at one point, he removes the mask to kiss her while they're having sex. The angles in this scene could have been a bit better, and the lighting cast shadows in the places I really wanted to see most. The genitals can barely be seen in this lighting, which is a real downer, but the scene was executed nicely.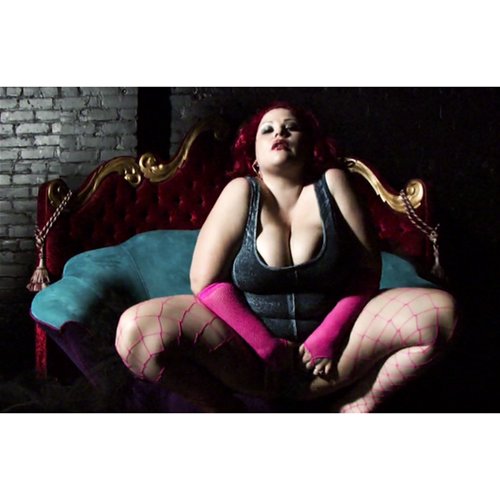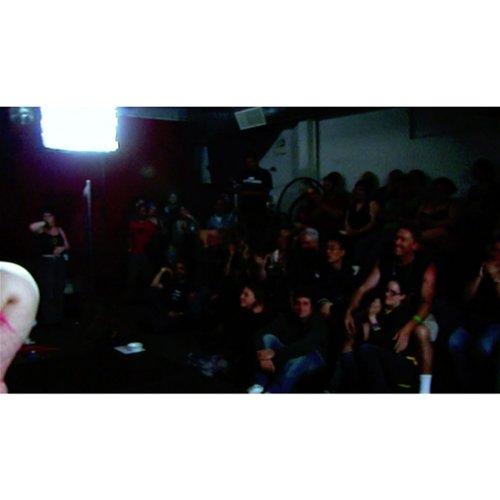 The scene that I have a love/hate relationship with is the scene between
Tina Horn and Roger Wood
. I like that the scene starts out with flogging and gets rougher toward the end. There's a great relationship between the two, and they're smiling and laughing most of the scene. Roger, however, really should take a few courses on how to work a strap on a bit better. At some points, he simply was flailing his hips into Tina wildly, tiredly, and it wasn't attractive to watch. It's at least animalistic, so when I'm turned on, it's a little hot. As a queer, myself, I understand strap on sex is one of the most tiring things in the world. It isn't as easy as it looks. However, the performance was just clumsy and too awkward, so it wound up with the two losing each other during moments. This scene probably would've been better had it been negotiated what would happen first.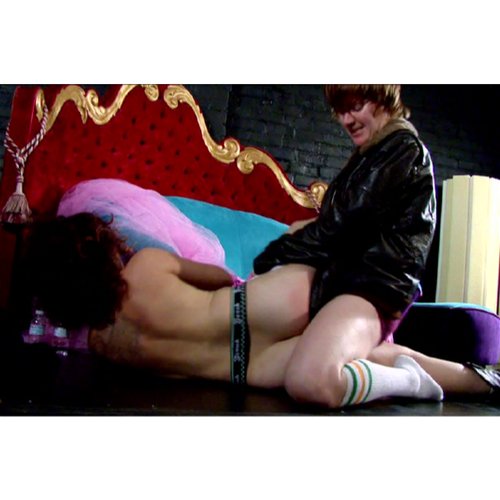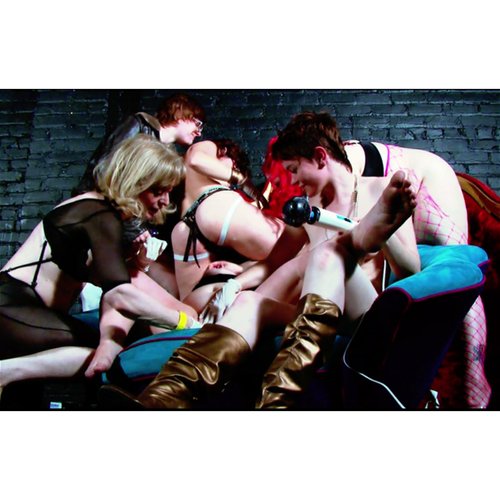 Experience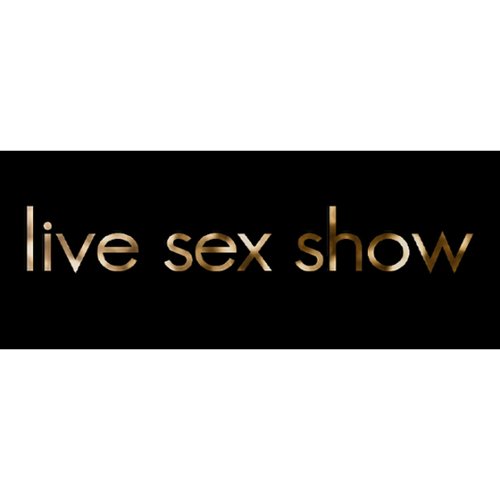 I took the title of this film way too literally. It IS a live sex show in front of an audience, but it isn't apparent the audience is even there until after the scenes are over. I'd like a little more audience participation, as I feel it would've made this film a lot more fun and interactive and really give it that 'live' show feel. It's basically just a porn set that more people than average were invited to sit in on. It's still a fun concept, and I enjoyed that aspect of the film a lot.
You kind of just have to appreciate this film for what it is. The demand for queer porn is high, but films produced are usually low budget because the demand isn't as high as the demand for straight porn. It will probably never be. For what the film cost and what it set out to accomplish, I'd say most anyone can take something from the film that they enjoy or haven't seen before. Does it make it 100% everyone's cup of tea? Absolutely not. I adore queer porn and this wasn't fully my cup of tea, either. I love the real, one on one connections, but I think a lot of the scenes are missing some elements from porn you can find anywhere online. I think some of the sex could've been rougher, more intense, and better shot. I think Courtney did well with the resources she had and made a film that is worth investing in if you love the cast and what they have to offer.
You really get an insight on what the relationships of some the stars are to each other outside of scenes in this film. There's a lot of extra footage that isn't needed, but is included to show that most of the stars are good friends and have worked together before. It's shot and edited very differently from your standard porn and doesn't just focus on sex, but the connection there between the individuals and the audience, at some points. The 200 people watching clap after scenes and sometimes the camera pans to show their faces during a scene, but not often. When the camera does pan to the audience, it's shakily and gives me a headache, but it doesn't change that this is a really original idea that could've been executed near perfectly had Courtney Trouble had the thousands of dollars that are invested in more "professional" style porn. I think this is good for the price and the the audience and cast definitely show that they are having a great time.
I've left out some scenes, such as a solo scene in the beginning, and the gang bang at the end. Mostly because the solo scene wasn't anything too enlightening, and the gang bang was a disappointment because you could barely see Courtney. I thought there would be a little more strap on action, but some of the bodies were just there to hang over her shoulder and watch.
I watched this with my partner and it didn't turn either of us on, but when I miss her, I pull this out because some of the butch women make it easy to imagine her.
Follow-up commentary
3 months after original review
I've always been a fan of owning naughty DVDs, so I tend to overrate them just because I enjoy them being in my collection - but I still really like this DVD. Mostly because anything queer friendly gets major props from me, and this film has a certain artsy quality to it that I just enjoyed watching with my partner. It would be cheesy and boring to a certain audience, but it has to be enjoyed for what it is, as it takes a rather intimate approach to sex versus really fantastic angles and loudness that most porn entails. It's definitely not for everyone, but it stars my favorite queen porn star, Jiz Lee, so it was instantly sold when I saw Eden was selling it. I still pull it out from time to time when I'd like slower, more drawn out porn that allows a nice build up in every scene.
This product was provided at a discounted price in exchange for an unbiased review. This review is in compliance with the FTC guidelines.

Thank you for viewing
Live Sex Show
review page!