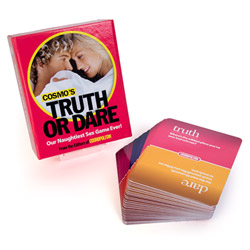 Cosmo's truth or dare
Adult game
by Hearst
I dare you to try this!
These specific cards keep the game classy without going overboard or overly cheesy. My fiance loved the cards because she sometimes has trouble thinking up new things for me to admit or perform. (we play a lot) We both found some pretty awesome cards and got to try some kinky new things. I totally recommend these cards to keep a few tips on hand. These cards are for anyone, but seem to aimed towards the female consumers.
Published:
Pros:
Provides plenty of hot truths and dares
Cons:
Deck should have included an extra rubber band or clasp to hold cards together.
My fiance and I had blast with our Cosmo's Truth or Dare card game. This deck of 52 large, colorful cards make playing an already provocatively naughty game a hell of a lot sexier.

Each card measures 4.5" long by 3.5" wide, and features one truth and one dare. The truths/dares are divided by a single white line through the center, with different shades of reds, purples, blues and oranges. The back of the cards have a reptile skin design in various hues of the above colors.

You can use the deck in a variety of ways, depending on your situation. A few suggestions are listed on the inside flap of the box that the cards come with. One such method of play suggested on box, is spreading the cards face down onto bed, both partners (or players) choosing a card at random, then give the option of truth or dare. Each person acts out their dare, or confesses their truth. Simple.

The cards come with a hardcover foldout box with magnetic closers, that when closed resembles a small red book. When closed, the box stays shuts, and the cards are secure for travel. There is a small circular picture of a couple playing in their bed sheets on the cover and Cosmo's Truth or Dare are written on all sides. A product summary and instructions are written on inside of cover once open and unfolded. To the right of the instructions is a little casing for the deck with a see-through plastic window. Cards are secure in box, although using a rubber band to keep the cards together would be a good idea as well. Convenient for storing in small places like drawers or on a shelf.

The deck really comes in handy when you wanna get creative with your truths and dares. You can use them to get to know a new lover like you never thought, or even play with someone you've been with for years to find out something new and exciting about your mate. Great way to explore your lover. These cards would make an excellent gift for newlyweds or or bachelors. They are great to have handy when you need some ideas or for use at small parties or orgies. 52 great truths and 52 great dare ideas to make the classic game of truth or dare extra naughty.
Experience
Here is a few examples of some truths and dares I picked from the deck randomly.

Truth: What's something dirty you've always been too shy to say to me in bed?
Dare: For the next 60 seconds, touch yourself like you'd like me to touch you.

Truth: Would you rather try a threesome, experiment with light S&M, or make a
video of us in the sack?
Dare: Spell out a short, sultry message on my body...with your tongue.

Truth: If we were to make a sexy movie, what would the title be?
Dare: Put on your sexiest underthings and go to the mailbox and back

Truth: Which turns you on more: the thought of me masturbating while thinking
of you or the thought of me abstaining from pleasuring myself until i
can get frisky with you again?
Dare: I'm going to put on an old shirt or piece of lingerie. Rip it off me
like you can't wait to ravish me.
Follow-up commentary
9 days after original review
Still loving the Cosmo's truth or dare cards. My fiance and I have done almost every truth or dare in the deck and we're having fun exploring each other's desires. They are great to have around when you want to start things off playfully. Totally enjoy them!
This product was provided free of charge to the reviewer. This review is in compliance with the FTC guidelines.

Thank you for viewing
Cosmo's truth or dare
– adult game review page!