Truth or Dare Cosmo
This game is really worth it. Especially if you want to get to know your partner a little more and also if you want to know more about what they think about your sex life. The disappointing side of this game is that it could really use more questions.
Published:
Pros:
Great colors.
Great for beginners.
Easy to store and travel with.
Cons:
Has some weird questions.
Could use more questions.
Are you ready to play a fun and naughty game? Well here is a great game to play with your partner. My favorite qualities about the game are the different colors. I think it could have more questions about the persons' relationships, but that is my opinion. Some of the questions are a little weird though and we just had to pass them and pick another card. It was a naughty game and very fun to play. The dare cards are the best out of this whole game and are fun to repeat time and time again. The truth cards could use more questions, but there are still some good questions.
I love how this game is in a little box. This box contains 120 cards. The box fits perfectly in my hand, so it is easy to grab and easy to carry. The cards are flimsy and very easy to bend, but he box is very sturdy. It is also really easy to clean up. You don't have a whole lot of pieces to pick up and organize back into a big bulky box. I haven't played another sex game that I loved so much. This card game can be used for all configurations of couples.
The rules of the game are very simple and easy. You put the cards on the floor face down and spread them around. One of you picks a card and asks your partner "Truth or Dare?" My partner and I rolled a dice to see who goes first. When they answer you read what is under which ever they choose. Then the next person goes. You are supposed to play until all the cards are gone which lasted my partner and I about 3 hours.
It is very small and easy to store and travel with. This game would be really great for beginner couples to help them open up to each other. It also helps you get to know what they like and let them know what you like. This game really played the role of getting to know my partner better and know how they feel about our sex life. I really enjoyed playing this game and think others would enjoy it to. It is a great product and for a great price. I would really recommend this to other couples, especially to all beginner couples.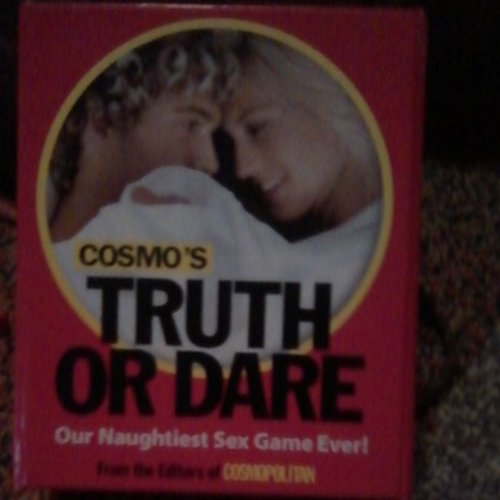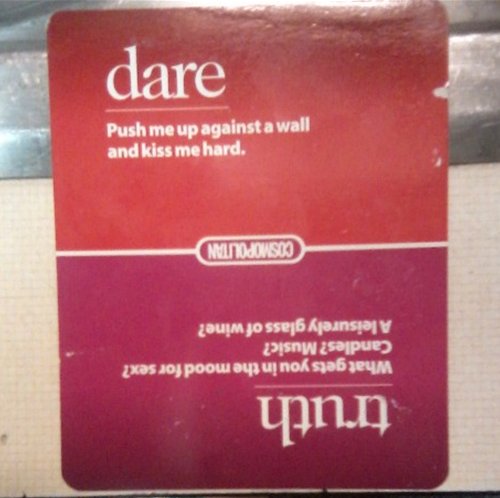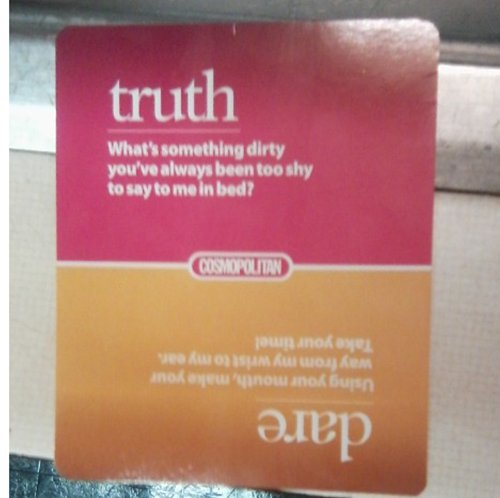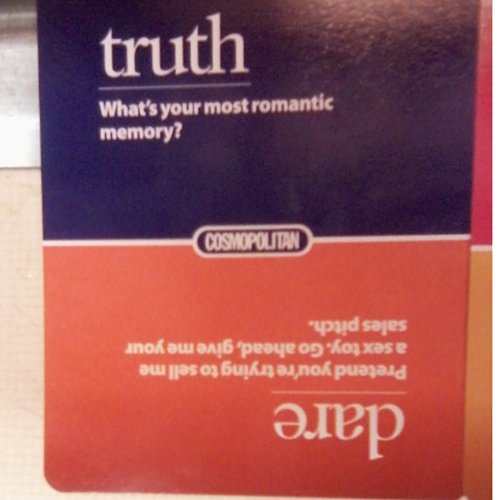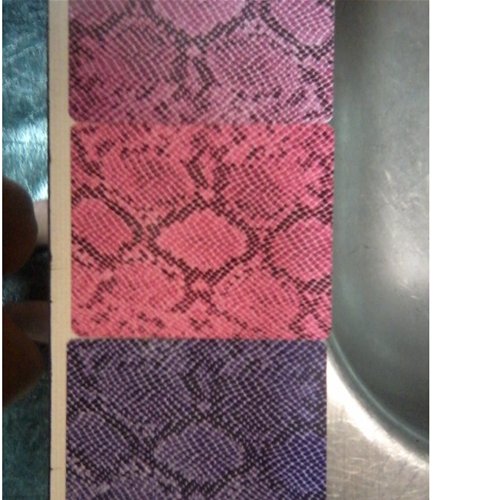 Experience
My partner and I had a good time playing this game. I liked how it asked questions I never even thought of to ask my partner.

Here are an example of a Truth & Dare Question that I liked Best:
Truth: If we could only have sex in one position for a month, what position would you pick?
Dare: Pull down your pants, turn around, and do your best rendition of the Beyonce booty shake.
Follow-up commentary
2 months after original review
My partner and I still play this game. We have been using it a lot more now. Every time we use this game it gets funner and funner.
This content is the opinion of the submitting contributor and is not endorsed by EdenFantasys.com

Thank you for viewing
Cosmo's truth or dare
– love game review page!