A little something for your Bootie
The Bootie would make a great introduction to anal play or extended wear butt plugs. It's 100% silicone, so easy to care for, and body safe, but needs a thorough clean up after every use since it holds onto smells like no other toy. It's also quite the lint magnet. However, the pros definitely outweigh the cons.
Published:
Pros
Small, nice material, well made
Cons
Holds smells
The Bootie Anal Toy (that's what the box says) from Fun Factory was the first real butt plug I tried. I'd experimented with others before, but they were the cheaper, slim jelly probe types that no longer see the light of day.
Made of velvety smooth silicone, the Bootie features a long, comfortable 'handle' that ensures it won't get lost once it has been inserted. It measures 3" to the top, although there is a slight curve that I didn't measure. All but about the last 1/4" gets inserted when you use it, so it really doesn't take up much room, although that curve at the top makes it feel as though it's a little more filling than you'd think. It doesn't vibrate or move around when it's inside you, nor does it seem to hit any particular spots. My husband tried this out and likes it but found that it didn't come close to hitting his P-spot. We've both taken turns wearing this for sex, though, and agreed that that it felt nice. It almost gave me a feeling of being DP'd, and he felt that it made his orgasm feel a little more intense when it was his turn to wear it. Again, though, if you're going to share this, make sure you have taken the time to clean it properly.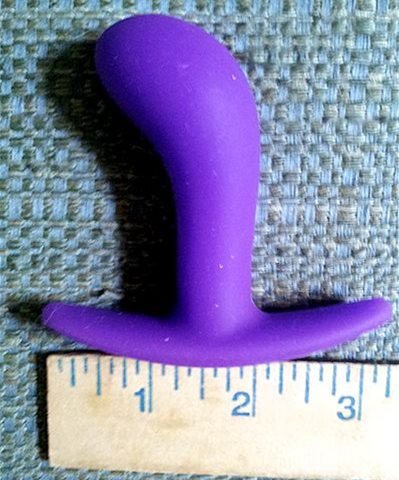 The Bootie is body safe and great for those starting off with anal play. It's comfortable enough for long-term wear, too. As with all anal activity, lube is highly recommended (I'm sure you already know this anyway,) and since the Bootie is silicone, you should only use water-based lubes. My personal favorite is Sliquid's Sassy Booty. Just be aware that you'll have to reapply water-based lubes more often than you would with silicone lubes on other toys, as it tends to dry out quicker.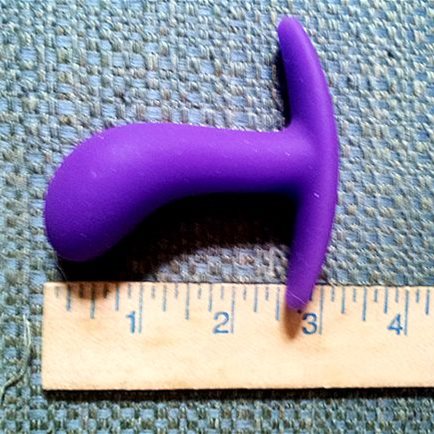 My first real problem with the Bootie is the smell. It already has a very slight smell to it when you first open up the box. It's not unpleasant; it just smells very, very slightly of plastic. However, that's nothing compared to what happens once you've used this just once. No matter how incredibly clean you get yourself, Bootie manages to smell like ass the moment you remove it from your body. I'm sure you could put this in the kind of lab at NASA where they put space telescopes together and it would come out smelling like ass. I've tried cleaning this in all of the standard silicone-safe methods (soap & water, toy cleaner, etc.) and the only sure-fire way of getting rid of the smell that I've found so far is boiling it in a 10% bleach solution. You might want to bear that in mind since you can't really take it out and give it a quick wipe when you're done. There's a definite clean-up process needed each time you use it.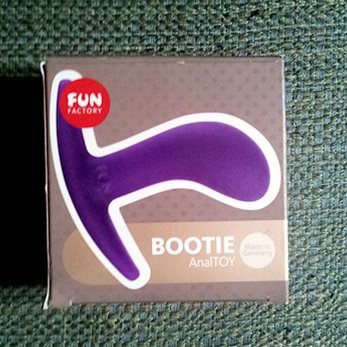 The other thing I don't really like is the trade-off between the material feeling great and the fact that it's a lint magnet. If your Bootie is dry, then it's going to attract dust and hair that you never even knew was in your home. You can give it a quick wash before inserting it, but it might be an idea to store this in a Ziploc bag rather than the little cardboard box it comes in. Speaking of the box, one side of it has a picture of the Bootie while the reverse shows a picture of a couple splashing in a pool. Both are naked from the waist up and both have their butts sticking out. It's only a small picture, but it's definitely not discreet packaging.
This content is the opinion of the submitting contributor and is not endorsed by EdenFantasys.com
Thank you for viewing
Bootie
– butt plug review page!