Bootie-shakin' good!
This was my very first butt plug, and I've really enjoyed it! The size is good for beginners, and the shape and the giving, silicone material made the toy very comfortable. The main downside I see in the toy is the lack of a defined neck, which caused the toy to move around and pop out. I'll still be using this toy, but I'll also be looking for another plug with a more obvious neck so that it stays in place.
Published:
Pros:
-Good for beginners
-Made of phthalate-free silicone
-Unique hook shape
Cons:
-Expensive for a small toy
-No defined neck may make toy pop out
USE
The Bootie is a butt plug with a thin, long base that comfortably fits between the cheeks. The toy is on the small side for butt plugs, making it good for beginners. This was actually my first butt plug! Another positive aspect of the small size is that it leaves plenty of room for vaginal sex as well, if a woman is using the plug.
The hook-shape of the Bootie is unique and is what attracted me to the toy. You could either point the hook forwards, which I was hoping would stimulate my G-spot, or backwards to lie more naturally within the anatomy of the rectum. I found that pointing it backwards made me feel more "full." For me, pointing it forwards didn't stimulate my G-spot much because the toy is small and there is a bit too much flesh between the vagina and rectum to feel through. I imagine that, for men, this would feel pretty good against the prostate.
The long, thin base seems like it would make it comfortable to wear for long periods of time, though I never wore it for more than about 30 minutes at once.
MATERIAL
The Bootie is made of silicone and is phthalate-free. This particular toy has a velvety texture, not slick silicone, and I found that this helped to keep the lube on a bit better. When I used the toy, my partner warmed it up in some hot water for me. I've never tried this, but I'm sure that popping it in the freezer might also be fun if you like temperature play. Silicone can withstand a wide range of temperatures.
The one thing you do have to worry about with silicone is coming into contact with other silicone, especially lubes. Silicone lubes can begin to break down the toy on a microscopic level. The toy can become tacky and porous, making it capable of harboring bacteria and impossible to clean or sanitize, in addition to just being damaged. To be safe, I keep my silicone toys in plastic bags so they won't come into contact with each other and break each other down.
DESIGN
The hook shape of the Bootie is great for a little extra stimulation without extra girth. I think that's great for beginners, especially since the toy is small. I also liked that the base was long and thin, which let me comfortably lie on my back for vaginal sex with the Bootie in. I don't think the Bootie would work so great for vaginal use because of its small size and short length. I like that because the silicone is relatively soft it had a little give, which I think helped with entry.
There's a small seam running around the entire toy and the Fun Factory logo is molded into the neck of the Bootie. I didn't feel either of these during use.
What's not very easy to spot in the photos of the product is that the bulb at the end of the hook widens in two directions and is oval shaped, and it is slightly wider in the direction perpendicular to the long base.
There's one drawback I have with the Bootie: the neck doesn't have a well defined edge, but instead tapers into the hook end of the toy. This made the Bootie difficult to keep in place, and it even popped out!
I took some measurements of the toy, noted in the following photo: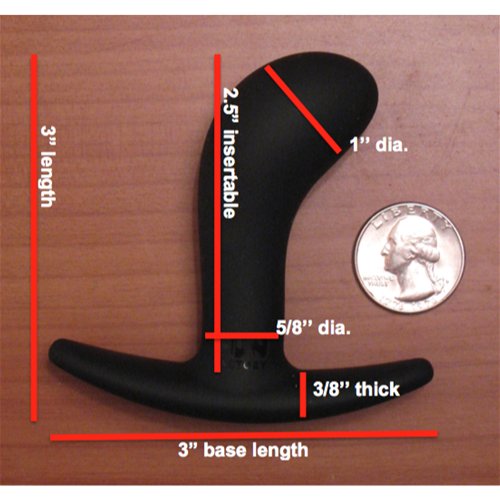 CARE
Because the Bootie is made of silicone, care is pretty easy. You can just wash it with soap and water to clean it or use toy wipes. If you're going to switch between partners, you should sanitize the toy by soaking in a bleach and water mixture, boiling it, or throwing it in the top rack of the dish washer. Personally, since this is an anal toy, I find the top-rack method to be a bit yucky and I would just boil it. As stated above, just avoid silicone lubes with this toy, since it is made of silicone itself.
Silicone unfortunately attracts a lot of lint, but it's easily rinsed off. I just put my toys in zip-top plastic bags right after I clean them so that next time I want to use them, they're ready to go. The plastic bags also keeps my silicone toys from coming into contact with each other and potentially breaking each other down.
PACKAGING
The Bootie is packed in a dark gray, cardboard box with a plastic insert. There's no nudity on the box, but the butt plug is on display. There's a small packet of lube and instructions included. The box is easy to open, so you could store your toy in the original packaging, if you like.
Experience
Never having used butt plugs, I was a little intimidated at first, but the Bootie was easy to insert with some lube and was very comfortable. I found that while the base was long and thin, it was not too long and did not interfere with vaginal sex. On the downside, the neck is not well defined and just tapers to the tip of the toy. The Bootie tended to slide in and out with movement, and I was worried it would pop out. It actually did pop out during vaginal sex.

Overall, I would recommend this to other beginners or people who want some stimulation without feeling overly stuffed. I'd prefer it if the toy had a more defined neck, but I will still be using this toy in the future.
Follow-up commentary
3 months after original review
I've used this toy on and off, and I'm liking it more than I did at first. Unfortunately, it still threatens to pop out because of a not-very-defined neck.
This content is the opinion of the submitting contributor and is not endorsed by EdenFantasys.com

Thank you for viewing
Bootie
– beginner butt plug review page!