Enjoying A Little Thing
While by no means a heavy hitter on the anal all-star team, Bootie will win the hearts and minds of anal fans through its brilliant design, portability, soothing texture, and concealability. Those new to anal play will love this as their first plug, while advanced users will appreciate the safety of the base and long term wear potential.
Published:
Pros:
Super portable and discreet, soft texture provides sensual sensations, effective and comfy base
Cons:
It has a visible, palpable seam
I find anal play to be somewhat addictive. The larger the toy I take, the larger I want to take. I've kept this addiction in check by only buying quality toys, which generally limits the maximum diameter to under 3". I figure with that diameter, I won't cause any horrific, permanent bodily harm. So why then, would someone like me drawn to large toys be so enthralled with such a cute, petite, playful looking plug like Bootie? I've learned to enjoy the little things, and there is a lot to enjoy in this little package.
This would be a perfect plug for beginners. I've found it can kind of dart around the target a little, so it's best to grasp Bootie where the neck meets the head when inserting. Avoid silicone lubricant with Bootie.
The base is amazing. It's thin, comfortable, and conforms perfectly to the curvature between the cheeks. Despite this, it's also long enough to ensure that Bootie doesn't take a trip up Sigmoid Lane. When I purchased this plug, I already had a good deal of anal experience. I was concerned that if I took a large toy and then tried to wear Bootie the base would not be long enough to keep me from swallowing it. This wasn't a valid concern, though, and I think the following picture best illustrates why: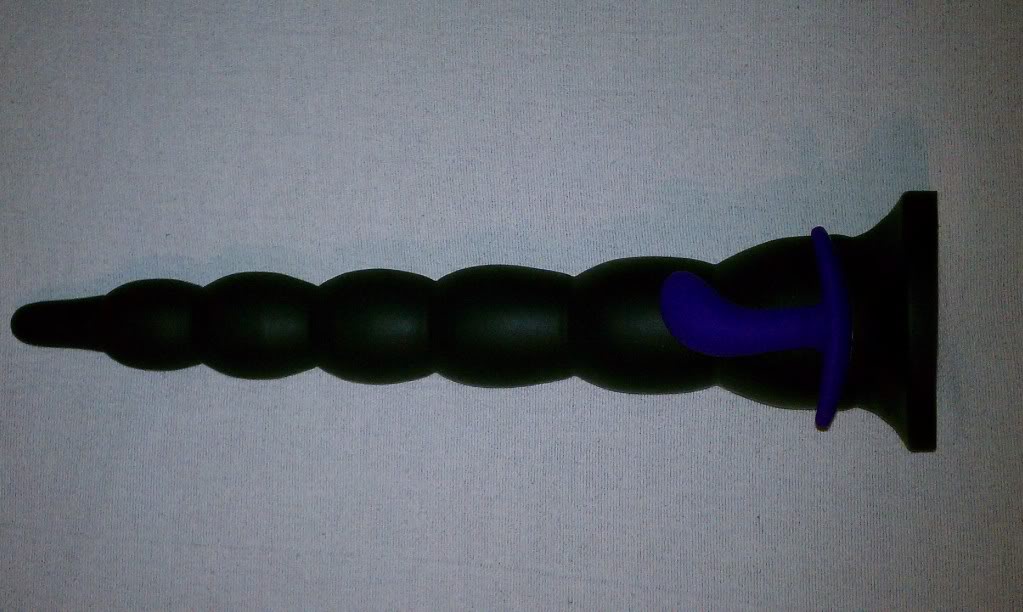 The Cowboy by Tantus is the toy pictured under Bootie, and its largest bulb is almost three inches in diameter. Yet, as you can see, Bootie's base not only covers the entire bulge, but even goes a little further on either side. I wouldn't recommend going from Cowboy to Bootie in a matter of minutes, but it's comforting to know that the base is that long.
The color of this toy is really something. I don't know if it's just this toy, or if all Fun Factory products are like this, but the color is incredibly vivid. In the photos, the Bootie looks blue, but it's actually purple. Under a black light, Bootie fluoresces pink! Holding the plug up to a white light shows off some really pretty purple tones, and the outer perimeter of the plug looks almost translucent.
The texture of this plug is really soft. Running the fingertips down the head and neck will reveal something that I despise in my anal toys. A seam: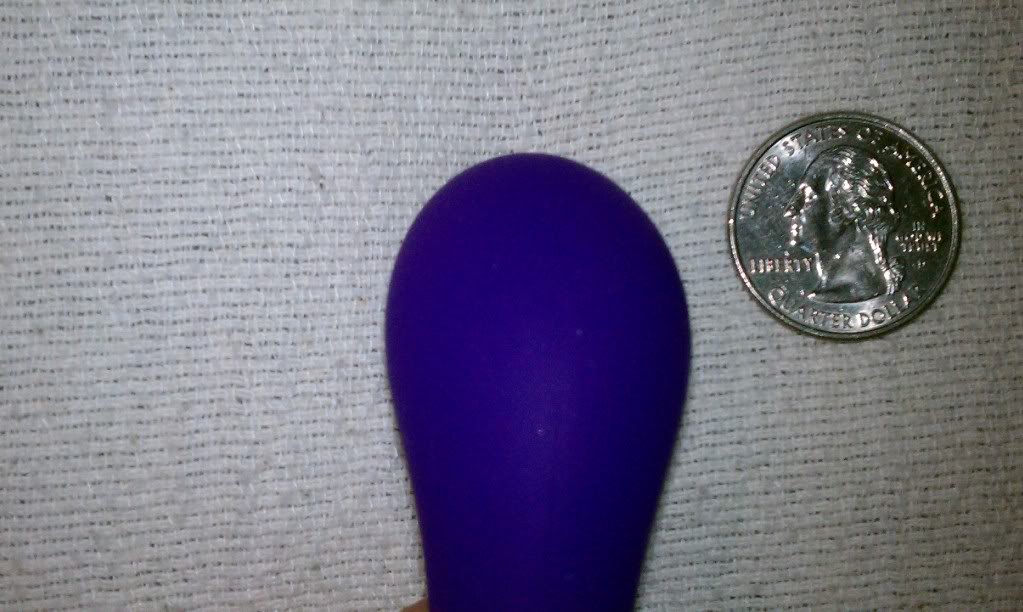 It's not visible unless you really look for it, but it's easy to feel. I've never felt it while wearing Bootie, but just knowing it's there kind of irks me. Aside from the seam, the Fun Factory logo is placed on the neck near the base. It looks classy, and can't be felt while inserted.
Bootie is pretty flexible in the neck. The head of the toy is nice and squishy, and can be flattened down slightly with light effort from three fingers. The base is very flexible as well, which would normally concern me, but it is not a safety issue given that the base curves inward towards the anus, making it difficult to collapse.
The plug is very portable. I've put it in cargo pockets and loose jean pockets without the outline showing. This is the plug that I use most often in public as it's so easy to carry and conceal. I generally store Bootie in an empty dresser drawer.
Performance is where my Bootie really shines. It's like a soft kiss on the bum. The smooth silicone feels wonderful inside the anus. It makes its gentle presence felt when initially inserted, but after wearing for a bit you can sometimes forget it's there. Bootie is comfortable enough to wear for hours at a time, and even sleep in. It doesn't really give me prostate pressure, but it does give some stimulation, and heightens my orgasms.
Being made of pure silicone, Bootie is easy to clean. Warm water and antibacterial hand soap are how I usually clean it. If you'd like to sterilize it you can use a 1:10 solution of bleach and water or boil it for five minutes.
It comes packaged in an indiscreet brown cardboard box with the Fun Factory logo clearly visible. My only complaint with the packaging is that there weren't two "clam shells" to hold Bootie in place, only a bottom one. This made it easy for the plug to slip out of the cut-out in the cardboard box. For this reason I wouldn't recommend the packaging as a gift box or for storage. There were no instructions for use, but there was an insert with a product list from Fun Factory. Also included was a small trial sized pouch of Toy Fluid.
Size comparison with Ryder and Severin Medium: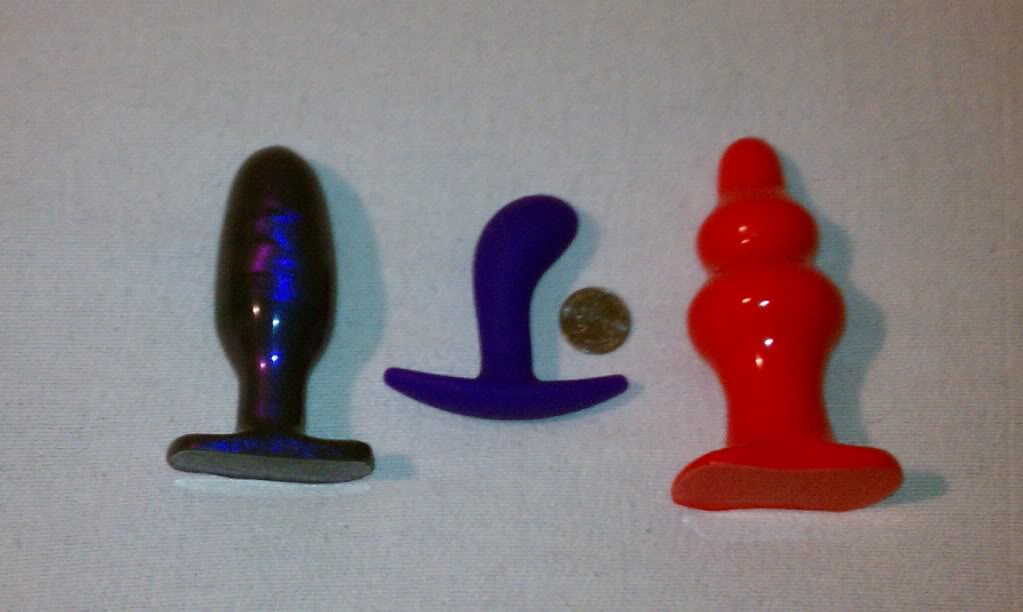 Experience
My first experience with Bootie was at my job. I was leaving for work when I noticed a package that had been delivered in my yard. I was too excited to wait until I got back home to open it, so I opened it in my car. One look at this cutey and I knew I needed it in my butt that night. When I got to work I slipped the plug and the Toy Fluid pouch into my cargo pocket and headed straight to the bathroom. A quick wash with hand soap, a few drops of lube in the toilet stall, and Bootie was in business. This was the first time I wore a plug at work. The secret knowledge of what was nestled in my butt, the soft texture sliding in when I sat down, and the pleasant jiggling while walking all combined to create a very exciting night shift.
Follow-up commentary
3 months after original review
I've added a good number of items to my toy box, but I still adore this little plug. It's the best thing I own for "load and go" situations when you want a plug in you but don't have a lot of time to prep first. The seam still annoys me a little but I've mostly gotten over it. Mostly.
This content is the opinion of the submitting contributor and is not endorsed by EdenFantasys.com

Thank you for viewing
Bootie
– sex toy review page!