Artsy, Curvy and Flexible.
Supplying a surprisingly amount of pressure to the G-spot for such a nicely flexible toy, it still manages to feel comfortable at all times. While some G-spot toys with severe curves can feel overwhelming because of their firm builds, for me the Bandit has just the right level of firmness for effective pressure but comfort.
Published:
Pros:
Curved and textured for G-spot stimulation, flexible, a size that should prove manageable for most.
Cons:
Base is different than the one shown, lint magnet.
Being a fan of Fun Factory's vibrating toys but having only ever invested in one other Fun Factory dildo in my years of toy collecting, I felt that it was time for me to give Fun Factory dildos a chance again after being impressed with the design of the Stronic Eins.
Packaging:
The Bandito arrives in quite plain but sturdy packaging. It shows an image of the Bandito itself on the front of the box while one side shows a different view of the toy and another shows with fun little diagrams, that the Bandito is made of silicone, suitable for vaginal and anal play and suitable for shower and bathtime play too.
When this sleeve is removed, it reveals a pretty plain silver box with Fun Factory written on its lid. The Bandito sits loose inside this red-lined box. Overall the packaging pleasantly simple but maybe a little lacking in product information.
First Impression:
With only one other Fun Factory dildo in my collection (the Curve) I had expected this to be made of a similarly firm silicone, to my surprise it felt softer and more flexible. I would say its closest comparison would be the firmness of a slim Vixen Creations dildo.
Apart from being more flexible than expected, it was also slightly smaller than I had been anticipating, with a head that looks quite manageable despite its curved shape and raised ridge. The rest of the shaft looks just as comfortable, as even with all its curvy and raised designs it has a modest girth. The shaft of the Bandito is only slightly curved with the head being where all the G-spot magic happens.
Overall the design of the Bandito is fun and artsy. With just a hint of a tentacle like theme about it, it can appeal to tentacle enthusiasts but equally non-tentacle lovers will appreciate it just for its artsy feel.
The base of the Bandito is almost heart shaped; thicker at the front of the dildo, it then tapers down towards the back of the dildo. This highly flared base makes it suitable for both anal and strap-on play and the generous width of base at the front works really well for gripping when playing with this by hand.
Looking at the product page photos, my Banditos base does actually differ from it; mine has a much thinner and flatter base than the one shown. Holding it in my hands, this flatter base feels easy to grip and appears as if it would be more comfortable to hold onto while thrusting so perhaps this is an updated design to fix an older and more difficult to grip, design of base. The base on mine is quite definitely flat so the concave design shown on the product page photo may have also featured a suction cup that wasn't included in the updated design.
Measurements:
Total Length: 6 ½ Inches
Insertable Length: 5 ½ Inches
Circumference: 4 ½ Inches
Features:
Flared base for safe anal use
Harness compatible
In Use/Experience:
With its flexibility and modest girth, I was looking forward to the Bandito, certain that it would turn out better than my experience with the girthier and much firmer Curve dildo by Fun Factory. The relatively slim head of the Bandito is easy to insert with just a drop of water based lube needed to counteract its 'silicone drag'. The curved shape of the head does make it initially feel like a thicker toy than it is but once you start thrusting the head of the Bandito then starts to effortlessly find the G-spot while the rest of the shaft feels nicely slim and manageable while still textured and stimulating.
Depending on how much of the Banditos length is inserted, it can feel quite different. Inserting just half of its length brought me quite intense and direct G-spot stimulation while inserting its full length filled me and provided texture aswell as sending its probing head deeper inside for a massaging sensation against the front wall of the vagina.
With its ability to either find the G-spot with ease or to create a filling sensation despite its modest size; my favourite way to use it is to alternate between shorter and longer thrusts for strong G-spot pressure, texture and a filling sensation all from one toy.
The mix of texture and it highly curvy shape makes it incredibly hard to tire of thrusting as every thrust almost creates a new sensation, massaging the front wall, the G-spot or anywhere where this features texture. Closely looking at the design it appears that no point has been overlooked; when it comes to 360 degree texture this has it but not in an overwhelming way.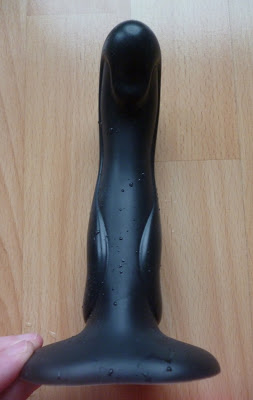 ...
Experience
Compatible with O-ring harnesses, the Bandito best fits a 1.5 inch ring. The shape of the base can prove to be a bit awkward with some harness but being thin and flexible means that, with a squeeze it can be managed with most standard harnesses. The generously flared base makes this safe for anal use too and being such an effective G-spot toy it will work for prostate stimulation too. For anal use I would only recommend this to more experienced anal players who enjoy texture and curves.
Overall:
Once I had felt the Banditos flexibility, I had initially had two thoughts, one was that I was grateful I wouldn't have the same problems with this as I'd had with the much firmer Fun Factory Curve, but my second thought was that it wouldn't be firm enough to properly apply pressure to the G-spot. Well I was right that my experience was much better than with the Curve but so very wrong when I thought this might be lacking in the G-stim department!
Care:
Made of high-quality Silicone, the Fun Factory Bandit is both Latex and Phthalates free, silicone is completely non-porous meaning that it can be fully disinfected by boiling it for 3 minutes or by throwing it into the top rack of your dishwasher or it can be simply washed after use with warm soapy water or specialized toy cleaner, it is generally believed that silicone based lubricants should not be used with silicone toys. I would recommend using a generous amount of water-based lubricant with the Bandito. Despite its G-spot stimulation, I still find that it usually requires several re-applications of lube per play session.
When not in use, I keep the Banditoin a Zip-sealed plastic bag; it can be a serious lint magnet so this keeps it dust and lint free. Silicone toys are well known for attracting hairs and dust.
- Compared with the Fun Factory Curve Dildo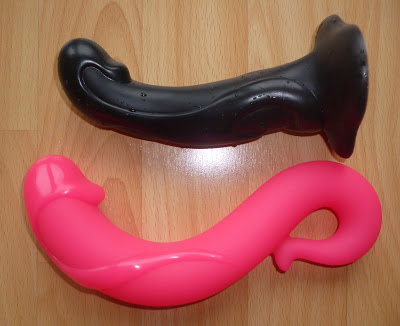 This product was provided free of charge to the reviewer. This review is in compliance with the FTC guidelines.

Thank you for viewing
Bandito
– g-spot strap-on dildo review page!