Beautiful Swirl of Blue!
If you appreciate texture in toys and are a fan of glass then the Blue Swirl is a great choice for both! It has a neat design and is sure to please both vaginally, anally and teasing! Perfect for temperature play as well as time in the bath or shower!
Published:
Pros:
~Beautiful
~Safe for anal play
~Fantastic texture
~Easy for beginners and experience users alike!
Cons:
None, other than the pouch wasn't as padded as I'd have liked!
Blue Swirl
is a beautiful glass toy made by
SSA Glass
.
This toy is a prime example of why I am now a fan of glass toys. This is my second glass toy and I must admit, I love it! The toy comes in a red velveteen drawstring pouch for protection, though the pouch is not very padded! I will most likely buy another pouch later on down the road, to ensure the safety of this toy!
Glass toys have a 10 on the safety scale, because they are non-porous and can be sterilized by boiling or soaking in a 10% bleach and water solution when needed! Also, toys like this are easier to clean with toy wipes as well.
The Blue Swirl measures at 6.5" in total length, about 6" insertable comfortably. The bulb on the top of the toy is about 1.5" followed by the 4.5" shaft if measured from the very bottom of the bulb to the base. Although this toy may be small to some, it has fantastic texture to it! The toy is clear glass with blue swirled patterns running down the entire length of the shaft, but these are not just for looks! The swirls are actually raised, and provide a lot of internal stimulation.
Because this toy just came in the pouch instead of a box with instructions, it is left up to the imagination of the user. This toy is great for vaginal play though, and teasing areas like the anus, nipples, or clit. For men, you could even use this to tease your balls or penis. Both genders will be happy to know that this toy is safe for anal play because of its flared base! Glass toys are exceptional for temperature play. For cold play, simply dip in a bowl of ice water and for hot play do the same with a bowl of hot water! After it has been in the water for a few minutes, take it out and enjoy! This is a lot safer than methods like freezing or microwaving because it can be harmful to the body as well as damaging to the toy!
Another great thing about a glass toy is the ability to use any type of lube, because nothing is going to interact with this hypoallergenic material! No worries about it breaking down or lessening your experience! I would love to keep this out for show on my desk, to be perfectly honest, because it looks so neat! The toy is of course
not
discreet, so every passer-by will know what it is that you have out!
The fact that there are no moving parts nor is this battery operated, you may take this in the tub or shower with you, but be careful, as this toy is slipper when wet! Also keep that in mind when using lubricants. It does cause it to slip easily.
Here you see the lovely toy with the pouch as well as an idea of the size! Beautiful, ain't it?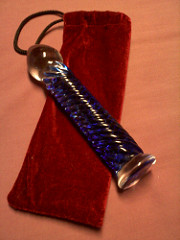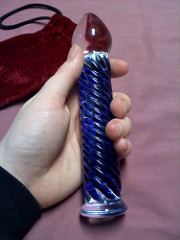 Bulbous head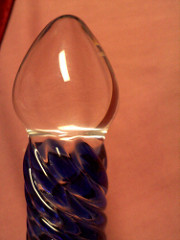 Mmm just look at that texture!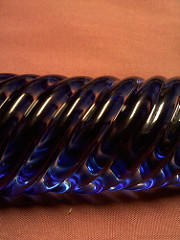 And as you see, if you look through the glass in the center (we are looking down from the base) you can see right through it so the swirls are external only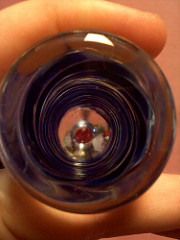 Experience
I fully enjoyed using this toy with some hot water for temperature play, and incorporating my partner into the mix allowing him to use it on me! The swirls provided more stimulation during anal play than vaginally, but that is not to say that it didn't provide vaginal stimulation at all! My partner liked it when we dipped it in a bowl of ice water and I used the "ribs" of the toy (the swirls) to run along the shaft of his hard penis.

This is actually my new favorite toy for anal play so far because the texture is excellent and the bulb is easier to get inside than some other toys, though I see myself using this more for vaginal play. I suppose that would be because I hate taking the time to sterilize toys!

I haven't used a vibrating cock ring on this toy yet, but I did place one on the toy as a trial to see if the vibrations would be strong enough and they certainly were, so I suspect that vibrations would make this toy even better!

5 out of 5 stars because the only flaw with this toy is that it didn't come with a better box or pouch to store it in!
Follow-up commentary
4 months after original review
I still like this toy, though I don't use it as much as some of the other glass toys. The swirls provide a nice feeling though I've found that the texture type isn't necessarily my favorite.

Overall, I'm glad I tried a swirled texture glass toy and don't regret getting this glass dildo one bit!
This content is the opinion of the submitting contributor and is not endorsed by EdenFantasys.com

Thank you for viewing
Blue swirl
– dildo review page!