Glass Art
This is my first experience with glass and it will not be my last! I loved the Blue Swirl for it's artistic aspects as well as what it can do for me physically what with its shape, weight, and ability to adapt to various temperatures.
Published:
Pros:
size, shape, artistic, just about everything!
Cons:
swirls aren't super ridged if texture's what you're after
Blue Swirl is an intimate little dildo that is perfectly priced and designed for your introduction to glass. This is technically my second glass toy, following a not so great experience with a glass vibrator, but certainly my first glass dildo in what I intend to be a long string of glass dildos.
I don't mean that I'm planning to string all the glass dildos up like garland, but that sounds like a great idea at some point. What I mean is that Blue Swirl gave me a taste of what it is to be loved by glass, and this will SO not be my last glass dildo purchase.
Let's have a look at this pretty little thing, shall we?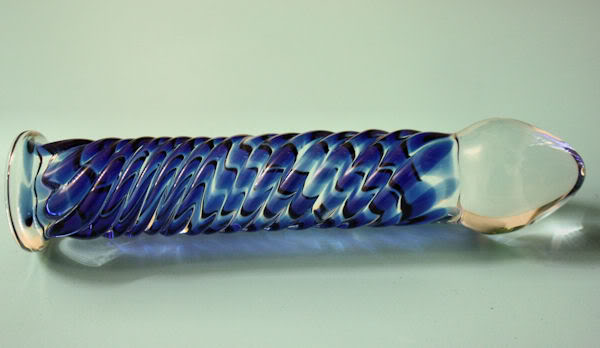 Just over six inches of ultra safe pyrex glass, the Blue Swirl weighs in at ten ounces. Best yet, this baby is solid and sturdy, not hollow like you might be worried about. This isn't any old glass by the way, this is Pyrex, just like your casserole dishes at home. This is awesome because it can be put through temperatures, and is less touchy and fragile than regular glass. Should it ever break, it'd snap into pieces rather than shatter and splinter. Good to know considering where you intend to put it. (To be on the safe side though, handle with care and always inspect for chips before use.) It arrived with a big "FRAGILE" sticker on the shipping box, and from what I can tell nobody in the USPS took this as a sign to play football with it.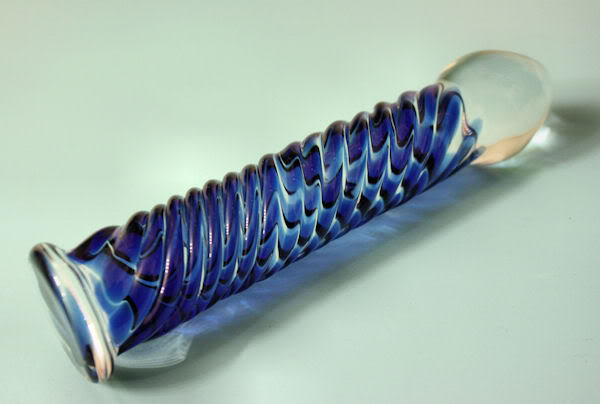 As you can see, this puppy's got some schwirrll goin' on! However the swirly texture isn't super noticeable. Being a woman who receives regular dickings, it takes a lot to catch my attention and a few shallow ridges isn't going to do it. So don't buy this toy for its ridges and swirliness, buy it because of its shape. That isn't to suggest that the swirls don't make it pretty. This is a beautiful piece of art in fact. But there are plenty of other textured glass toys on the market (that I've yet to try) if that's what you're going for.
Take a look at this beautiful thing's head!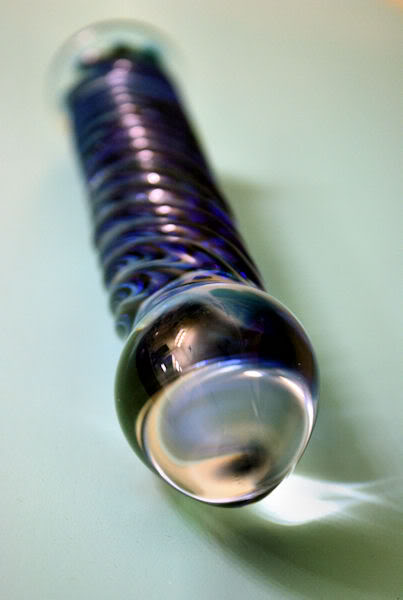 As you can see the head is bulbous with a gently rounded tip. Think of a chubby teardrop. There's enough of a lip where the head meets the shaft to create g-spot stimulating fun, but don't you dare think about putting this in your butt. There is WAY to small of a base on this thing for you to even be thinking about that, so put it out of your mind.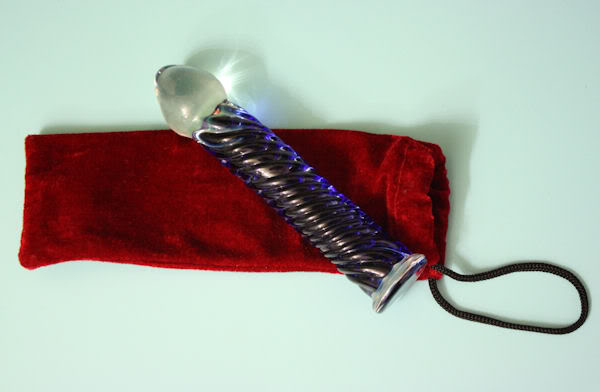 The dildo comes with its own little velvet bag, though it is not padded, and doesn't provide a whole hell of a lot of protection except from scratches. ALWAYS be careful with your glass toys and as I said before ALWAYS inspect for anything that could cut you before use.
Use any of your favorite lubes to turn this into a super slippery slidey toy, and then clean with soap and water. You can even boil it to disinfect it or pop it in your dishwasher. Play it safe and give it a wash after each use though, being careful to clean in those swirly crevices with a cloth or a gentle brush.
Experience
I took this thing directly into the shower with me when I got it. Test number one was a bit of thrusting and g-spot play followed by just holding it in while working my clit with the shower head's jet spray. It did get a bit slippery though and I lost my grip on it for a second there and it hit the bottom of the tub pretty hard. I was laying down though so the drop wasn't fatal, but keep this in mind if you're trying to be discreet. Working with glass is different because although it is very strong, there is still a chance of it breaking or chipping. The weight seems to get the best of you, it seems.

Later that night my fiance and I tried it out in our room. I showed him myself how I like it done, since we don't do a lot of dildo play, then he used it on me while we 69'd. Not only did I enjoy this, but he was happy about being able to use the dildo in this position because if he uses his fingers in this position he has to stop using his tongue. With this dildo in place of his fingers, he can keep at what he was doing.

We also took to dipping it in ice water every now and then to keep the temperature cool. Wow, what a feeling! Definitely can't get that out of many other materials out there!

This is my new little favorite toy! I'm very pleased with the overall quality and awesomeness of this toy.
This content is the opinion of the submitting contributor and is not endorsed by EdenFantasys.com

Thank you for viewing
Blue swirl
– dildo sex toy review page!