The Beautiful Blue Swirl
The Blue Swirl is a truly beautiful piece! It's very comfortable and easy to use and hold, even for extended periods of time and has a great variety of uses. The texture feels very interesting when inserted, but is a serious pain to clean. If you're looking to try out something new as far as texture, this is a great piece, but if you prefer smooth toys that are easy to clean, look elsewhere!
Published:
Pros:
-Beautiful
-Interesting Texture
-Flared Base
-Easy to Use
-Temperature Play
Cons:
-Difficult to Clean
-Texture might be too much for some
Use
Blue Swirl by SSA Glass is a beautiful clear and blue glass dildo that has an interesting swirl pattern on the shaft.
This toy has a few different uses to it.
* Temperature Play - Like all glass toys, the Blue Swirl holds it's temperature very well! Put the toy in some warm water or hold it in your hands for a while to help make it warm and bring it to body temperature or put it in a cup or bowl of ice water for some chilly fun!
* Vaginal Use - This toy feels great when gently thrusting during vaginal play! Make sure that you are careful not to get too aggressive since this toy is rigid and could bruise your cervix and cause some discomfort.
* Anal Use - Thanks to the flared base of this toy, the Blue Swirl is safe for anal play. Due to it's size, I would recommend this being done only if you're used to some anal play. Just like all toys, if you're planning on using this in more than one orifice, be sure to thoroughly clean in between each.
This toy is a great solo toy but can also be used with a partner. It can be taken into the tub or shower with you since there's no worry about it being exposed to water. Just be careful not to drop it, as that could cause the glass to chip or break.
Material / Texture
The Blue Swirl is made from Pyrex Glass which rates a 10/10 on the Eden material safety scale. This type of glass is made in a way that makes it shatter resistant. Should you drop your toy and it breaks, you won't have to clean up all sorts of tiny, splintering pieces. Instead, it would break in much larger chunks.
The feel of the toy is very interesting. The bulbous head is totally smooth, but the shaft is composed of beautiful blue swirls. The texture is interesting since the swirls are diagonal and not horizontal. When used internally, it has a massaging quality to it as it's being carefully thrust inside of you. I'm a little more sensitive to texture than some, and I found that this toy, though textured, wasn't as bad as I thought it would be because the swirls remain the same throughout the toy.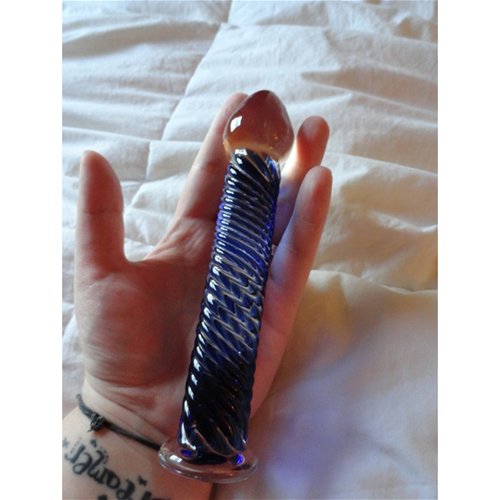 Because this toy is made of glass, it's extremely rigid, but there's also not the worry of picking up dust and lint wherever the toy is set down.
Design / Shape / Size
The Blue Swirl is a truly beautiful piece to behold! The bulbous head is totally clear, while the shaft has gorgeous blue swirls going down the full length of it. At the bottom of the shaft, the base widens. The flat bottom of the base makes it free standing.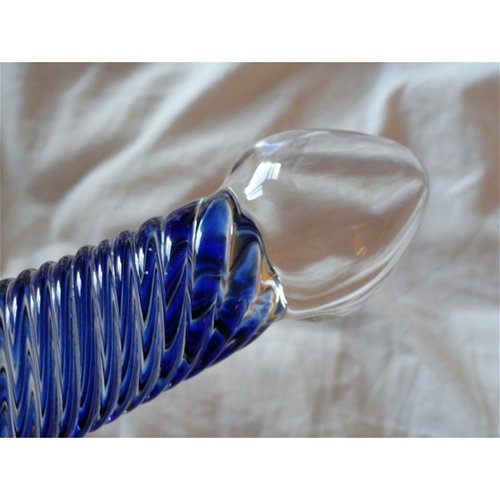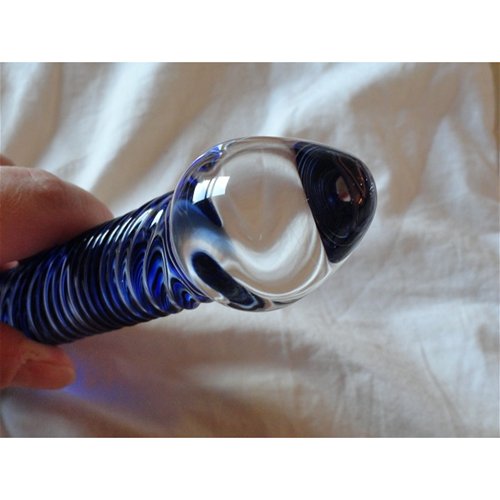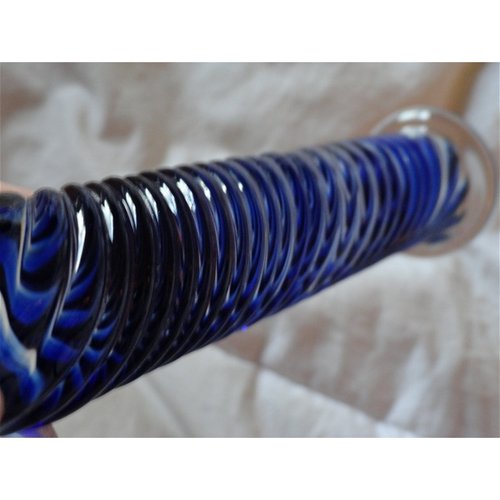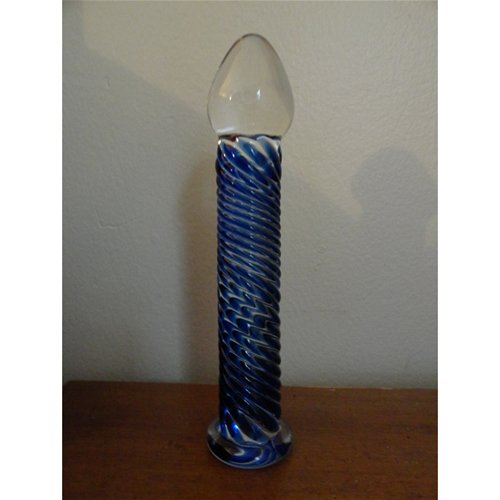 When you look at the toy from the base, you can see that the center of the toy is clear, only the outer part of the shaft has the amazing blue coloring to it.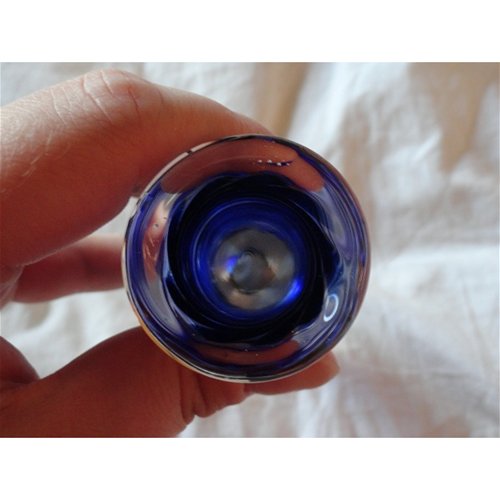 The length and thickness of the toy is pretty average. Size queens might be disappointed by not feeling as full inside as they would like, but the average toy user would be satisfied with the toy's size.
The toy is fairly lightweight feeling which makes extended use much easier, and the larger, flat base makes handling very comfortable.
The size of the toy makes it okay for traveling, but I wouldn't choose it if I were to take something on the go. While it would fit into your purse or backpack, there are much smarter options on Eden Fantasys if you're interested in a toy that's travel friendly.
This toy is very artistic looking, but just about anyone could probably guess that it's a dildo, so I wouldn't recommend leaving out in the open, even with how beautiful the toy is!
Length: 6 3/4"
Insertable Length: 6 1/4"
Head Circumference: 4 1/2"
Shaft Circumference: 3 3/8"
Diameter of Base: 1 1/2"
Experience
continued...
Performance
My primary use for this toy is for vaginal use. The bulbous head creates a great "popping" feeling and the texture of the shaft gives a great massage. Since there's no curve to this toy, it doesn't hit the g-spot as dead on as I would have liked, but it still gives a good feeling.
Care and Maintenance
This toy can be cleaned with antibacterial soap and warm water or sex toy cleaner before and after each use. Since the piece is glass, be sure to inspect the toy prior to using to ensure that there are no chips in it, or anything that might cause damage. This isn't something you need to worry about much unless you've dropped the toy or suspect that something has happened to it.
Due to the swirl's ridges, I would recommend purchasing a soft brush to help clean all the grooves in the shaft. I tried cleaning mine without a brush and it didn't come clean very well. An inexpensive, soft toothbrush (that's solely used for cleaning your toy!) would be perfect.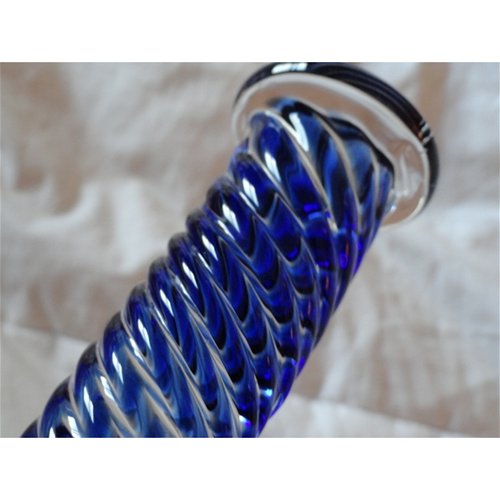 Pyrex glass is compatible with silicone, oil, and water based lubricant. A little goes a long way with glass, which is an added bonus!
The toy comes with a storage bag to keep your toy in, but if you feel that it's not enough to protect your toy, a padded storage pouch can be purchased
here
.
Packaging
The Blue Swirl comes bundled in bubble wrap and in a red, velvety storage pouch with a black drawstring. There are no instructions, no tags, not even a company name; just the red pouch.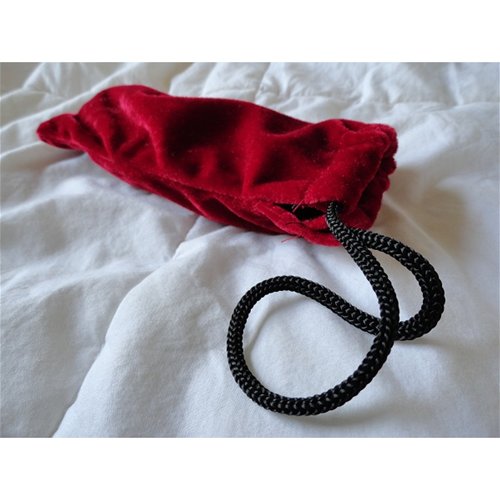 Follow-up commentary
2 months after original review
This is still one of my favorite glass toys! The texture is truly wonderful and I love using it for temperature play! If it weren't for it being a little difficult to clean, I would say that I like it even more than I first did. But, cleaning it is a little annoying, so I would still give it the same rating as before.
This content is the opinion of the submitting contributor and is not endorsed by EdenFantasys.com

Thank you for viewing
Blue swirl
– dildo sex toy review page!