Fling Me to the Moon
I think it would be good for a beginner or an advanced g-spot toy . I would suggest this toy if you are curious about wood, since it is a very unique material. It is hard and unyielding like metal or glass, but it weighs almost nothing. It is a bit uncomfortable to insert at first because of the large head, but I'm pretty happy with mine and I think it's a great toy. I like the handle a lot, but I just wish (when the handle is upright) that the head were tilted more towards my g-spot.
Published:
Pros:
Beautiful, smooth as plastic, very light in weight.
Cons:
Doesn't quite fit my body (have to push the handle back far to make it push against my g-spot).
I bought this toy because I was curious about it- I'd tried metal (which is too heavy for me) and glass (which is also a bit heavy), and I wondered how would would measure up.
The main thing the Nob Essence Fling has going for it is its aesthetics. It is a beautiful piece and probably the fanciest-looking toy I own.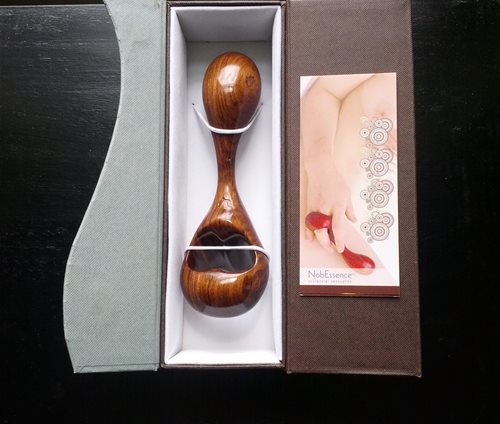 It arrived in a sturdy cardboard box that folds open, which included a small brochure with information in it about how to care for the toy. It says that any lube can be used with it and that it retains temperature, which I thought were useful things to know.
I was very impressed and surprised by its smoothness. I knew that a special polish is used on it and people in the forums have said it's safe enough to eat off of, so I knew that it wouldn't have much texture. But it really doesn't feel like you would expect it to; it feels like smooth, seamless plastic. It is also an extremely light toy; it weighs practically nothing.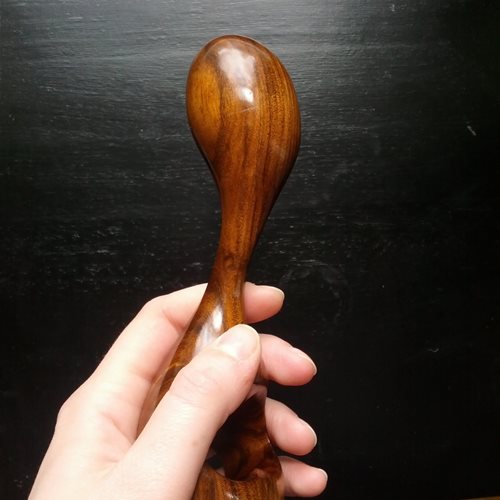 It seems fairly durable, considering that it has such a narrow neck and no one on the site has ever mentioned it snapping. However, you should be careful with it. I've almost always kept it in its container, but a couple times left it out, and it has a few very faint scratches on it. You can see one in the picture above, next to the shine spot.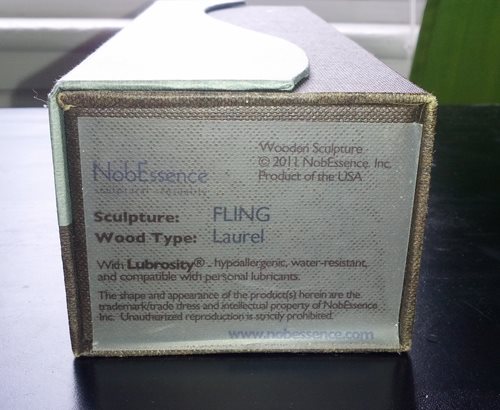 It comes in 4 colors: Caramel, Brown, Burgundy and Beige. Mine is the Brown, and the box has a sticker that tells you the wood type (Laurel), which I thought was pretty interesting.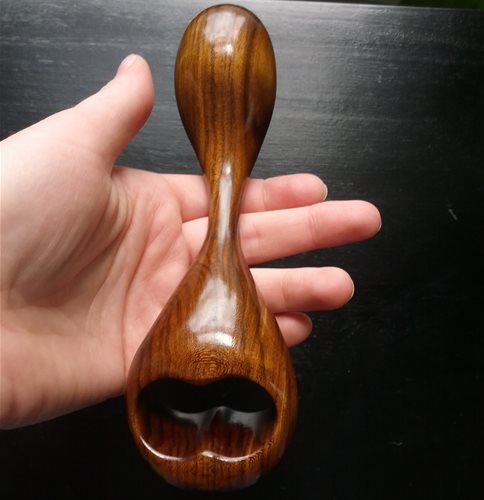 The measurements are as follows-
Length: 7 1/2"
Insertable length: 4 1/2"
Circumference: 5 1/2"
Diameter: 1 3/4" (but these last two measurements don't help much, since the toy width is so varied)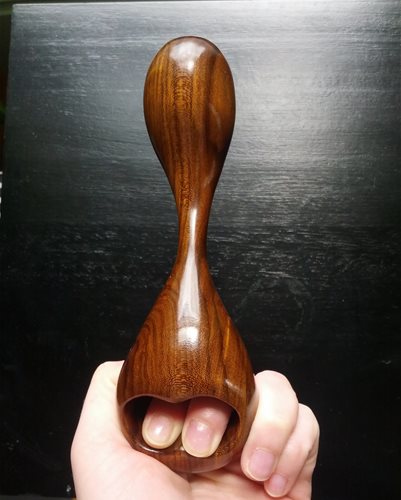 The shape of the toy is very distinctive; it has a large, bulbous head, a narrow neck and a large base with fingers hole. The holes seem like they would fit almost anyone's hands, as my fingers are a bit larger than average (my ring size is 8) and there is still a lot of room.
Compared to my other toys, the Fling is most similar in shape to the Lelo Ella. It has the same kind of hooked head that can hurt a bit to insert (lube helps a lot).
And I don't like the narrow neck, since I think a thicker one would be more filling and comfortable. But the head of the toy makes it surprisingly filling and it feels great to rub against your g-spot. The only frustrating thing is that the toy being long makes it hard to push against my g-spot; the Ella is shorter so the handle is easier to grip at the end and tilt the toy towards my g-spot with, but I had to push the handle back and through my thighs to get the optimal angle for hitting my g-spot directly (which made the fingers hole too far away to reach my fingers through).
For this reason, I enjoy the toy's ergonomic shape, but I wish the head were tilted forward more- so that the head hits the g-spot best when the handle is upright, and not when the handle is pushed back. But maybe other women didn't have this problem.
This toy is waterproof and safe to use between partners. I would either wash it with soap and water or use toy spray or wipes to sterilize it. And it is very easy to clean and quick to dry.
It's a very elegant piece, but I expect that it would raise questions so I would make sure to keep it out of sight. But I think it would be good to travel with, as long as you have it protected in its box or wrapped in clothes.
I think it would make a great gift because it is a gorgeous toy (it looks very luxurious), but it is not the kind of gift most people would buy themselves as it is a bit pricy. But I would say the price is reasonable because it should last you forever if you take good care of it.
It's a great toy which is very unique in its shape and in the fact that it is both hard and light in weight. I would say it's worth trying for this reason alone if you are curious about it, but I've wondered if I would enjoy one of the other shapes better, like the Smooth S Shape dildo. Bust overall I would suggest it. Just be aware that the shape may not exactly fit your body the way you want it to.
This content is the opinion of the submitting contributor and is not endorsed by EdenFantasys.com

Thank you for viewing
Fling ergonomic two finger
– dildo review page!