Wooden Dildos Are Growing On Me
This beautiful wooden dildo is perfectly suited to partner or solo play. Its elegant contours give it a wide head with a very thin stem that widens out again into a full handle with finger loops. This toy is hand made with grace and care. Don't be scared by the thought of using a wooden dildo. Nob Essence toys are specially coated. They won't give you splinters and can be sterilized as well.
Published:
Pros:
Gorgeously sculpted, body safe, feels really good
Cons:
None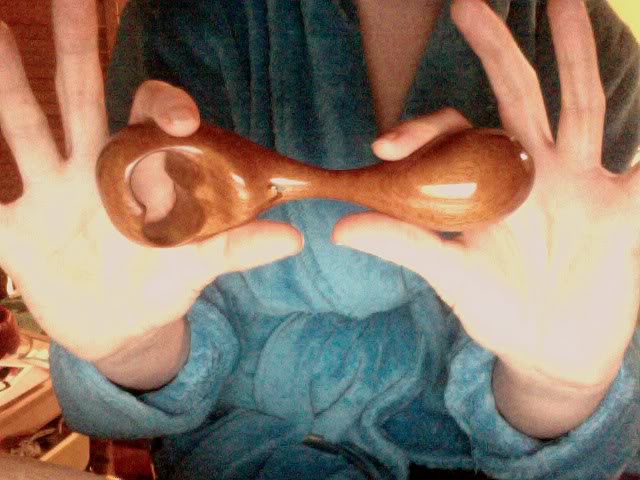 This was the first wooden sex toy that I'd ever tried. Basically I tried it because Antipova sent me a note that said something like "You have never tried a Nob Essence toy? Run don't walk!" When the Fling went on sale I leaped on it and was so happy to receive it about a month ago.
I am a big fan of hard materials toys. It all started with glass and then progressed swiftly to stainless steel. I find that hard materials are conducive to a slow and deep massage, triggering parts in my anatomy that I didn't know wanted to be touched. Recently I had a deep tissue massage for the first time and found it really comparable to the kind of feeling I get when I use hard materials dildos. Sometimes I don't move the toy around much at all. I let it sit pressed firmly into my G-spot area and grind my hips while breathing into it. It's a great turn on for me. Alternately I will slowly and firmly move the head of the toy around inside me, pressing into all my viscera and feeling the changes. Like a good deep tissue massage, this kind of play rides the edge between pleasure and pain. It's vital to listen to your body when you use hard materials dildos because it is possible to bruise your insides with them. I understand that ladies can store a lot of emotions in their G-spot area, so this kind of attention can also result in some real sexual healing. Marvin Gaye would approve! I also tapped into my ability to ejaculate through this kind of play. Hard, curved dildos are great tools for ladies who want to experiment with doing this and the Fling is no exception.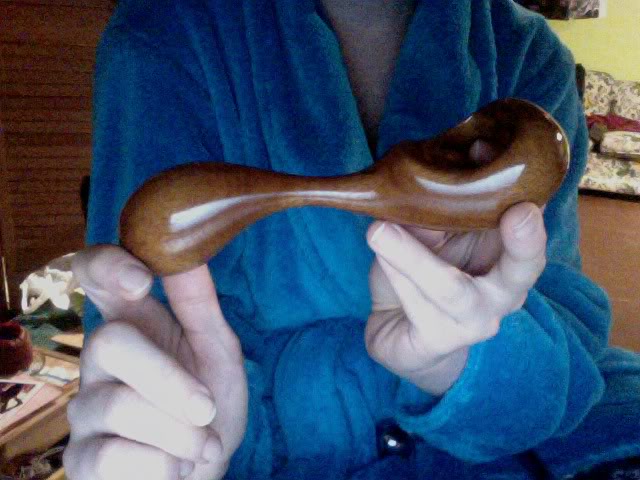 Wood is a new material in my sex toy arsenal and so far I am loving it! As you can imagine, wood is just as hard as glass or steel but it has a more organic feel to it. The thing I love the most about wood, though, is that it doesn't get freezing cold in the chilly winter air like steel does. I will admit that I am a lazy sex toy user and like to reach for my toys and use them right away. I don't like to have to warm up my steel toys before I use them, and wood has been an answer to this issue.
One of the things that people get squeemish about when they think about using wood toys is the splinters. Nob Essence has developed this brilliant system of coating for the wood that completely prevents splinters. This coating also renders their toys 100% sterilizable. This is wonderful because it means you can share their toys between partners or use them for anal play without worries. To sterilize a Nob Essence toy, wipe it down with a 10% bleach solution.
For your comparison, the Fling and Pure Wand: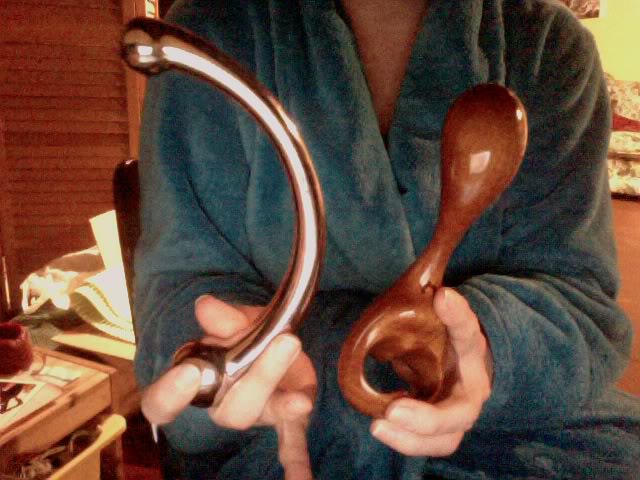 I'm also a huge fan of brilliantly designed and ethically manufactured toys. The fact that Nob Essence uses sustainably harvested wood and all their toys are hand made is a big turn on for me. Somehow the images of their toys didn't capture how beautifully designed these toys are. I was surprised when I received the Fling at how large it is. Each end is quite hefty yet there is a delicate stem that joins the two ends. This instantly made me think of anal play. Though I have not used this toy anally myself, I think it would be great because the super thin stem would act as a great resting spot for the anus. Because of the width of the head, this would be a more intermediate-advanced anal toy.
This content is the opinion of the submitting contributor and is not endorsed by EdenFantasys.com

Thank you for viewing
Fling ergonomic two finger
– sex toy review page!