My Crystal Blue Persuasion
Amethyst is a wonderful toy but its thinner curved side, while ideal for beginners, may on not satisfy those who need a wider toy to achieve G-spot orgasm. It has a lot to offer anybody looking to explore G-spot stimulation or temperature play and I found it to be a good shape for squirting orgasms. It's not too big to be intimidating to those new to sex toys and its easy to maintain material will mean that risks of infection or allergic reaction will be lower for those who are still learning.
Published:
Pros
Great angle for G-spot Stimulation
Not too big
Great material
The Amethyst, SSA Glass' dual ended G-spot dildo, is perfect for people new to G-spot stimulation and sex toys alike. However, if you don't like firm toys than this is probably not the toy for you. Amethyst is actually available in four colors; blue, green, pink, and purple. It's intended for vaginal use only since there is really no flare to make it safe for anal penetration. Ideal for most living situations, even the sometimes difficult dorm, it is relatively silent and waterproof.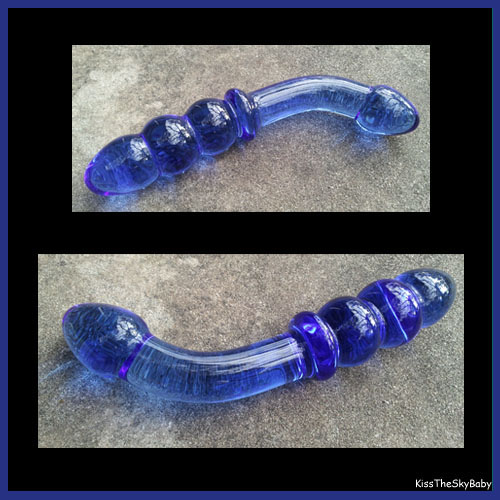 Made of Borosilicate Glass, a glass that's particularly resistant to cracks from sudden temperature change, it has a very smooth feel that makes for an amazingly slick sensation when combined with lube or your own natural lubrication. Its shape will help to locate the G-spot while the firmness offered by glass products allows for more control and lets users explore pressure and stroke needed to achieve orgasm.
This higher grade glass is considered to be a food grade material which is the main reason it's commonly used in cooking ware. For people with allergies, don't worry, Borosilicate Glass is rated 10 on Eden's safety scale because it's hypo-allergenic, latex free, and phthalate free. It's a great material for people new to all sex toys since it's easy to clean and doesn't have any textures that could overwhelm the user. Just be careful, since there is literally no give with this toy it'd be easy to cause yourself or your partner some discomfort or bruising of the cervix if used too roughly.
There's normally some weight associated with glass toys but nothing too extreme with Amethyst. I weighed it at 6.2 oz which is a bit off from the manufacturers 9.7 but this is just another reminder that most quality glass toys are not made by machine and are not identical.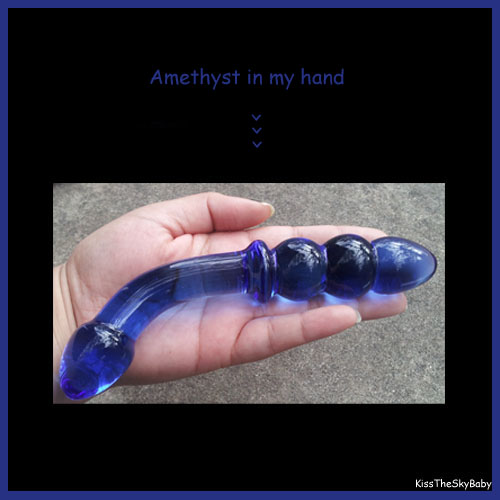 There is no noticeable smell or taste to the glass, but Amethyst does have a deep crystal blue color that I found to be amazingly rich for a glass piece.
This toy has a lot to offer those into temperature play, just make sure not to heat or cool it too quickly. Resistant does not mean unbreakable. Since quick methods like the microwave and freezer are not recommended, the safest way to warm and cool your Amethyst is with hot or cold water over a gradual period of time; say 10-15 minutes. I normally take a pan of water (bowl if I'm icing), put the Amethyst into the water, and THEN raise or drop the temperature by heating or cooling. I stress the order because putting glass into water that is already boiling can cause its temperature to change too quickly and could result in cracking. I know from experience with a damp toy and freezer that it can work both ways. Amethyst holds temperature well around 5-8 minutes either way.
For those less inclined to temperature play, don't worry. The glass is cool to touch when stored but takes on body heat fairly quickly and feels great at temperatures closer to your own.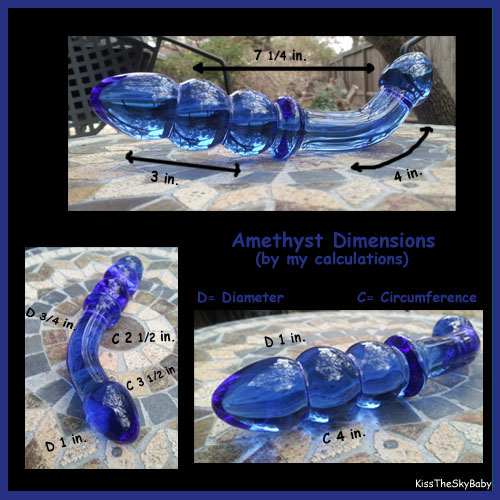 I absolutely love the design of the Amethyst. As somebody who is in no way new to sex toys, I find G-spot toys on the larger side can get stuck on my pelvic bone, but smaller toys like this are normally a safe bet.
Its shorter 3" bubbled side is the wider of the two at a 1" diameter and a 4" circumference, while the longer 4" curved "G-spot targeter" has a circumference ranging from 2 ½" at the neck to 3 ½" at the head. While the bubbled end of the toy created a delicious popping sensation during use, I was surprised to find the bubbles actually stimulated my G-spot on both the in and out stroke. The curved side's design actually allowed the longer flatter side of the head to press against my G-spot so it didn't feel like I was poking at myself; another thing that can occur in this style of toy.
If you touch a vibe to the Amethyst at one end, you can feel the vibrations to a lesser extent on the other end; and with both sides being insertable that means lots of ways to use it. Keep in mind if you are considering this toy because of its quiet design that you have to figure the volume of the vibe itself AND the noise that will come from where vibe touches glass (p.o.c). Sometimes, if you don't have a steady grip, the vibe will "hop" off the glass and cause some noise. As a general rule the vibes that are quietest at the p.o.c are the ones with softer materials and finishes like velvet touch.
(Review text continues in Experience section. Sorry I goofed when choosing format)
Experience
(Review Text continued)
Some of the personal massagers, like the Hitachi work well at the p.o.c but are pretty loud by themselves, so whether or not you chose to add a vibe may really depend on your environment.
As far as looks go, Amethyst isn't very discreet but it is the perfect size for stashing into a bag of almost any size, and at home a sock drawer or inside of a pillowcase would be no problem. It's roughly the size of a full sized toothpaste tube and since there are no batteries there is less to bring along if you were traveling with it. There is also no chance of embarrassing yourself by turning it on in transit, however you may still get a question or two during a bag check if one were ever needed.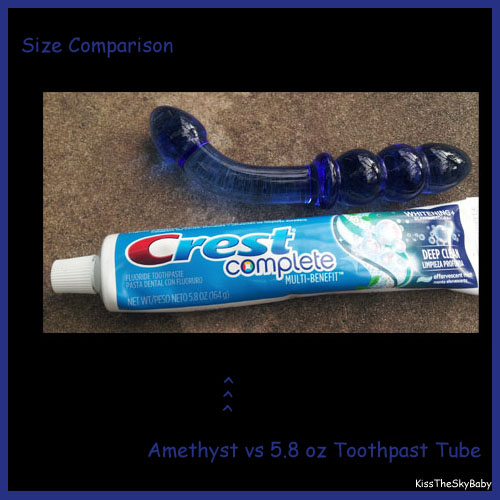 Cleaning is easy enough for all experience levels. You can use antibacterial toy cleansers and wipes or warm water and soap (something mild since the toy will be used on sensitive skin when used next) followed by a drying from a soft towel. The dishwasher is always another option, just make sure it won't be banging against anything during the wash cycle. To completely sterilize between uses or if it is being shared; use rubbing alcohol, a mild bleach solution, or boil in water.
I didn't notice any part of the toy being particularly hard to clean, but if you are washing with soap and water I would advise some caution. Make sure you have a good grip on your toy; things can get slippery and the last thing you want to do is drop your Amethyst. If it does slip out of your hands, don't panic! Just rinse it off and check it over, looking for any chips or cracks. If you don't see any, you're fine to continue as normal. But if you do, no matter how small, don't use your toy and discard it immediately. This toy will probably not shatter into a bunch of pieces when it breaks, it'll crack into a couple of larger and possibly sharp pieces, or splinter and you don't want that happening inside you. Try holding it up against light when inspecting, it'll make it easier to see any small cracks that may be harder to see.
This toy can be used with all lubes and if you are new to glass or toys in general, you may be surprised at how little Amethyst takes. The non-porous material means there's nothing that will absorb it.
Amethyst arrived wrapped in bubble wrap inside its pouch. It's the perfect size for storage and will keep your toy clean and scratch free. If you need some padding inside of your pouch try wrapping Amethyst in a sock before putting it away.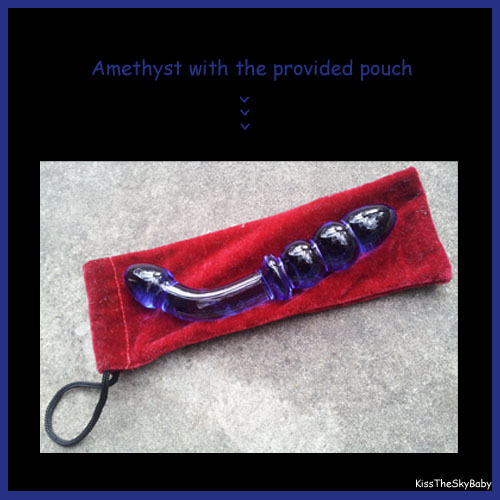 Experience:
The Amethyst also makes a nice massage tool when the bubbled parts are run gently over well lotioned/oiled skin. The glass offers smooth and firm pressure to sore or bound up muscles and since it's so temperature friendly it can be heated or cooled to add extra relief.
This content is the opinion of the submitting contributor and is not endorsed by EdenFantasys.com
Thank you for viewing
Amethyst
– sex toy review page!