Ronda, er...Randy is just divine!
If you have not had the pleasure to try VixSkin and can take the size, you need Randy. The outer layer of silicone feels like jelly without all the negative properties. The firm core provides rigidity while still allowing the toy to conform to your orifice of choice. The short length is wonderful for wild thrusting without the worry of bottoming out or bruising delicate inner tissues.
Published:
Pros:
Super plush silicone, Stimulating shape, Storage container.
Cons:
Lint/hair magnet.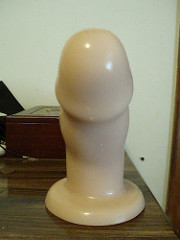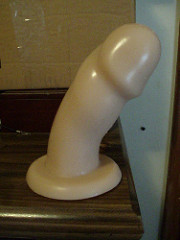 Vixen hit the nail on the head with the Randy; everything about him is just perfect. From the heavenly feel of
VixSkin
silicone, the firm core and the awesome feel of the shape, this harness compatible dildo is just divine. Plus, you can get him in three different colors. Really, you need to feel the VixSkin to truly believe how nice this material can be. Just think of the softest jelly toy that can be boiled and fully sanitized. Add in a core to help hold its shape and an anal safe/harness compatible base, and Randy stands alone as my top dildo. Join me as we look into Randy and his divine design.
As far as strap on dildo's go, Randy sits among the only three dildos in this size bracket. His cousin Randy is made of regular silicone and the Hottie xtra (also silicone) from Happy Valley are the only other dildos you will find. While they are all the same overall size, the other two cannot match the feel of VixSkin. Both Randy's look to be made in the same mold so the measurements should be the same, except the regular silicone will not have the same feel as VixSkin.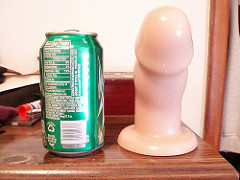 Randy's measurements comes in as follows:
6 7/8" cir., 2 1/4" dia. at the head.
6 1/2" cir., 2 1/8" dia. below the head at the second bulge.
6" cir., 2" dia at the base.
The base is 11 1/2" cir., 3 1/2"dia
Randy is 6 1/4" long with 5 3/4" being insertable.
The base has a bit of a suction cup like shape to it but I did not have much luck with it.
As you can see, Randy is not a beginner or even an intermediate toy. No, Randy is for the adventurous individual that craves a large toy. One thing about VixSkin though, if you can use a 2" toy Randy is a great toy to use to work up a size, he feels just as big as a 2" toy due to the soft outer layer.
Here's a couple of pic's to show you what I mean.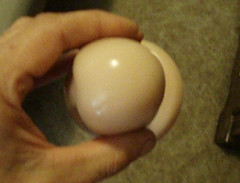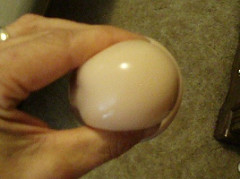 As you can see, the VixSkin is very pliable. If you think this takes away from the feel of the shape of the toy, I am happy to say, it does not. In fact, I would say it adds more to the feel, you can squeeze down harder or relax and still enjoy every ridge and bulge. A lot of this is due to the firm core. Another nice thing is that there is no worry about bruising delicate tissue, never once did this dildo feel uncomfortable, even inserted fully into my ass. The top of the Randy has a good half inch of cushion to keep those delicate inner's safe from harm.
VixSkin is much like any high quality silicone when it comes to care, you can boil it, use a 10% bleach solution or toy cleaner to clean him. Water and oil based lube are fine to use but not silicone based lubes. I did test Better Sex Essentials and System JO silicone lubes and the lube adhered immediately, so just stick with water and oil based lubes. You do NOT want to ruin this toy! Randy has a bit of drag even though it has a glossy finish. The lube does not stick the best to it but if you add lube to your orifice of choice first you will not have any problems. Once you get going VixSkin slides effortlessly.
One thing slightly different about VixSkin is when it comes to storage, due to the nature of the soft silicone you should store it away from other toys and either store it standing up or in its container. Dents and flat spots will be found if you do not.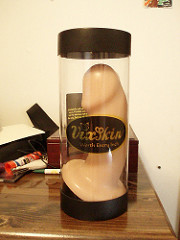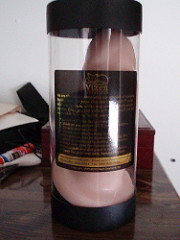 Vixen sends you Randy in a clear plastic tube with caps at both ends. You'll find that Randy barely fits inside (The base is bigger than the cylinder); this is where the two caps come in handy. I find that you have to insert Randy head first into the tube, then to remove, take him out of the top. Truthfully, it is a pain but so worth it. If nothing else, the container keeps the hair and dust bunnies off the toy and that is a big plus. I cannot set this toy down without fifty hairs attaching themselves to it.
Experience
I have renamed Randy Ronda. I look forward to the day when my wife will don a harness and use Ronda on me. I enjoy using her so much during my solo time; I can only fantasize about the wife driving her into me. One day...one day. Anyways, that's the reason for the change; I can't wait for the wife to walk into the bedroom wearing her cock proudly.

I am not much for realistic shaped toys but I was drawn to Randy by all the wonderful reviews of VixSkin, I just had to feel this material for myself. Soo glad I did. VixSkin is truly like no other material I have had the pleasure of using. I would say it is the best representation of a real cock I have felt (OK, I have not felt many cock like toys), but holding Randy and my cock at the same time there is defiantly a similar feel. I can only imagine that they feel the same once inserted. I will defiantly look at more realistic shaped toys, the stimulation they provide is very nice.

Out of all my soft material toys, Randy is by far the best when it comes to P-spot stimulation. Only my Eleven can provide as much milking as Randy, and that's saying a lot for a soft dildo. I use him laying on my back with good results but riding him cowboy is by far the best. Just one finger is needed to keep it in place and I can ride to my ass's content.
This content is the opinion of the submitting contributor and is not endorsed by EdenFantasys.com

Thank you for viewing
Randy
– realistic dildo review page!