BOSS ME BABY!!!!!
I have nothing bad to say, I actually really love this, He has climbed the charts to one of my favorites. Very happy with my purchase. May not be beginner friendly. He rumbles and hits everything just right. He is getting the 5 stars but he deserves 6!!
Published:
Pros:
Soft, Velvety
Girth
Flexible
Rumbles
Waterproof
Rechargable
Cons:
NONE
Big Boss from Fun Factory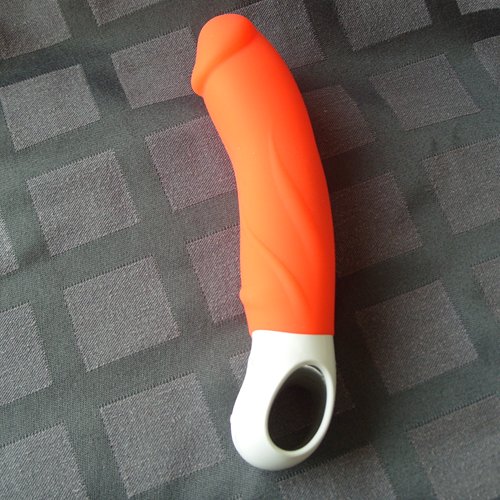 This is a great, girthy vibrating piece of silicone. This is great for vaginal use, you could use it anally if you can handle the girth, but only with a partner as he has no flared base. He sterilizes easily and can be shared. He is able to find and rock that stubborn G-spot. It works great for clitoral stimulation too! He is great for solo or couples play.
Material/Texture
It is made from Silicone and Plastic. Silicone has an Eden safety rating of 10, the plastic rates an 8 on the Eden Scale. They are both non porous, latex and phthalates free. The insertable area of the vibrator is a bright orange silicone tapering to a plastic handle where the controls are located. The Big Boss does collect quite a bit of lint and hair but, it's not the sticky type of silicone. It is more soft and velvety. He does have a few raised areas such as his penis like head and his large posterior vein. He also has raised areas near the handle base. He has no smell and no taste to him. He is a bright fluorescent orange and he stands out from other toys in quality, vibrations and color. He also comes in a matte black color.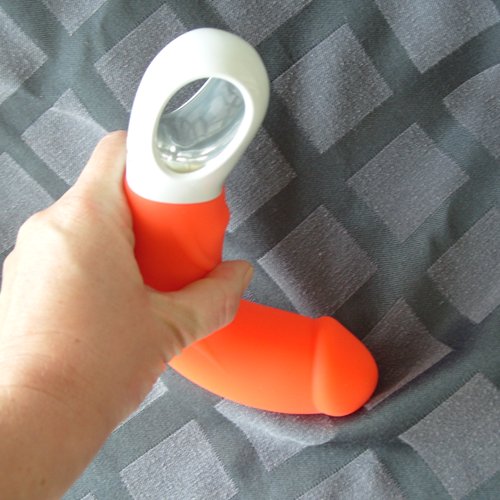 Size/Shape/Design
Big Boss is girthy. He has a diameter of 1 ¾ inches. His shaft is quite flexible and his motor is located near the handle. He is a total of 9 inches long and 6 ½ inches of him is insertable. He is phallic shaped with his veins and his head. His handle is where his controls are located and he has an open ring at the end that gives you great control of him for thrusting type of movements.
Functions
The Big Boss has vibrations that are deep, rumbly and powerful. His main area of vibrations are towards the handle so when he vibrates you feel it at your clitoris and external labia. The vibrations travel up his shaft nicely and it can be felt. Since he is so flexible you can bend him to suit your needs. He can find the stubborn G-Spot and rock it!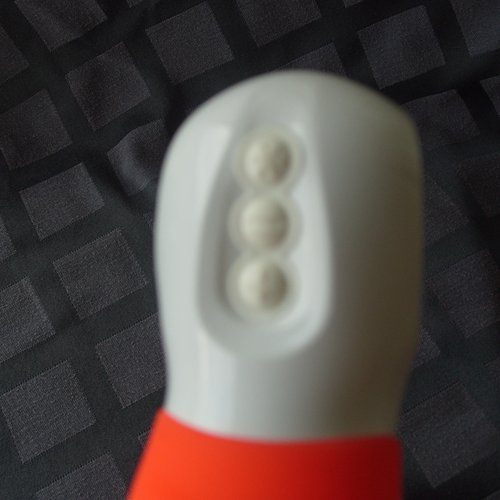 The Big Boss's controls are in the handle, there is a + button a * button and a - button. They light up when the toy is on and they glow red. To turn him on you hit the + button for two seconds. He has 6 levels of vibrations that go from low to very high. His highest setting is very deep and rumbly. He is very quiet even at his highest settings, he cannot be heard over the covers. To activate his pulsation patterns you hit the * button and cycle through them. He starts with a steady pulse, then a fast on and off pulsation. The third setting is escalating and then on to a low steady to hard throb. I like that throb!!! To turn the big boss down you simply hit the - button and to turn him off you hold the - button for 2 to 3 seconds.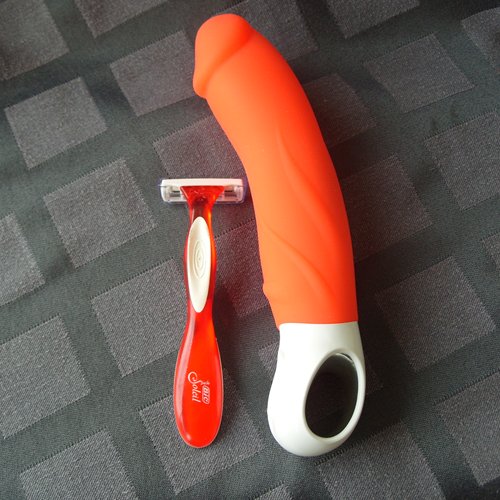 He is water proof and rechargeable. Honestly I couldn't ask for much more in a toy. He is large and filling, soft and velvety silicone, he can go to the shower, his vibrations rock my crotch and I can plug him in and use him some more!!
He is part of the click and charge line. The click in charge is a recharging system that the G4 line has and the charging mechanism is magnetic. When you place the charging cable close to the 2 metal areas on the handle they attach. When they have a proper connection the fun factory logo with glow a bright red. I had read that others had issue with the charger holding the connection but this wasn't the case for me. The part of the charging cable that plugs into the wall also has a red light on it so you know that it is working. The big boss charges for a maximum of 8 hours but 2 hours of charge does him really well. If you have him at his highest setting for 2 hours or so he gets very tired and need s to be charged again.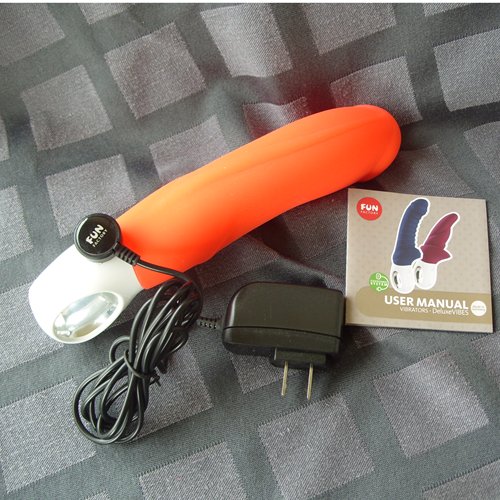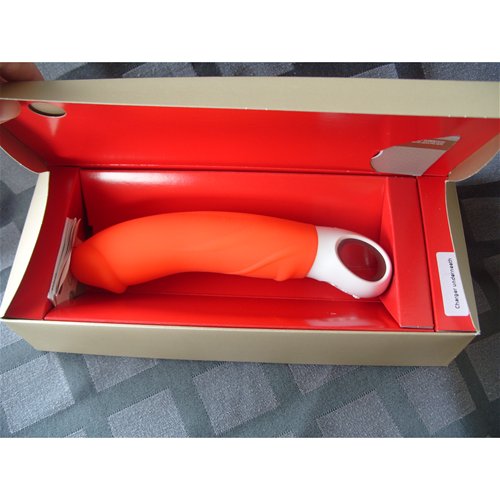 Experience
Care/Maintenance

The big Boss is silicone, he can be spritzed with a 10% bleach solution, Eden wipes, toy sprays, or antibacterial soap and water to clean him up. Don't place in boiling water or dishwasher due to motor. He needs to use water based lubes so that his soft velvety finish is not ruined as well as keeping him from other toys. In reading the warning booklet that comes with the big boss, one should not poke Big Boss with pointy objects? And keep him out of direct sunlight. We don't want him to burn. I keep him on a towel drying in the bathroom at this time because he hasn't been put away for a week. He needs a larger storage bag due to his size. He will also fit in the gallon sized baggies.

I would say that the Big Boss is no where near discrete, he looks like a big bright orange sex toy. TSA will know what he is. Now I am kinda cocky so I would probably just smile and wink at them. If you are a shyer type of person you may not want this in your carry on. He doesn't have a locking feature either and he may be rockin your suitcase!!

Packaging

My Big Boss with charger came in one large box. The picture of the Big Boss is on the outer sleeve. The inner box is lined in Red and has a sticker over one of the end pieces that says charger underneath. There was no sample of toy fluid that some of the other fun factory toys have. The instruction manual is a generic one that is for all of the deluxe vibes with a picture of the Tiger and Cala on the front of it. Be sure not to use him when he is charging.
This content is the opinion of the submitting contributor and is not endorsed by EdenFantasys.com

Thank you for viewing
G4 Big boss
– classic g-spot vibrator review page!