The G-Spot Party Toy
If you have tried to find your g-spot with g-spot designed toys, but just cannot find it, try girth! The Big Boss has deep and thumpy vibrations, doesn't numb my clit, and my g-spot just adores him! My whole arm gets a work out while using him! So ladies! Masturbate for arm definition today! (Just don't forget to use your other arm to switch it up!)
Published:
Pros:
Great g-spot toy, deep and rumbly vibrations, waterproof, rechargeable
Cons:
Ugly colours and only two to choose from!!!
Dear G-Spot;
I know that at first you were a little elusive. My quest in discovering you took a lot of hard work and practice and time and patience.
Ok who am I kidding here?
Discovering you was a lot of fun and brought me so many orgasms but that day I found you, I knew that I had to make sure that I treated you just right, and in part of treating you right, that meant I had to find you some play mates.
So I'd like to introduce you to "The Big Boss" by Fun Factory!!!
Shall I tell you about him? Or should I just surprise you with what I think will become your new best friend? I know you have your favourites right now; favourites that surprise even me. Like that Jopen Vanity vr6, or even the Tiger by Fun Factory with that fantastic curve and all those ridges. But still, The Big Boss with his impressive girth will just wow you! I'm sitting here bouncing in my chair while I write and I don't think I can keep it a surprise from you.
So I'll just tell you flat out.
From the tip of his 100% medical grade silicone neon orange head, down his fat silicone body, to the base of his plastic control handle, he is nine inches. If you are wondering just how long he is inside you G-Spot, he's about six and a half inches. But what you are probably most curious about is how thick he is, because after all, that thickness is what will be pressing up against you. Sliding over you. Each thrust making my eyes open wider as I feel that cluster of nerve endings that make you such a special part of my vaginal anatomy singing waves of pleasure through my body. Well, let me tell you just how thick The Big Boss really is. One and three quarters of an inch in diameter.
Shhh.... shhh... G-Spot, calm down, I know you are getting excited thinking about it. And I know that more often than not you are not that keen on such thicknesses. I know you prefer toys that are a little thinner than that, but every once in a while you want something to make your knees tremble and you want something that would make almost all Size Queens sigh with bliss. And no, I am not talking about
The Hoss
, because that thing would break most women with his size.
G-Spot, let me tell you more about this toy and how easily he will be integrated into your growing stash of toys. Use him, toss him into the sink, wash him down with some anti-bacterial soap, let him dry and put him into a toy pouch and voila! Easy as pie.
And not that making pie is easy. I can never seem to get the crust to be as flakey as I'd like. Anyways... as I said. The Big Boss is so easy to take care of!
Just remember G-Spot, use water based lube because if you use water based, you can be sure you'll have no problems.
But when you get him. You might not enjoy his packaging as much as other luxury toys. Yes, he is what I would call a luxury toy because he is a little on the expensive side, he's waterproof, rechargeable, and has the traditional Fun Factory wickedly strong and deep rumbley vibrations. But his packaging leaves a little to be desired. This package is pretty "loud" and everyone can see that I bought him for the purpose of my own sexual satisfaction. Err... I mean your satisfaction G-Spot! It quite literally screams sex toy. And that reminds me, we cannot leave The Big Boss out for people to see. Because he looks like someone cut off a circumcised penis and injected it with radioactive chemicals making it look neon orange.
I've got some pictures for you to view, cause I know that sometimes pictures work better than words....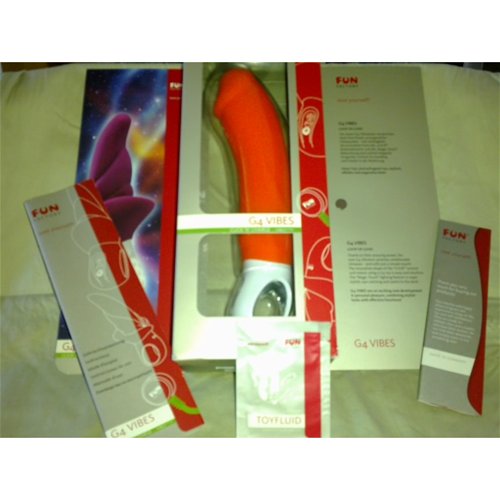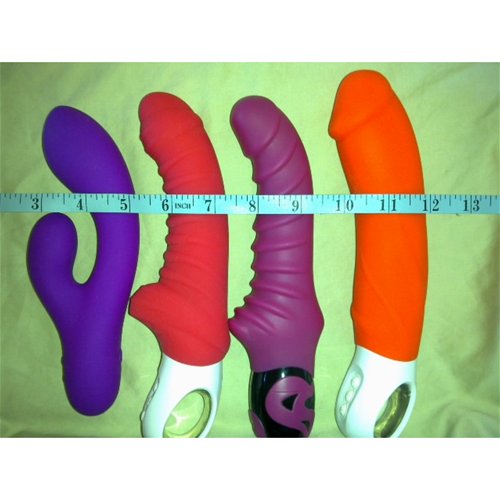 See what I mean of the width G-Spot? This one is just... big!!!
Ok G-spot, it is time I get going, as you can no doubt tell, I am antsy to introduce you to The Big Boss!!! So I guess now that you've been told about him, you need to feel it in action!!!
Take care and we'll have fun!
Woman
Experience
I really am impressed with The Big Boss. I don't reach for him to often because he is pretty big. I find I have to orgasm once or twice first before I use him, or go VERY slow in order to take his girth. So those who are Size Queens or adore that stretching feeling, you ladies will really enjoy this toy. I'd not suggest him as a woman's first vibrator to those new to sex toys.
I find his vibrations deep and thumpy and powerful. But what I have found is sometimes when I orgasm my vaginal walls close so tight that I seem to suffocate the motor and he turns off on his own. I've contacted Fun Factory, and they said that this is normal. So just so you know!!! The Big Boss comes with a variety of settings, but I love the steady vibrations best. I think there are six or seven levels, I crank him up to his highest setting by holding my thumb on the + key till he goes up no more. Then I press the - button six times till he turns off. Now if you need the patterns, just click on the * button.
One of the things I hate about silicone toys is their ability to collect all dust, lint and hair in the room. It is a great thing if you are looking for a lint brush for your clothes but a nasty thing if you are wanting to put him inside you. I would suggest washing him before use. But the good news is, he's made out of quality silicone so he doesn't have a scent and he is tasteless.
As you can see from the pictures, I have a few dedicated g-spot toys. With many of those toys I have to work at waking up my g-spot. But that is not so with The Big Boss. As soon as he slides over it, I can feel that g-spot tingle that tells me, "HELLO!!! I'm up!!! There is going to be a party in your vagina!!!"
I do really like the little bit of give I get with him. Directly above the white handle is where the motor is housed till about half way up the shaft. That part of the toy is unforgiving and not bendable. Above that, is just pure silicone. You can bend it and squish it, but it does take some effort to do so. So I feel confident in saying, if you need a firm pressure on your g-spot, he'll make you happy.
EF ships him with the recharger, which is part of the click n' charge line, just line up the magnets till it glows red. As with all the G4 line, the charger is finicky, so don't bump it. Keep that light on for about three to four hours for a 30 to 60 minute charge. It all depends on the power level you use. If you use it constantly on high, you get about 30ish minutes. The plug is universal for power, so 110-240v.
As always, here is a comparison picture for you; Venus razor with an original head, tube of Burt's Bee's Original Lip Balm, The Big Boss and a tube of Maybeline's Falsies Mascara.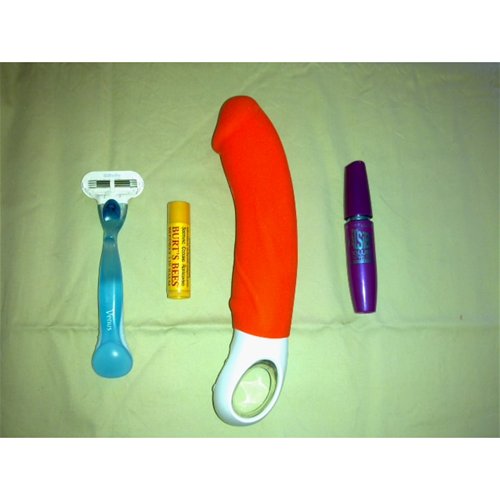 Follow-up commentary
4 months after original review
I still love my The Big Boss. Over time, I have found that he only works for about thirty minutes before he dies when he's on high. Which kind of sucks but... I don't think any of Fun Factory's toys last for more than half an hour or so on high? Anyways, I don't always reach for him because he is so very fat. But, I still reach for him enough times to know that he'll always be wanted!!! Not to mention the few times I've pulled him out after a man has cum and left me there thinking, "that's it?". What can I say? The Big Boss does a good job at intimidation and in getting me off.
This content is the opinion of the submitting contributor and is not endorsed by EdenFantasys.com

Thank you for viewing
G4 Big boss
– sex toy review page!