How Do You Open This Thing?!
Three stars for a bottle rocket that didn't leave me seeing stars, but nonetheless piqued my interest. Easy to clean, easy to operate, and perfect for beginners or foreplay. Plus, with packaging this cute and prices this low, how can you pass it by?
Published:
Pros:
Only one AA battery
Body safe and phthalate-free
Waterproof
Cons:
3 Vrooms
Vibrations aren't varied enough
I decided to take a chance on both the Nova and Orion bottle rockets, although the Nova has a twist to it making it impossible to review second. Besides, I must review a bottle rocket with the name Nova, which translates in Spanish to "doesn't go."
The first thing I noticed after the cute little soda bottle packaging of the Nova was that the top didn't come off. I unsuccessfully tried to unscrew it for a few seconds before noticing that the bottom looked like it came off. After you screw off the bottom, you'll still have the Nova standing straight up in the plastic bottom. So, you unscrew it again. Now, you have the Nova with what looks like a ring around the battery compartment area. Unscrew the battery compartment, and the Nova is finally free. In addition, you have the battery compartment open already, so why don't you pop one AA battery into it (not included). Not only is there a picture of an AA battery inside of the compartment, but it also gives you + and - signs to show which way your battery should be put in. For the newbies, + is the end that has the dot that sticks out, and - is the flat end of the battery.
The Nova itself looks like a large white finger with a silver ring around it. It has the word Evolved just under the silver ring. There is also a spiral twist design to it. Finally, there is a little nubby push button on the end that can be clicked three times for three different modes, though I cannot personally feel much of a difference. The Nova feels silky smooth, and for this reason, I feel that this is a toy especially designed for foreplay. I certainly wouldn't mind having this little vibe stroking up and down my thighs. The material is plastic, which is an 8 on the safety scale. It can be cleaned with antibacterial soap and water or rubbing alcohol. It is also compatible with water, oil, and silicone lube. I'm really at a loss here because normally, plastic items are hard and smooth, but there is almost a kind of velvet-like feel to the Nova.
Let's talk about the three vibration settings. I really don't notice a big difference (though there is a subtle difference for more sensitive users) when the Nova is placed on my skin, but if I just hold it, the only real difference I feel seems to be that the vibrations get faster (and louder). I use mine on the 3rd setting and rarely ever change it unless by accident. There is a weird drop in vibrations that I notice on the first setting. It starts at one speed and quickly drops to a different one before you can realize what has happened, but it never varies again as far as I can tell.
There is no scent or taste, even straight out of the package. The noise can be heard even when placed under the covers, but I doubt it could be heard outside of a closed door AND through the covers. It's so small, it is definitely travel friendly, but I wouldn't take it if I were flying. I just have a fear of even the metal in the battery compartment setting off some sort of alarm or forgetting to take the batteries out, and there is no locking mode.
The Nova comes in white, pink, and pearl white, but they all seem to be out of stock at the moment. I only got the white because it was the only one left in stock when I ordered. I personally find the pearl white to be very attractive.
Copied from Eden:
Design / Shape / Size:
Length:
4 1/2"
Insertable length:
3 1/4"
Circumference:
2 3/4"
Diameter:
7/8"
Weight:
0.1 lb
Obviously, this is not meant for anal play, as there is really no base, and it is much too short. I foresee one embarrassed patient and possibly one embarrassed Dr. if you attempt to use it for anal play. I suppose it would be all right for teasing on the surface, but not for anal penetration.
Vaginally, it's just too small and not powerful enough for me. I prefer to use it for clit stimulation. I have fairly sensitive nipples, but I don't find this particularly good for nipple stimulation either.
This would be a perfect gift/buy for beginners. It's not overly powerful and is cute in size and appearance (not intimidating).
The Nova is also completely waterproof. I even held it under water without getting any moisture within the battery compartment. I've also dropped it in the shower, and the compartment stayed closed tightly and still didn't allow moisture to get inside.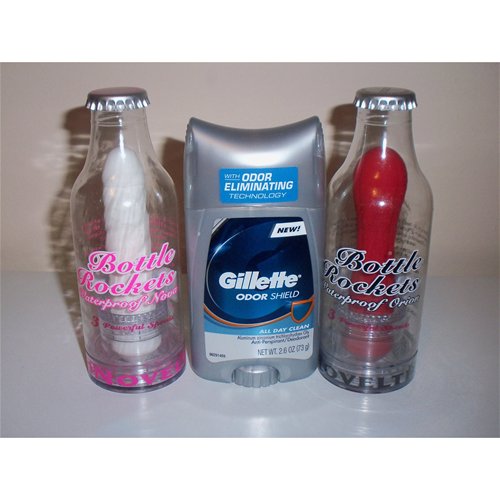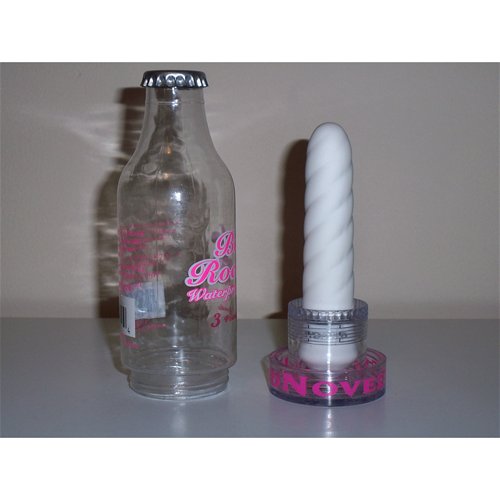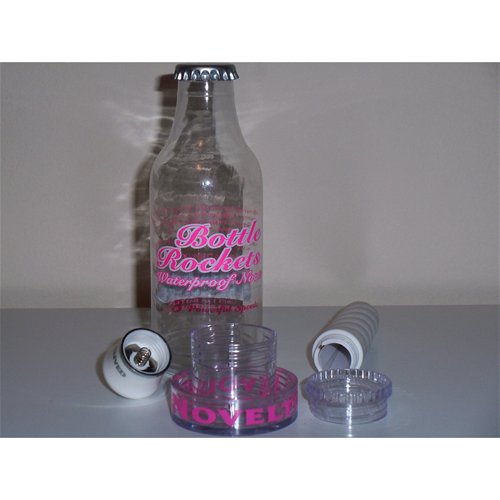 Follow-up commentary
23 days after original review
Nova isn't exactly my most used toy yet I still can't get over the adorable packaging and quality feel of this toy. The batteries go and go and go in this bottle rocket. I have a feeling that the Nova isn't going anywhere, and I'd really even be curious to try the Saturn and Apollo if they ever come back in. The Orion has kept its place in my toy chest as well, so in general, these bottle rockets are decently priced and original enough to keep getting ahold of.
This content is the opinion of the submitting contributor and is not endorsed by EdenFantasys.com

Thank you for viewing
Bottle rockets Nova
– discreet massager review page!