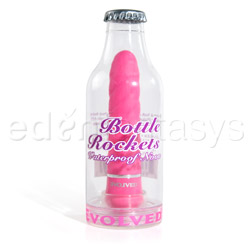 Bottle rockets Nova
Discreet massager
by Evolved
Baby Star Explosion
The Nova Bottle Rocket may seem tiny, but don't let its diminutive size fool you! It still packs a surprisingly strong vibration in its slight frame, powered by a single AA battery. It is pthalate-free as well, to guarantee body-safe adventures. Nova has a single, all-purpose speed that should satisfy most users. Take a ride on this lovely, swirled Bottle Rocket tonight!
Published:
Pros:
Pthalate-free, cute packaging, fairly strong vibrations on a single battery, quiet.
Cons:
Slight rubbery smell (gone after a few washes), single speed.
Evolved has always wowed me with its fun, well-designed, reusable packaging, and its new line of Bottle Rockets is no different. All Bottle Rockets come in little plastic old-fashioned soda bottles, complete with bottle cap. Before you break a nail trying to pry the cap open, though, be aware that the bottle actually opens on the bottom! The bottom of the bottle serves as both the display mount for your cute new Bottle Rocket as well as the "lid", which screws open.

The Nova Rocket comes in hot pink or white. It is textured with a gentle swirl that tapers slightly moving upwards, giving it the appearance of a baby unicorn horn. The insertable portion of the toy is 3.25" long and is between one and two fingers in thickness. The rocket is coated in velvety, pthalate-free ABS which feels wonderfully soft but still rigid. The base is shinier, smoother plastic, and flares out and tapers back down to the single button that controls the Nova.

The base screws loose to reveal the cavity for a single AA battery, which powers the Nova Rocket. The compartment is also waterproofed, so Nova can be taken into the shower or bathtub for aquatic adventures. Nova is turned on and off by the single, rubbery button at the base.

Nova's single speed is good for all-purpose stimulation. It can be used to tickle the nipples, trail down the stomach, dip into the navel, and caress more intimate regions. Its vibrations are wonderful for clitoral stimulation, and feel great when the toy is inserted as well. The vibration is not earth-shaking. By the same token, it may also be intimidating for those who enjoy very mild sensations. However, most women should find that the Nova gets the job done.

Nova is not silent, but its noise is easily muffled. It is virtually inaudible under a blanket with the door closed, and no one would be the wiser if you took it into the shower with you. Its sound is quite obvious when inside the same room as Nova, though, so it may be best to wait until your roommate is out if you live in a dorm.

To clean the Nova, antibacterial soap and warm water should do the trick. After washing, the base of the bottle rocket container makes a great stand for drying. A condom should be used if Nova is shared. Nova should not be used for anal insertion, as it does not have a wide enough base to make anal play safe. It can, however, be used to tease and tickle the outside of the anus.

The Nova is a great, diminutive, traditional vibrator. Its cute packaging makes it ideal as a gift - graduation, birthday, or otherwise.
Experience
I was surprised at how tiny Nova was. It is quite possibly the smallest insertable toy that I own. As with any shaft-type, non-phallic vibrator that I own, I first performed my "unicorn test" on it: I held it up to my forehead and looked in the mirror. Nova passed with flying colors. Some vibes have not been so talented.

Then, onto more practical uses. I definitely enjoyed using Nova as a clitoral stimulator. I like my vibrations strong, but not numbing, and Nova was only a click lighter than the strongest vibration I can tolerate. Inserted, the swirls feel very nice and not at all uncomfortable as I have found many ridged toys to be. As mentioned above, the Nova is only somewhat thicker than a finger (unless you have thick fingers, which I don't, not especially), so those who prefer filling toys may not find Nova useful as an insertable toy. However, I can often get off on just a finger or two, so Nova's small size was actually an advantage. There was no uncomfortable poking or prodding, and the vibration was nice as well.

I absolutely adore the packaging. True, it's not something you can just leave out on the mantelpiece if your in-laws are visiting (unless they're really cool in-laws), as the name of the product and its features are listed on the bottle in purple and white letters. However, it's something cute you can leave on your night stand or on your desk in your home office.

The only thing I would change about the Nova is its slight rubbery smell. It's undetectable unless you put it right under your nose. Even then, it's not very offensive, and it doesn't lead to any major point deductions from me. After two or three washes with plain soap, the smell goes away completely.
This product was provided free of charge to the reviewer. This review is in compliance with the FTC guidelines.
Thank you for viewing
Bottle rockets Nova
– vibrator review page!