My Favorite Clit Vibe Yet
It's a bit pricy, but I would buy the We-Vibe Touch again. The vibrations are very deep and rumbly, and I'm really happy with the shape and size (which are sort of a hybrid of the Mia and the bcurious). It's very comfortable and easy to use. I would highly suggest it.
Published:
Pros:
Comfortable to hold, ergonomic, intuitive controls, waterproof.
Cons:
Lint magnet.
I was interested in the We-Vibe Touch for a while. It looked like it was ergonomic and a small, convenient size. And We-Vibe's toys always look gorgeous in person.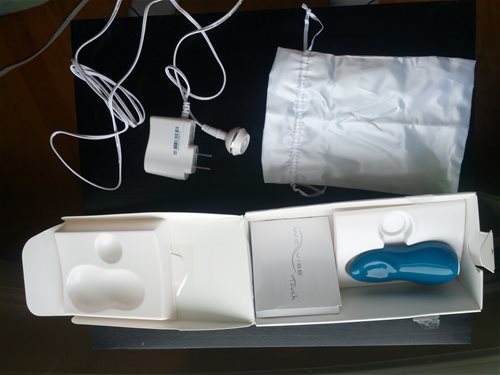 It arrived in a small cardboard box with a user manual, a pouch and the charger. I liked that the packing was simple, compact and discreet.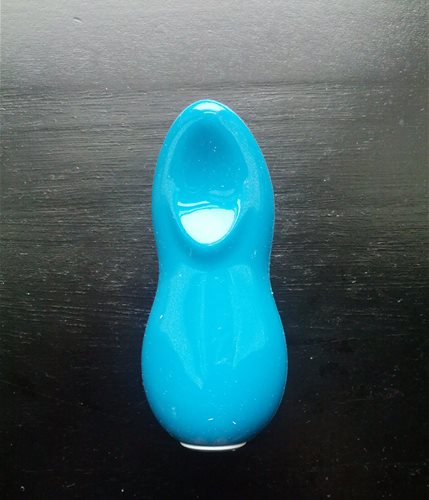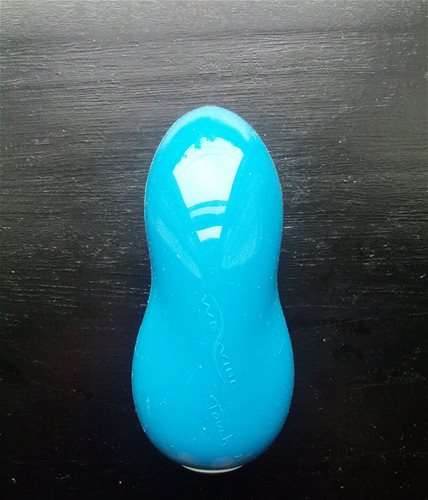 The core is firm and the silicone layer is relatively rigid with the exception of the pointed tip, which can be moved a bit. This is great for clitoral stimulation, as the tip can easily be wiggled in different places on and around the clitoris. It is great for pinpoint stimulation.
One side is rounded outwards and the other is concave and there is a dent about the size of a thumbprint where the toy reaches a point.
The measurements are as follows-
Length: 3 3/4"
Circumference: 4 1/2"
Diameter: 1 3/4"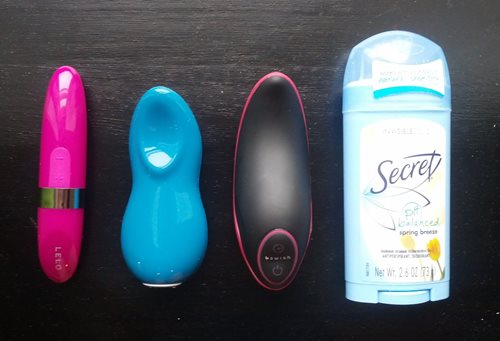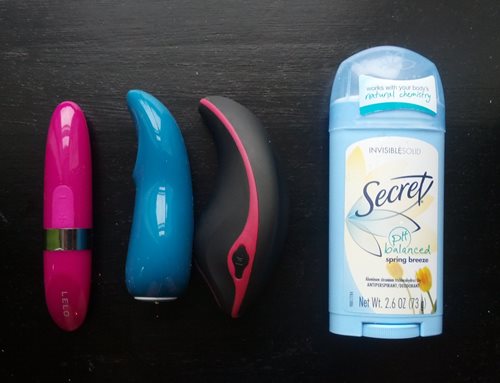 My favorite thing about the We-Vibe Touch is that its shape is like a hybrid of two of my other clit vibes- the Mia 2 and the bswish bcurious.
The Mia 2 is the size of a tube of mascara, and the plastic shell can get slippery when you use the toy with lube. It's easy to use and very quiet. I don't like the controls much; I find it annoying that you have to keep holding down the "+" button (making the toy at its loudest) to switch between modes. But I like that you can turn it off easily with the "-" button. The vibrations can be felt throughout the toy, so I wouldn't call them buzzy. But they are not very rumbly either.
The bcurious is made of a very hard silicone. It is my loudest vibrator, and I get frustrated with it because when you lay it over the labia (which it seemed to be been designed for), I can't easily use another toy with it. So I mostly use it for teasing. But I like the intuitive controls. It has an on/off button and a button for cycling through the modes. The bcurious vibrations are buzzy.
The We-Vibe touch has an ergonomic shape and pointed tip like the bcurious, but it's thinner like the Mia 2. It's much easier to manipulate with your fingers. I also like that the silicone tip is a little bit flexible, and that the material doesn't get slippery. It does collect a lot of lint though, so it helps to rinse it before use.
I would say that the volume is in-between. And the vibrations are very deep and rumbly. I would also say it is the most powerful of the three.
There are 8 different modes, and the first four are just different levels of steady vibration.

The Tease level is 9 strong pulses and about 9 faster, weaker pulses. Wave is a steady wave of stronger and weaker pulses. Pulse is a series of strong pulses. Cha Cha is 2 strong pulses then 3 faster, weaker pulses.
The controls are easy. There is one button at the bottom that you use to cycle through modes, and the toy can quickly be turned off by holding down the button for a few seconds. Also, it continues on the setting you were last on when you turn it off and back on again.
The Touch is waterproof. I like that there is no charge port to worry about covering (like the with bcurious).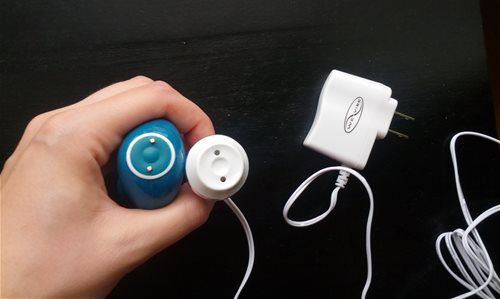 It charges like Fun Factory toys do- with a cord that connects to the toy with two magnets. The toy lights up when it's charging.
I like that there is a ring of lights around the button that lights up each time it vibrates. This is really convenient for helping you figure out which mode you are on.
The Touch has a lot of drag, more than any other silicone toy I own. So you may have to use a bit more lube with it (I use water-based lube. I would not suggest silicone-based lube since it will ruin the silicone). It also takes a bit longer to clean. I wash it with soap and water. But toy wipes or toy cleaner would also work find to disinfect it. And I would not suggest using it anally because it lacks a flared base.
Vaginally, I sometimes insert it halfway in to tease myself. But where it really shines is clitorally. The curved shape is very comfortable to hold in your hand. I also didn't find myself accidentally hitting the button at all.
Overall, I'm very happy with my purchase. It's the size and shape I was looking for, and it's my favorite vibrator.
This product was provided at a discounted price in exchange for an unbiased review. This review is in compliance with the FTC guidelines.

Thank you for viewing
We-Vibe Touch
– clitoral vibrator review page!