Almost Touched
A silcone, waterproof, rechargeable clit vibe that can be used when alone or as a couple. It doesn't get in the way and makes this one a keeper, but the short battery life can make it hard to orgasm.
Published:
Pros:
Fits great with couples
Broad, pinpoint, and indirect stimulation
Rechargable
Waterproof
Cons:
Short battery life
I've been looking for a clitoral vibrator for sometime now that would fit between my husband and I during intercourse. After trying a few different toys, I stumbled upon the We-Vibe Touch. I was intrigued by the shape and size and thought this would be perfect! Well, it's almost perfect.
Before we get to the fun stuff, let's talk nitty gritty!
First, the packaging. I have to say I was delighted by the box. It's been a long time since I've had a toy that came in packaging that looked like there was some thought put into it and understood their customer base wanted classy, not trashy. The trapezoid shaped box(yes, trapezoid shaped!) is white with "We-Vibe Touch" written in silver and a photo of the Touch on the top. On the sides are embossed images of naked women, but it's not overly noticeable. It took me a minute to even figure out what the images are. I would say the packaging is somewhat discreet, but anyone with a keen eye will figure out what it is.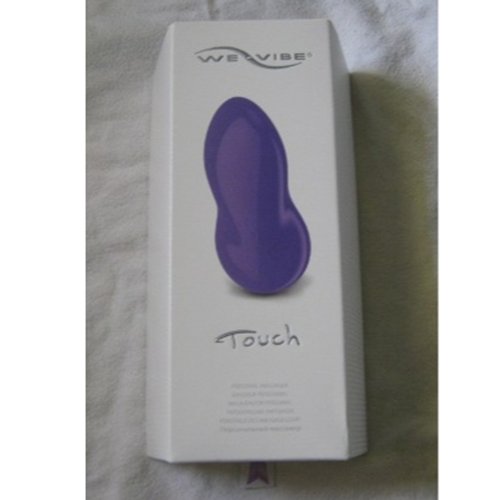 Next, size and shape. The Touch, by my measurements is only 4 inches from tip to bottom, 4.5 inches around the widest point, and 4 inches around the "waist" in the center of the toy. The bottom where the charger attaches is bulbous and rounded, while on the other end(the "business end") is pointed for pinpoint stimulation. The pointed tip has a little bit of give, but is still pretty stiff. Directly under the tip is a smooth indentation, perfect for indirect or broad clitoral stimulation. If you prefer a toy that curves against you, instead of with you, the toy can be flipped over so that the the indentation faces away from you and the arch of the back side is against you.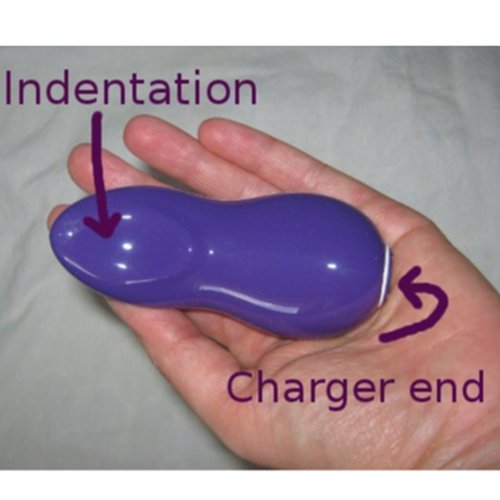 The Touch is made of a glossy silicone over hard plastic, which in addition to giving it quite a bit of drag on skin, makes it a huge lint magnet! Seriously, this toy collects more lint, hair, and dust than any toy I've ever had, silicone or otherwise. The good news is that the Touch comes with a satin storage bag to keep it relatively lint free. However, since it is silicone, it is important to note that you
cannot
use silicone lubricant with this toy. Water based only! However, since the touch is silicone and waterproof, cleaning couldn't be easier. Just some soap and water and you're done!
The Touch comes with a magnetic charger. The charger itself comes in two pieces: the main part that plugs into the outlet and a small detachable globe. The globe has a hole on one end that attaches to the main part of the charger. On the other end is the magnet that attaches to the Touch. The first charge takes about 90 minutes. There is a very small, almost unnoticeable orange light on the globe that goes out when charging is complete. I love the simplicity of a magnetic charger, but sometimes I do have to adjust the end to get a good connection, and occasionally the Touch gets bumped and I have to reattach it to the charger.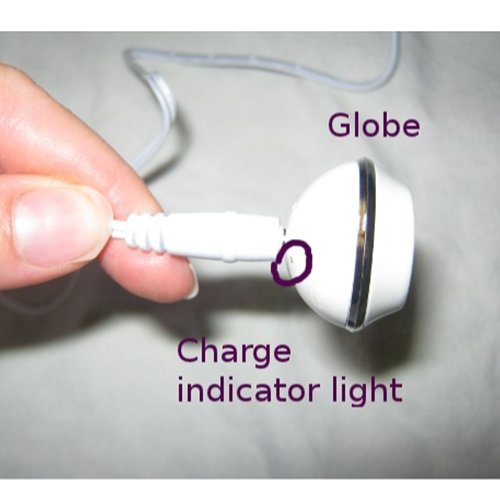 Use is very simple. A single button on the bottom controls the Touch, and an orange light around the button alerts the user that it is on. To turn it off, press and hold the button for 2 seconds. There are 8 settings (4 speeds and 4 patterns), but since there is only one button it is easy to accidentally skip the setting you are looking for and have to circle back around.
Last in the nitty gritty, a few safety warnings. The Touch is made as clitoral vibrator. Due to the lack of a flared base and its girth, I do not recommend using this toy anally. You
may
be able to insert it just a bit vaginally, but probably not enough to be considered a vaginal toy. Also, We-Vibe suggests not using the Touch in one area for more than 15 minutes.
Experience
Now the fun stuff!

Like I said, I purchased this as a clitoral vibe to use during sex with my husband. We had tried other vibes, but generally the batteries died, or they were so big and bulky they got in the way, keeping my husband and I at a distance from each other. When I saw the Touch, I knew I had to try it, and the shape was amazingly perfect for us! In the woman on top, or cowgirl, position, it hit the right spots on me without causing him any discomfort. By turning the vibe this way and that I could use indirect, direct, and pinpoint stimulation by using different parts of the vibrator without it causing any sort of problems for either of us. Plus, it fits so well in that position that for the most part it is hands free!

Next, we tried the man on top, or missionary, position. In that position it did take some work. The butt end of the Touch would sometimes knock against our pubic bones, causing quite a bit of pain if we didn't have it positioned correctly.

The vibrations on the high setting are relatively strong. If Hitachi is a good 5+ vrooms, I'd place the Touch at a solid low to mid 4. It would be enough for most people to orgasm by without being uncomfortable, except for the most dedicated power queens.

I've also found the Touch to be ever so quiet! Sitting three feet away from my husband with the TV on, he could barely hear it! I highly doubt you could hear it behind a closed door or under a blanket unless the house is absolutely silent.

With all the good things the Touch has going for it, I hate to say it, but there is a problem with this vibe. A BIG problem. This is why I removed one star and thought about removing two. The battery life needs work. Running on high, the Touch only lasts about an hour on a full charge, but starts losing a little bit of power after about half an hour. So if you like to use a vibe to tease, get in the mood, stay in the mood, and orgasm, or if your arousal naturally has its ups and downs in a single love making or masturbation session, this is going to be a huge problem, as the battery will likely die before you orgasm. I've put it away more than once in sheer frustration. The only solution we've come up with is this: make sure you are all hot and bothered and nearly on the verge of your orgasm before you even turn on the Touch. Really, it's a shame, since with a longer battery life I would have given this one a full five stars and be jumping for joy!
Follow-up commentary
4 months after original review
After a few months, the Touch unexpectedly stopped working. When I pushed the button, it just made a whining noise. Fortunately, like many luxury toys, this one had a warranty. I contacted We-Vibe about it, and they advised I send it back to them to be checked. A new one is now on it's way back to me. It was a bit of a pain since I had to pay for international shipping to send it back to them, but I love the Touch so much that it was worth it.
This product was provided at a discounted price in exchange for an unbiased review. This review is in compliance with the FTC guidelines.

Thank you for viewing
We-Vibe Touch
– clitoral vibrator review page!