This changed my mind about sex toys
This 5-star male masturbator is a great combination of texture, suction and great material. I was never a fan of sex toys, but then the Tenga Flip Hole Black swooped in and changed my mind. 4 Vrooms for intense sensation but 3 bees because of course there will be that wonderful and expected "squishy sound".
Published:
Pros:
A whole lot of texture, easy to care for and use, unique looking masturbator
Cons:
May be a bit heavy

My first toy was the
Tenga flip hole black
, which is a masturbator sleeve in a long line of products by
Tenga
. This type of toy is supposed to be placed over the penis and can be used either solo or with a partner. You would use this toy as a sheath during masturbation, to add stimulation and make masturbating more pleasurable.
For me, masturbators just aren't what they are made out to be. The hype is made out to be so much more than it actually is, but I will say up front, I really enjoyed this toy. My girl bought me this toy based on reviews and recommendations, and it proved to be worth the money!
The toy is made of hard plastic on the outside, black in color with a
silicone and rubber compound called TPR silicone
. The design is very original, like nothing else I've seen before and doesn't really resemble what I would think of as a "typical sex toy". When I think of a masturbation sleeve or male sex toy, I tend to think of fake vaginas so compared to that, this is quite discreet. It looks almost futuristic.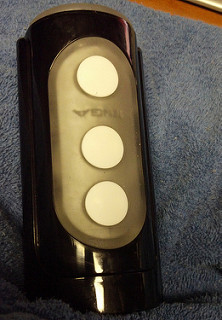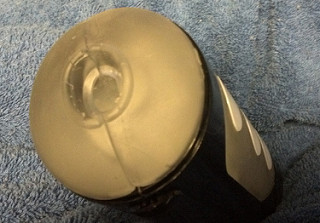 The inside of the toy is really cool looking but also looks quite complex. Think of it as one of those little mouse mazes, only for your penis. The texture really is what makes the toy a 5 star product. That, and your ability to control the suction on the toy while using it. It provided maximum stimulation and although I couldn't think "oh, it is the triangle part, oh, it is the nubby part", but I could
definitely
feel a variety of sensations. The outside of the toy is black, with a more clear "jelly" oval in the center and then 3 white circles going down the toy. The oval area is what allows you to increase or reduce the amount of suction.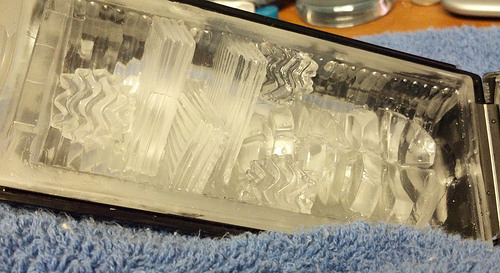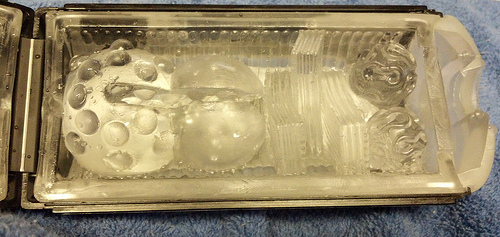 Your toy will also come with a sample set of 3 different type of lubricants. You will get "mild", "real" which was my personal favorite, and "wild". Real was the most realistic feeling lubricant I've ever used. I'm not typically a fan of lubricants, but it definitely improved my experience. The other two didn't really do anything special for me and I don't particularly enjoy lubricants that give a warming, tingling or cooling sensation, and wild actually made it difficult to orgasm because it gave me a numb feeling. Many lubes that are meant to do any of those 3 things will cause numbing. On the bright side, I was able to use the two I didn't like to give back massages to the woman who makes my sandwiches and smacks me for making such a comment!
The toy is 7" long and can be stored pretty easily. It does unhinge so that you can apply your lubricant more easily and clean the toy, but it also makes it easier to dry it. The "cap" it comes with does a couple of things. It helps you to store your toy to keep it dust free, holds it together while you are using it, and also acts as a stand for drying! This and some lube is all you need for a fun solo time!
It is really easy to clean, because it opens up and you have access to the whole inside. To clean, you could use toy cleaner or wipes, but I prefer to use warm water and mild soap. You will only want to use water-based lubricants on this toy so that you do not do any damage to the material. Because this is not pure silicone, you shouldn't store this so that other silicone toys are touching it. This is bad for the toy material of possibly
both
toys.
Also, I never thought to save the ingredients, but luckily my girl was smart enough to take a picture of everything including the package it came in!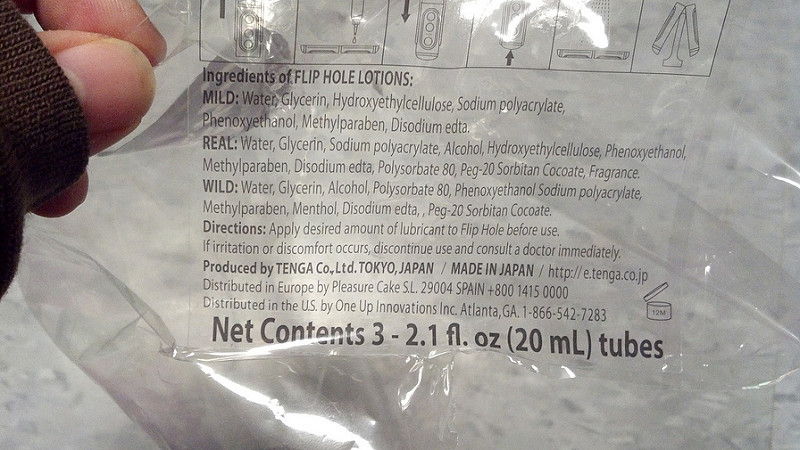 Here is the back packaging of the product: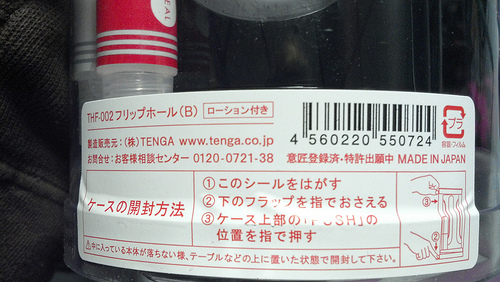 Experience
The first time I ever used this toy, I wasn't really sure how to use it. I didn't know that you could slide the cap on the other way to secure the toy shut, so I kept trying to hold it shut. My girl tried to help me out, but she didn't bother reading the instructions either, so we found it quite difficult. It was an interesting experience! We did figure it out though, that we needed to secure it shut. Once we did that, it was a whole lot easier.

The suction was great, and I really loved the way the different types of texture felt on me. The lubricant I chose also made it a whole lot better. Unfortunately, my girl can't use it on me for too long because it is a bit heavy, at 1.5 lbs according to the product page (I don't have a scale so I couldn't verify that for you!) but when moving it up and down it can become tiresome. She is only able to assist for 5 minutes before her arms give out. In her defense, she has shoulder pain as is, so I don't blame her. I find it a bit tiresome from the weight as well.

Overall though, it is an incredible sensation. I've never enjoyed the concept of toys because the few experiences I've had weren't really all that great on this end, and I've never really wanted a toy. I'm glad that I gave this one a chance, because now I want to experience all types of toys now! Thank you Tenga!
This content is the opinion of the submitting contributor and is not endorsed by EdenFantasys.com
Thank you for viewing
Flip hole
– masturbation sleeve review page!