Almost Heaven is...almost heavenly.
Almost Heaven is a pretty good movie for anyone looking for some plot and romance to their porn. It's well made, and the camera angles, lighting, and sound are all excellent for the most part. The acting and sex is hit and miss, but the good makes up for the bad. If you're looking for something a bit more hardcore, though, you won't find it here.
Published:
Pros:
Great cinematography, mostly decent acting, good plot, condoms
Cons:
Pretty vanilla, predictable sex, some bad acting
Almost Heaven is a porn movie from New Sensations' Romance series, directed by Eddie Powell. It is geared toward women and heterosexual couples, so naturally it involves a romantic plot and plenty of kissing, and all the sex scenes in the film are between heterosexual couples. It has a fairly interesting plot, decent performances from most of the actors (aside from bad acting from the main character), and amazing cinematography.
Plot
:
A woman named Angie, played by Kiara Diane, finds herself in a waiting room with no memory of how she got there or why. She is soon called back by the secretary, Sara, played by Allie Haze. She finds out from a man named Michael, played by Xander Corvus, that she died the night before and is in some kind of pre-afterlife. Michael explains to her that she must choose one memory from her life, and that that memory is the only thing she gets to take with her to the afterlife. From there, it's basically about Angie trying to choose a memory of her husband to take with her. We also see that Sara loves Michael, but he doesn't return her affections or notice her much at all, really. I won't give away the ending for those of you who don't like spoilers. You'll just have to watch it yourself! To me, it was an interesting concept and better than the typical poor attempt at a story that I usually see in porn.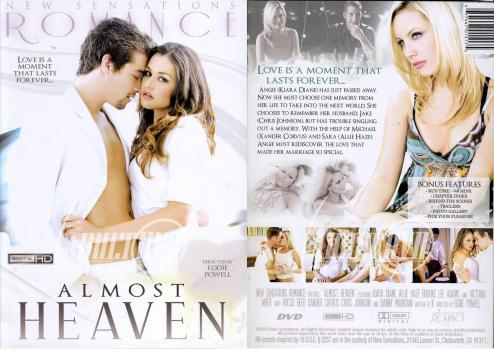 The Sex Scenes
:
1. Brooke Lee Adams and Danny Mountain- I found this scene to be kind of boring and unbelievable, mostly because of Brooke Lee Adams. This is the second film I've seen her in, and she always seems like she doesn't exactly know what she's doing. All I could see through the whole scene was a woman acting like she was enjoying sex. This scene, as well as all the others, has soft music playing over it. It wasn't too loud or distracting, but just enough. The scene takes place outdoors and follows a pretty typical porn formula: blowjob, some oral and fingering for the woman, cowgirl, doggy, missionary, and so on until the come shot. What was nice to see in this and all other sex scenes in the movie was that the man actually wore a condom once it came down to penetration time. It was actually done fairly easily without being distracting. He just pulled it off right before coming.
2. Allie Haze and Xander Corvus- This was the best sex scene in the movie. Both actors seem to really be into each other. I also can be sucked in by a good romance, so the story may have helped, but they just seemed to enjoy themselves. There is a lot of really sensual kissing, a long bit of oral on Allie, followed by a blowjob, and several sexual positions. At one point they have sex with her sitting on the counter, and at another she is on top of him on the floor. He comes on her stomach, and wow. There's a lot (which I find incredibly hot). I was really impressed by the camera angles and lighting in this scene. Everything was kind of white and glowy (considering it kind of takes place in heaven), and the camera didn't just focus on one body part or get blurry like I've seen in a lot of porn. We see faces, whole bodies, views from above, from the side, up close...you name it. My only complaints were that you can hear a car pass by once, and that you can't actually see the come shot. The background is white, the come is white, and that doesn't exactly work.
3. Victoria White and Rocco Reed- This scene was very...meh. It didn't do much for me. It takes place in a bedroom, partly under the covers and partly not. I thought the under the covers part was kind of cool, simply because it was different. It was kind of like they were under a blanket tent. Aside from that, I wasn't too interested. It was predictable--oral, blowjob, cowgirl, spooning, missionary, come shot on tummy.
4. Kiara Diane and Chris Johnson- This scene was okay. Not great, not too bad. It all happens on a bed (a creaky bed, I might add), and follows the typical formula--oral, bj, cowgirl, spooning, doggy, missionary, come shot on stomach.
Experience
(Continued from above)

DVD Features:

The DVD comes in a plastic case with a kind of paper case over it. The paper case has a kind of weird feel...kind of soft and matte, like a silicone toy. The front shows Xander Corvus and Allie Haze, and the back shows Kiara Diane and some pictures of scenes from the movie. It doesn't show anything more explicit than a shot of someone in a bra and panties, so it doesn't look too hardcore. You could almost leave it out and not worry that anyone will think it's anything more than a romance movie.

The extras include a Behind the Scenes, Photo Gallery, "Pick Your Pleasure" (where you can choose from Tease, Blowjob, Missionary, Doggystyle, Cowgirl, and Popshot), Trailers, Web Trailer, and Company Info.

Almost Heaven is worth watching if you like a decent plot and decent sex that's a little vanilla. This movie is definitely not going to do it for anyone wanting to see any girl/girl or guy/guy action, group sex, or anal, but I would recommend it just for the great cinematography and the scene with Xander Corvus and Allie Haze. The lighting, sound, and camera angles are so much better than what I'm used to seeing, and Allie and Xander have really good chemistry. Plus, I have to say...Xander Corvus is damn sexy, especially for a porn actor.
This product was provided free of charge to the reviewer. This review is in compliance with the FTC guidelines.

Thank you for viewing
Almost Heaven
review page!