EOS Everyday Hand Lotion... I love all three!
I have really dry skin, and sometimes it takes a lot of lotion to moisturize my skin, but with this I didn't have that problem and it really surprised me. I would highly recommend this to anyone, and I'd scream it to the roof tops. The EOS lotion is smooth and silky, and doesn't need to be reapplied. The small is amazingly lite and will work for anyone. I do think it's a little pricey, but it's a price I'll pay to keep this lotion in my pocket.
Published:
Pros:
Smell, Absorbs nicely, Compact, Size, Silky,
Cons:
Price, container isn't reusable.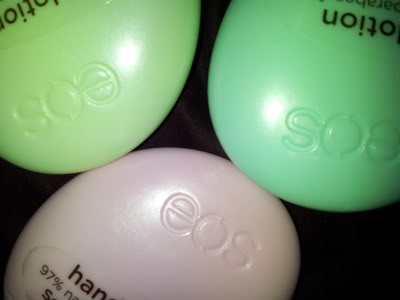 I cannot express how much I LOVE this lotion. I almost didn't want to try it, because the price, but I'm glad I did. The little package it comes in is cute, and quite fashionable. It's perfect for anyone. It doesn't matter if you are a male or female. You don't have to worry about puling this out of your bag, and worry about what other people will think. It's perfect for gift giving, is personal and social setting. The EOS hand lotion can be used every day, multiple times a day. You can use it more than just your hands. You can use it on your feet, face, arms, anywhere you have dry skin. This is the first item by this company that I've tried and I have to admit, I'm very pleased.
The EOS does what it's intended to do and a little more. The little bottle that it comes inside of it a little odd oval shaped bottle. It has a snap-pop top at the bottom. When you open it, you don't need much to cover your hands; you only need about a dime sized drop on your hands. If you are using it for your face or arms, you will need to use a little but more.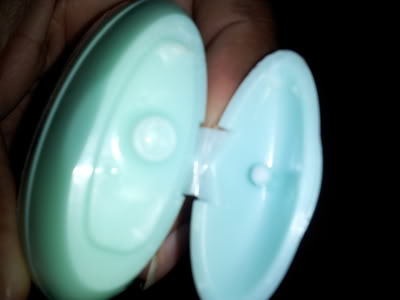 When the lotion comes out of the bottle it's kind of thin, and I was a little worried about it. I was worried that I would need a lot, or have to keep reapplying it, but I didn't have to. I did have to reapply after I washed my hands when using the bathroom, but that is about it. When the lotion comes out of the bottle, it's a little cold, but that could be because I just had it sitting out in the open.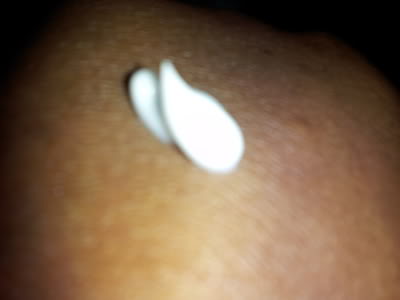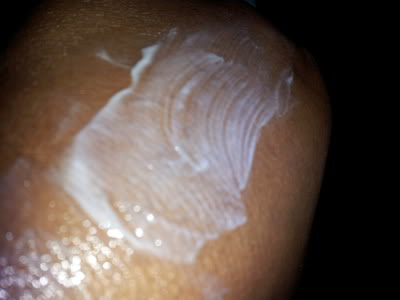 The lotion is really silky feeling, it doesn't feel oily or like something that feel heavy on the hands. It feels quite lite. When rubbing it into your hands, it doesn't require much rubbing it. It rubs in quite quickly and doesn't leave your hands or skin feeling greasy. I love the smell of this lotion. I have all three the cucumber melon, berry breeze and nourish. They all smell amazing. The smell isn't strong at all, and it's perfect for anyone, it doesn't matter if you have a sensitive nose or not.
All three are only 1.5 FL oz., but this size is great for your packet, or even just to hold in your hands when running out the door. The bottles are refillable either, which suck, because if you use up the lotion, you're going to have to order another one. The 1.5 FL Oz bottle, should last you a couple of months if used on only the hands. I've had mine for over a month and I just us it on my hands and it's still just about full.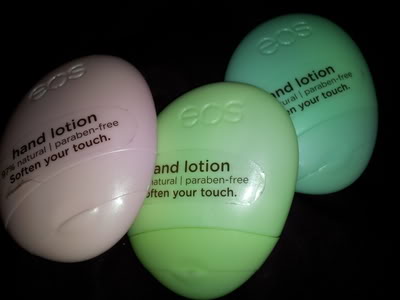 Cucumber melon (Green) Has this amazing light cucumber melon smell. It smells better than the bath and body works cucumber melon lotion.
Berry (Pink) This has a sweet smell, but the smell isn't overly sweet. It's also extremely soft smelling and it won't leave you with a headache.
Nourish (Blue) This one is the least of my favorites, but it's still one of my favorites, This reminds me of a clean, brand-new type of smell. It isn't overly done, but it is something I can see not EVERYONE loving it.
Just like anything you would put onto your skin. I would recommend doing a spot test before applying it to a large area of skin. You should apply a small dab onto your inner wrist and wait to see if you have some type of reaction. If you don't then you can apply it to your skin. The EOS hand lotion is Paraben and Phthlalate free; it's also free of Petrochemicals, Sulfates, & Triclosan. EOS does contain Soybean Oil (soy), Glycerin, Sunflower seed oil, macadamia nut oil, aloe, and oat. Some people are allergic to these, so use caution when trying it for the first time. You should keep this away from open cuts, because it can cause slight burning sensation. You should keep this out of your eyes, if you happen to get some into your eyes, you should just wash your eye out with warm water.
EOS hand lotion ingredients are: Water (Eau), Glycine Soja (Soybean) Oil, Cocoglycerides, Glyceryl Stearate, Dimethicone, Glycerin, Cetearyl Alcohol, Sodium Stearoyl Lactylate, Helianthus Annuus (Sunflower) Seed Oil, Butyrospermum Parkii (Shea Butter), Macadamia Ternifolia Seed Oil, Aloe Barbadensis Leaf Juice, Avena Sativa (Oat) Meal Extract, Tetrahexyldecyl Ascorbate, Tocopheryl Acetate, Retinyl Palmitate, Fragrance (Parfum), Carbomer, Methylchloroisothiazolinone, Methylisothiazolinone, DMDM Hydantoin, Sodium Hydroxide.
This content is the opinion of the submitting contributor and is not endorsed by EdenFantasys.com

Thank you for viewing
Everyday hand lotion
– hand cream review page!