Everyday? No. Never Again.
Overall, I just can't recommend the Everyday Hand Lotion by EOS. The lotion may be "97% natural", but it has some really hazardous ingredients in it. This is not a lotion that you'd want to purchase if you have sensitive skin. On top of that, the price is way too high. I've done a price per ml comparison in my review and you'll see that you're paying way more than other options, just for the convenience of a cute, little container.
Published:
Pros:
Cute container, absorbs nicely, nice scent, not sticky or greasy.
Cons:
Expensive for amount you get, a number of bad ingredients, irritant for sensitive skin.
The Everyday Hand Lotion by Evolution of Smooth (EOS) is available in berry, cucumber melon, and nourish. I had purchased the cucumber melon lotion. The only packaging to the product is the container that the lotion is in. The container is round and semi-flat. It reminds me of a stone. The front of the container states the EOS name. There is also a sticker, which can be removed, that states what the product is and the fact that it's 97% natural and paraben-free. The back of the container has another sticker that opens up. This sticker states the size/amount of the product, a brief product description, and the ingredients.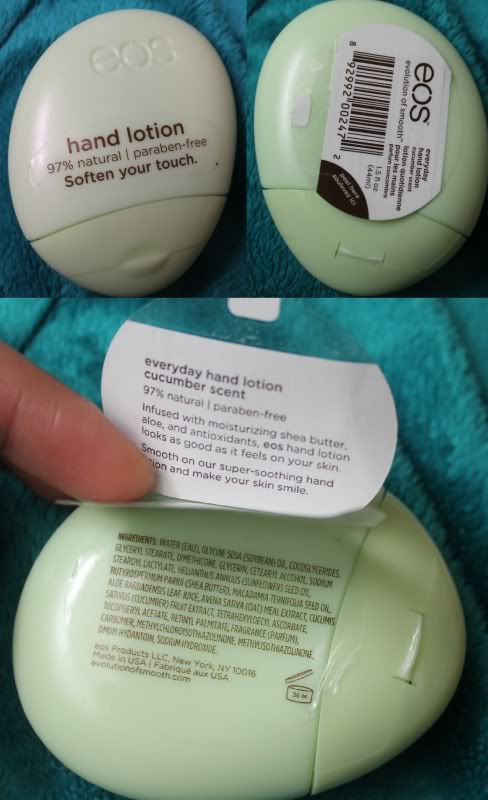 I had taken all the stickers off of the packaging, except the bottom of the back sticker, which states the ingredients. You can leave them on if you want to but I think it looks better without. The lotion container is plastic, which opens at the very bottom to dispense the lotion. The bottle measures 3 ¼ inches long, 2 5/8 inches wide, and stands approximately ¾ of an inch tall when it's sitting on a flat surface.
The sticker states that it is 1.5 fl oz (44ml). You can see that it's rather tiny. It'd be perfect to keep in your purse, even if it's just a small clutch. The size is convenient for travelling. You don't need to worry about the container leaking because the cap has a little post on the inside that goes into the dispenser hole when you close it.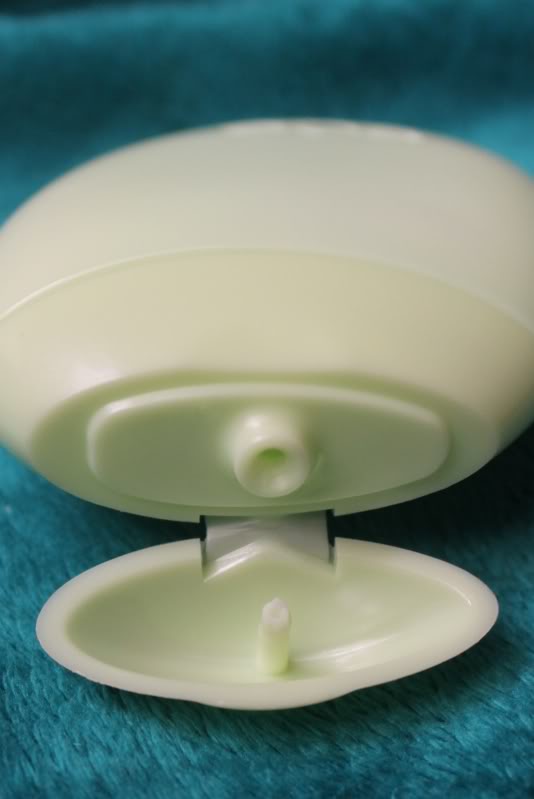 I compared the ingredient list from the product page to the ingredient list on the packaging. They are almost the exact same except they are missing one ingredient, which I've bolded in the ingredients list below.
Water (Eau), Glycine Soja (Soybean) Oil, Cocoglycerides, Glyceryl Stearate, Dimethicone, Glycerin, Cetearyl Alcohol, Sodium Stearoyl Lactylate, Helianthus Annuus (Sunflower) Seed Oil, Butyrospermum Parkii (Shea Butter), Macadamia Ternifolia Seed Oil, Aloe Barbadensis Leaf Juice, Avena Sativa (Oat) Meal Extract,
Cucumis Sativus (Cucumber) Fruit Extract
, Tetrahexyldecyl Ascorbate, Tocopheryl Acetate, Retinyl Palmitate, Fragrance (Parfum), Carbomer, Methylchloroisothiazolinone, Methylisothiazolinone, DMDM Hydantoin, Sodium Hydroxide.
I had searched for information on each ingredient and will tell you about the ones that made me raise an eyebrow. The ones that I don't mention are the ones that didn't have any safety concerns listed on the
ingredient database
that I had used. That being said, you'll want to take a look at all of the ingredients before purchasing the product to ensure that you are not allergic to any of them. There were a few ingredients that had low hazards ratings, but I wasn't able to find enough information about them to include them.
Dimethicone side effects (
source
): "Dimethicone may cause itching, stinging or burning of the skin in some people. More severe side effects such as hives, difficulty breathing and swelling are rare and caused by an allergic reaction."
Tocopheryl Acetate: The ingredient database that I use states that this ingredient is a human skin toxicant or allergen. It also states that it has been linked to cancer in animals, with high dosages. Another
website
states, "It has also been determined that Tocopheryl Acetate is a skin sensitizer that can instigate immune system responses such as itching, burning, scaling, hives, and blistering of skin".
Retinyl Palmitate: This ingredient had a higher hazard rating than the previous two I had mentioned. The ingredient database states that there is restricted use of this ingredient in Canada, for cosmetics. In animal testing, studies have shown that there have been tumor formations with small dosages of this ingredient. Another
website
states, "potential side effects including cancer, developmental and reproductive toxicity, violations, restrictions and warnings, cellular level changes, and organ system toxicity."
Methylchloroisothiazolinone and Methylisothiazolinone: I grouped these together because the information about them is pretty much the same. The database states that these are other ingredients that are a human skin toxicant or allergen. These are also ingredients that have restricted use in cosmetics in Canada.
DMDM Hydantoin: This ingredient is listed as a human irritant and a skin toxicant or allergen.
The lotion is a white colour. It absorbs into the skin and doesn't leave any trace of colour. The consistency of the product is a bit runny. It's not a very thick lotion. It won't run off of your hands immediately like water would, but if you held your hand sideways it would slowly begin to make its way down.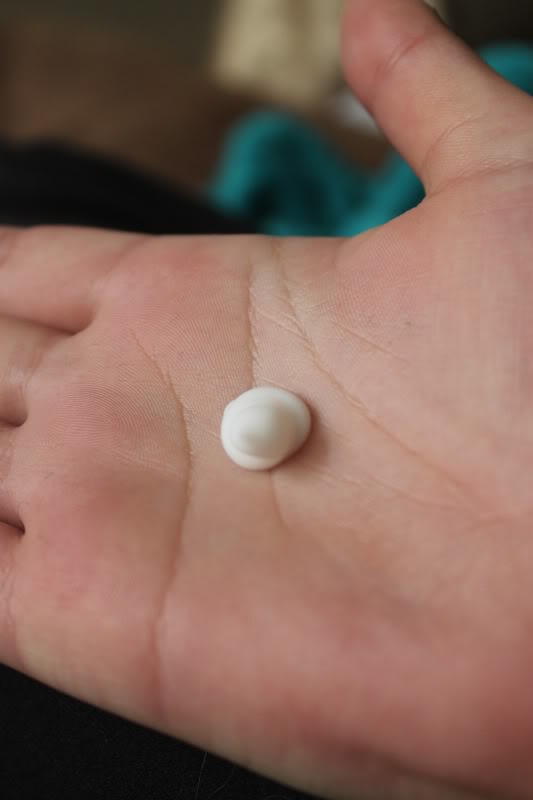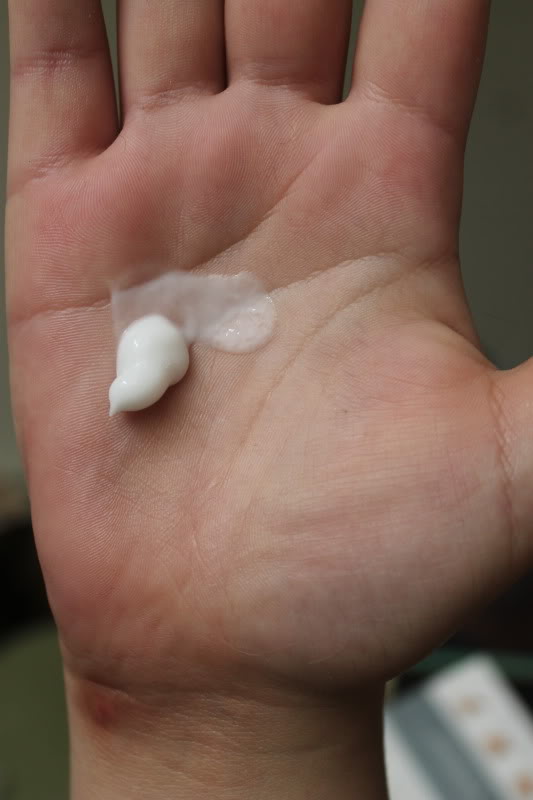 Experience
...continued
The lotion absorbs nicely and doesn't leave any odd residue or stickiness to your skin. The scent is nice. It's a stronger scent when you first put it on your hands but once it's absorbed it isn't as strong. The scent lingers on your skin but you have to put your nose fairly close to your hands to smell it.
I have fairly sensitive skin and after reading how a few of the ingredients were skin irritants; I tried it anyway. This was a mistake. About 5 seconds after I had rubbed the lotion into my hands, they became itchy. I don't mean a little bit itchy- I mean scratching-so-much-that-they-turn-red itchy! Since I was reviewing the lotion, I took a photo of my skin and even left it on for a few more minutes hoping that the itchiness would go away—which it didn't. I washed the lotion off with soap and water and won't be using it again.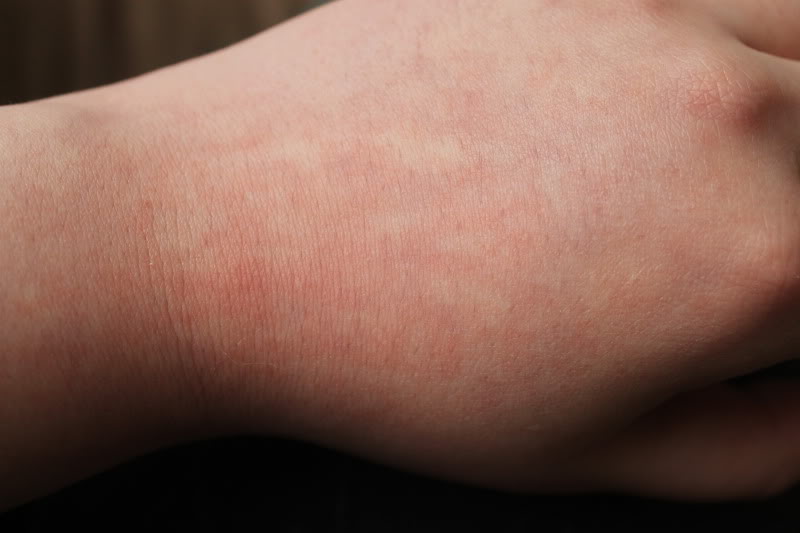 I wouldn't recommend this product to anybody, even if your skin isn't sensitive like mine is. The reason is because it is so darn expensive! It may be convenient for travelling with, but I still can't see that convenience justifying the cost. I've given this lotion a 2 out of 5 for two reasons. The first reason is that the ingredients are just scary. If you have sensitive skin, avoid this product. The second reason is that it's way too much money. I've included a cost comparison below.
There is
another lotion
by EOS that is available for $10.99, which is 354ml. So if you compare the two lotions:
Everyday Hand Lotion: $7.99 divided by 44ml = 18cents per ml
Active Care Hand and Body Lotion: $10.99 divided by 354ml= 3cents per ml
So all this means is that you're paying 15cents more per ml, just for the convenience of the smaller container. Not worth it!
This content is the opinion of the submitting contributor and is not endorsed by EdenFantasys.com

Thank you for viewing
Everyday hand lotion
– hand cream review page!