Silky smooth, if not a little too strong.
If you're like me, and you don't do your sheets on a weekly basis, you may be interested in a product that helps keep them smelling fresh and feeling pleasant. If you are, this could be the product for you. That is, as long as you don't have sensitive skin, or mind the smell being somewhat on the overpowering side, initially.
Published:
Pros:
Sugar, Glycerin, Paraben & Sulfate free.
Long-lasting scent.
Doesn't stain light sheets.
Cons:
Extremely strong scent.
May irritate sensitive skin.
I have a confession. I'm kind of gross about my sheets. It's not that I don't wash them, it's just that I probably don't wash them often enough. My husband is deployed, so other than myself sleeping in it, and my daughters occasionally sleeping in there with me, there's nothing going on that requires excessive laundering. I wash my sheets about once a month, unless there's some kind of potty accent with my infant (okay, so in fairness, I wash them about every two weeks lately). So I don't always have fresh smelling sheets, because after the first few days, the smell of my detergent has worn off. I don't ever let them get stinky smelling, but they don't always smell good, either.
This is where Silky Sheets by Body Boudoir comes in. Packaged in your standard aerosol can, with a clear lid, this product has helped make my sheets smell much nicer than they usually have. They even make them a little softer, too. Even though this is only 4oz, it does go a long way, too. The top doesn't stay on very tightly, for travel purposes, I would tape the lid on, as well as put it in a bag. Being aerosol, you'll have to find out if this can be taken on an airplane - I don't believe it can, as it's over 3oz, and it's also aerosol.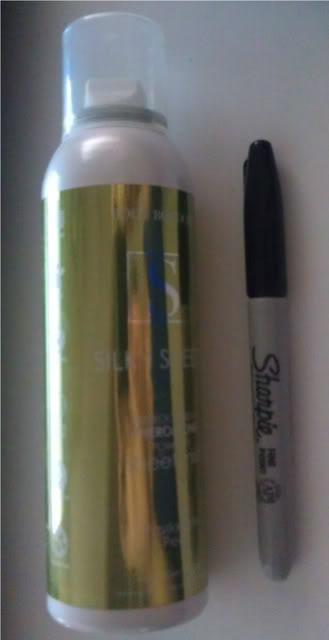 Firstly, I'd like to mention that I ordered
Pear Blossom
and I got
Passionate Pear
. This may not seem like a big deal to you, but it annoys me. Why? Because a pear smells like a pear, and a pear blossom smells more like a fruity flower. I wanted fruity flowers, not sweet fruit. Does that make this smell bad? No. It's pleasant, although it is a bit too strong for my senses immediately out of the can. But it isn't what I ordered, either. That being said, it's still a nice smell, even though it's rather overpowering directly out of the canister. Make a mental note if you're buying this, that a little goes a very long way. As for taste, I'm not going to, because this is a chemical and is harmful if swallowed, so just don't. It's not meant for your mouth, silly goose.
I have light sheets in a pale yellow, so for me, I didn't ever notice any white spots on my sheets from this product, but other reviews have claimed otherwise. Perhaps on darker sheets, the white of the talc would be more noticeable, but for lighter sheets, I've no problem with this. I also make sure to double the distance that I spray - the can says to "Shake well. Hold can 6-8 inches away from area to be misted". I hold mine at least a foot away from the bed, if not two. This also helps lessen the talc residue that it can leave behind.
The "Silky" part of the "Silky Sheets" is iffy to me. This feels exactly how it would feel if you sprinkled baby powder on your sheets and then climbed in. I actually have done this before, because it does give cotton sheets the very temporary feeling of being a softer fabric. Occasionally when my sheets don't feel great out of the dryer, I'll sprinkle some baby powder on them. This product gives me exactly the same outcome as if I were doing that.
I don't use this on my actual pillows, because even though it advertises as being sugar free, safe for all skin types, paraben free, and sulfate free, it still has chemicals in it that I don't want to rub my face around on because I have sensitive skin. I also don't spray it in my bed often anymore, because I found that it made my five year old's skin break out in a mild rash (she's allergic to literally everything, and has terribly sensitive skin, so this isn't the fault of the product, just something to be aware of if you also have sensitive skin).
Overall, I enjoy this product, but it's definitely something I enjoy for myself, and not often. I don't think my husband would like the overpowering fruity scent that comes with this product, because he doesn't like strong scents. I also don't like how it reacts to my children's skin, even though I do like how it feels against mine. For me, this is really just a "I haven't washed the sheets this week, probably should freshen them up" thing, when I'm too lazy to just toss them in the wash.
This product was provided at a discounted price in exchange for an unbiased review. This review is in compliance with the FTC guidelines.

Thank you for viewing
Silky sheets
– water based lube review page!