Bag full of naughty.
The devine carry-on is perfect for anyone with a small toy collection, to people with a larger collection who need something small to keep a couple beloved toys in. You can use the devine carry-on to store anything. You do not have to use it for sex toy storage. It is beautiful and devilishly discreet enough to hide your most naughty secrets.
Published:
Pros:
Portable, Large, Beautiful, Discreet, Can be used for multiple things.
Cons:
Doesn't have a lock
The Devine carry one is one beautiful, lightweight bag. I ordered it to go along with my corset Devine toy box. I want to have at least one of each storage units from Devine. The Devine toy storages are all very different in look wise, but all have a common goal, that goal is to keep your toys out of sight.
When I ordered the carry-on I had no idea what I was going to use it for. I thought eh; it will come in handy somewhere. I had a hard time choosing what color to get, the colors that it comes in are all good colors. I decided on the pink, only because it is my favorite color. Next time I'll order the silver or the white. When I received the carry on in the mail, It came folded and in a taped plastic casing. It was wrapped up pretty good. It took me a minute to get the wrapping completely off. It made me feel good about shipment. I knew nothing was getting into this thing. I wanted to test it and place the whole thing into some water. I did not though because I know my luck and I'll probably end up ruining it.
When I showed my boyfriend the carry one, the first words out of his mouth were, "how is this supposed to hide your toys? It does not have a lock." I quickly push it out of my head. I decided to use the bag for when and if I do travel. I could store a couple of my favorite toys in it and go. It is very discreet and does not scream" HEY COME LOOK IN ME".
Because, I do not travel that much. I decided to use it to store my travel sized lubes. I also stored a couple of my bullet vibrators that did not come with reusable casing. The carry-on bag holds everything, and still has some extra room to store couple more items. The carry on is 10" in length, 3 1/2" in width and 4 1/2" in height, the carry on weighs about 0.2 lb. You do not have to use it to use it for toy storage; you could use it as a make-up bag. You can use it to store other small items. It is the perfect size to carry on its own, or you can store it inside of a bigger bag. It has many uses. The carry-on bag also has a flat, thin pieces of board to keep the bottom of the bag flat, so that it sits up on its own. You can remove the board if you want to, it will give you a little more room.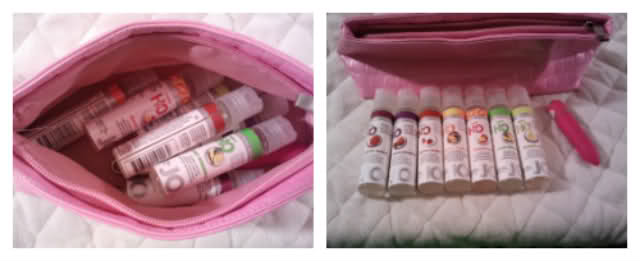 The Devine carry one bag comes in this beautiful shade of pink; the color is the same all over the bag. It has a snake type pattern all over the bag even at the bottom of the bag. There is a visible stitching that runs along the side and bottom of the bag. It is nothing ugly, or out of place, it actually looks really nice. The bag itself is a squish-able, bendable bag that is made out of Polyvinyl chloride. Polyvinyl chloride is In general, PVC is light, water resistant, offers a long life cycle and does not require much maintenance. It can be cleaned with warm water and antibacterial soap. I would not recommend putting this in the washing machine. I honestly do not think it could handle the stress of washing and trying. If you do happen to need to clean it, you should just wash it out by hand and allow it to air dry.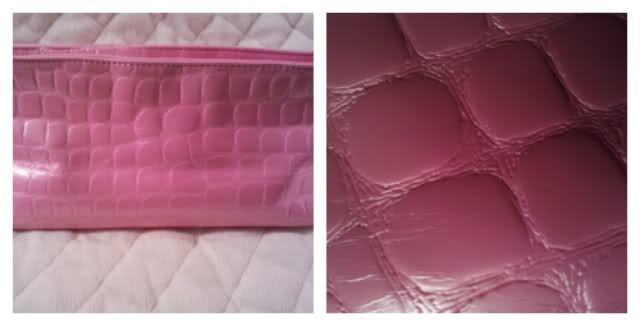 The carry-on has a zipper that allows you to close it without a problem. The zipper seems to be really sturdy, and less likely to break off when you pull on it kind of hard. Like most cheap zippers, they have a tendency to completely or partly break off.The carry-on has a snake pattern to it. It isn't nearly as rough. Once it breaks off you have to pinch your fingers together to grab the base to of the zipper to unzip your bag. I love the divine carry-on bags I just wish they came in more manly styles so that I could order my boyfriend one.

Follow-up commentary
11 months after original review
Python print divine carry-on is as beautiful as the first day I got her. What's inside of her has changed quite a few times. I was using it for small toys, and then for a place to keep my chargers. I started using her to hold condoms. I'm currently using her to house small vibrators again. I was thinking about switching her over to my purse to hold small items. I haven't made up my mind yet. I do know I love her and I'd love to order her in the silver and white.
This product was provided at a discounted price in exchange for an unbiased review. This review is in compliance with the FTC guidelines.

Thank you for viewing
Python print divine carry-on
– storage container review page!