Snakes on a Plane? Bring It.
This is just one of those items that really shows how versatile bags can be. Although I prefer a more permanent storage idea (like the Original Toibocks), I love the fact that I can safely and discreetly carry some personal and private things around town or while traveling. I would love it if more color choices were made available though. This is just an overall great thing for anyone to buy and own!
Published:
Pros:
Holds a lot for its size, 3 trendy colors, Durable zipper, Can be used for so many things
Cons:
More colors would be awesome!
No inside pockets for additional organizing.
Doesn't lock.
The Python printed carry-on case is a bag full of variety! It can be used to hold your make-up, fingernail polish, condoms, lube, sex toys, keys, cell phone, pens, sunglasses, a brush, hairspray, feminine products, and so many other things. While it is sold as a sex toy container, it shouldn't be limited to hold only sex related items. The case comes in three different colors: White, silver, and pink. I have the pink and silver ones. The pink is very soft and feminine. The inside liner is an even softer pink. The only thing that isn't pink is the silver zipper. The silver one is very metallic in appearance. The inside is a beige color. The outside of each carry-on is printed with a raised python print. Because the outside is also slick and shiny, the raised pattern gives the fingers something to easily grab onto. The stitching is sturdy and well done, and it is visible. The one thing that sucks is that this bag doesn't lock. If you plan on just using this as a purse or whatnot, then a lock isn't really necessary. A lock would be awesome for those that want to use this as storage for their toys and other personal things. Family members love to go through people's things. It is a fact.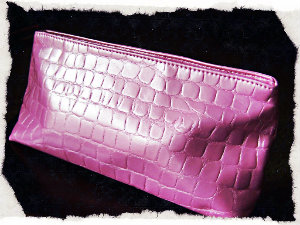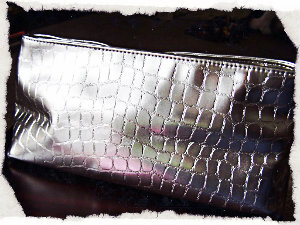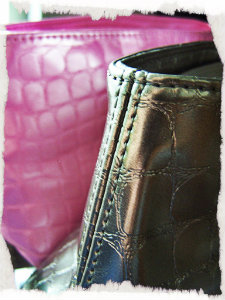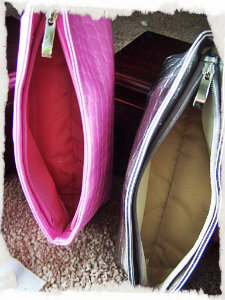 The inside is soft and well pieced together. It doesn't give off any fuzzies or lint, which is perfect for those that want to store silicone toys in these bags. There are no pockets on the inside. It is completely bare, which sucks if you like your purses or clutches to have a ton of pockets. Located at the bottom of each bag is a thick, semi-sturdy piece of cardboard that is also covered in fabric to match the inside of the bag. This gives a sturdy platform and base for when you want to store something upright (like a bottle of lube or perfume). It also helps the bag keep its original shape. The zipper is very well made. It has never become stuck or jammed. It constantly zips without any problems. I have packed each carry-on to the brink of explosion, and while the zipper took some effort to close, it has never broke or burst open. The zipper is a cross between the ones that you find on purses and the ones you can find on a large suitcase. It is very thick and strong looking. I can safely say that this is a well made bag that was built to last a very long time.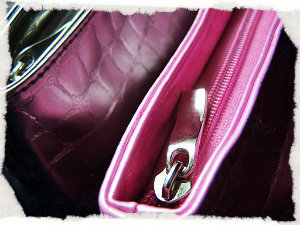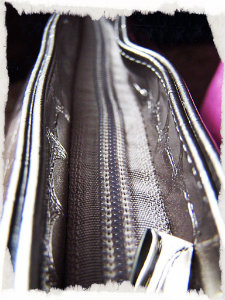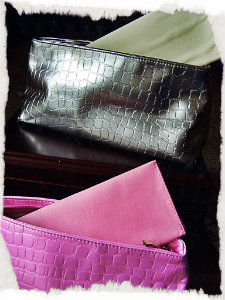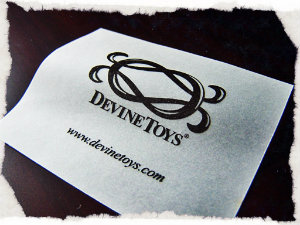 The carry-on bags are made out of a PVC material, which gets a safety rating of 2 on the Eden scale. Considering that this is a bag and not a toy, I have to say that the material is great. It is water resistant and very lightweight (until you pack it full of stuff). The pink bag didn't come with any smells, but the silver one came with a new bag smell mixed with a chemical smell. It took a couple of hours to air it all out, and it kind of gave me a headache. When it first arrives, each bag was in its own see through plastic bag to protect it during shipping. Each bag was folded in half, and this leaves a permanent crease. When empty, however, the bag can easily be stored by folding it in half again and placing it in a drawer. If the outside of the bag were to ever become dirty, simply wipe it down with a damp cloth. If lube, lip gloss, or any other fluids get loose inside the bag, I would wipe down the interior with a damp cloth as well and then let it air dry. Each bag measures 10 inches in length, 4 1/2 inches in height, and 3 1/2 inches in width. The bag itself does not feel stretchy, but it does easily bend and extend to allow bigger items. I have not noticed any big scratches or dents on the outside of the bag, so it should last a long while.
Experience
I put together four different combos. Some are simple, but some are loaded. I made sure every combo could be put in the bag easily and the zipper could close without a lot of effort.
1.) 8 full Eden wipes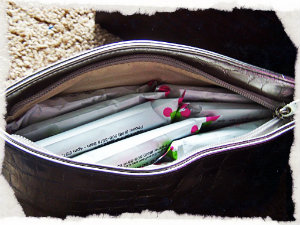 2.) Muse massager, butterfly nipple clamps, We Vibe 3 + remote, Njoy pure plug large, Jollies Jollet, 18 condoms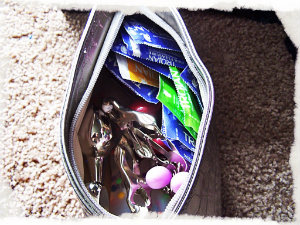 3.) EF bullet, Black Magic bullet, Taffy Tickler Teaser bullet, Flexi Felix, Bcurious, MiMi, We Vibe Touch, Pink Water lube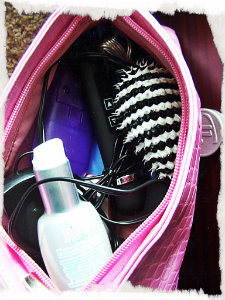 4.) Couture Inspire wand (without cord) + G lovers attachment; silicone dome attachment; Triple teaser attachment; Double Trouble attachment, Form 2, Eroscillator (without cord) + Grapes & Cockscomb; Golden Spoon; Ball & Cup; Ultra Soft finger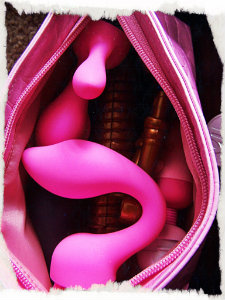 Once the white and red ones comes back into stock, I will be buying both. This makes the perfect travel companion, and it also makes a great clutch for a night on the town. This isn't just a regular purse. It is a triple duty bag! For the price, the quality is definitely there. Stop reading and go buy one!
This product was provided at a discounted price in exchange for an unbiased review. This review is in compliance with the FTC guidelines.

Thank you for viewing
Python print divine carry-on
– storage container review page!