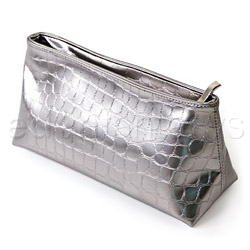 Python print divine carry-on
Storage container by DevineToys
To the MOON!
I am certain that this bag could stop cosmic radiation in it's place, and could bag all the black matter you would need. Until then, let it hold some dildos in secrecy. Well, that is until someone unzips it...
Published:
Pros:
Well made, will last forever, great materials, holds it's shape even when empty.
Cons:
Too expensive. Void of locking mechanism.
I love my little Devine bag. It has become my new favorite
Discovery
here on Eden.
There really isn't anything that sets this bag apart from your regular make up bags, other then the amazing construction. It is a common
Endeavour
to look for that perfect bag to become your catch-all. I was actually surprised to find something like this on Eden, since it seemed like I had searched
Atlantis
and back looking for one for an upcoming vacation.
Available in three fancy colors to set you apart from the rest:
Pink: Flirty, girly and shiny.
White: Modern, clean, and respectful.
Metallic: Silver, fascinating, lustrous. This bag is roomy and multi-functional. I have yet to designate it's permanency. It's quite the
Challenger
to pick it's intended use. But love it all the same.
From filling it with make up for a quick weekend get away, to using it for a lube carry all. It is always a mystery what it shall become next.
Of course being made by Devine is a compliment all in it's self. Devine is a
Enterprise
for extreme quality and top notch products. Thick stitching, sturdy fabrics and outer materials, keeps this bag holding it's shape, while looking super duper cute. It will most likely last you a lifetime.
This little ditty is a surprising 10" long, 3.5" wide and 4.5" in tall of single pocket storage. The exterior consists of a slightly warmed silver fabric, made from vinyl. It has an embossed faux python print throughout. The seems are rounded and the stitching matches spot on to the color of the exterior fabric. There is a slight 3/4" lip from the top of the carry on, to the zipper. The zipper is made from a complementary grey plastic, it has a solid metal zipper pull that is not likely to break. The interior is made from a washed out gold hue, complete with matching stitching to complete the soft vinyl lining, which considering the exterior isn't going to leak though and give your tell tale signs of lube smuggling away. Because... You guessed it. It's WATERPROOF. Albeit its waterproof-ness-ness, there is a opening on the end of the zipper, where lube, or whatever else you have hiding in there can leak out.
There is a small 'made in china' tag attached inside. To keep the bottom flat is a flat insert that can be removed if you so wish.
The flat bottom ensures it stays in place standing up It even folds down flat for storage. Score!
Oddly enough, there isn't an embossed 'devine' stamp that you will find on many of there products.
The bag isn't branded at all. Nor is there a lock, or a place to attach a small lock at all. *sad face*
Experience
Wipes clean, holds stuff, looks great. No problem there.
My gripe is with the price and the fact that it is being marketed by a great company for use as a dildo holder. But, yet there is not a lock to be found, nor anywhere to even attach a lock. W.T.F.
I love the way it looks, but considering that it is void of a lock makes it nothing more then a make up bag.
There is nothing to set this bag apart from the rest other then the structured build and great aesthetics.
Sorry devine, I need a lock if I plan on traveling, although I have pretty much gone to third base with the TSA, they won't be putting their hands on my Luxotiq dildo. No fuckin' way.
For comparison, here is the Devine PlayChest (in midnight black), The Devine ToyBox (in red and black) and the Devine Carry-On (as reviewed here, in metallic): This product was provided at a discounted price in exchange for an unbiased review. This review is in compliance with the FTC guidelines.

Thank you for viewing
Python print divine carry-on
– storage container review page!