There's A Lot Of Stuff In There...
I think the only downside to this bag is that you can't take the kitchen sink with you, not that you'd want to bring the kitchen sink anyway. It's not going to hold very large toys or collections, but if you want to bring a lot of smaller things with you then it's perfect. It's a good makeup bag, toy bag, cleaner holding bag, odds and ends bag, whatever you want to put in it really. If you've been wanting it, it's definitely worth the money.
Published:
Pros:
Can hold a lot of stuff, Very versatile in what you can store in it
Cons:
Won't hold large collections
What is it, and why are you telling me about it?
This is another one of those extremely versatile storage devices. I'm telling you about it because it's awesome and you should own one.
Fair enough. Tell me about it then.
It's made of PVC, but doesn't have a smell or anything to it. It's shaped a lot like a large clutch purse, only without a handle. It's about 9" wide across the opening, 3 1/2" tall on the inside, and about 3 1/2" wide along the bottom. The bottom features a nice fabric covered insert that you can remove if you want, but can leave in there to give the bottom of the bag a more defined look. The inside feels a lot like the inside of a lunch bag might, and the outside is smooth and shiny and has a python design to it.
Ok, I can work with that. How do I clean it?
If you get something on the outside, I would wipe it off with a damp cloth. If something spills on the inside, I would do pretty much the same thing.
What's the overall craftsmanship like?
I found one stray thread, and it was easily removed. Otherwise, I think that it's going to hold up to a long life of use and abuse.
What exactly can you fit inside of it? What would you recommend using it to store?
I would recommend using it to store whatever needs storing. Whether that be toys, bullets, batteries, various other odds and ends, makeup, whatever really. Anything you can fit in the bag. It's not going to be great for taking a large toy collection anywhere, but it should be able to bring your favorites with ease. Below, you can see some pictures of examples of things you can keep inside of it.
Here you can see it holding 5 full packages of the
Eden wipes
and 10 of the individual
Afterglow
wipes and it was easy enough to close, but wouldn't fit more inside of it.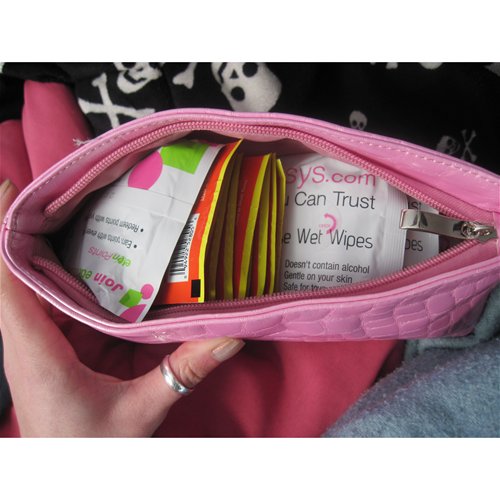 Here shows Wet's
Synergy
,
Boob lube
,
MiMi
,
Siri
,
Nea
, and my
Size does matter
condom case, and there was still plenty of room for a few more toys.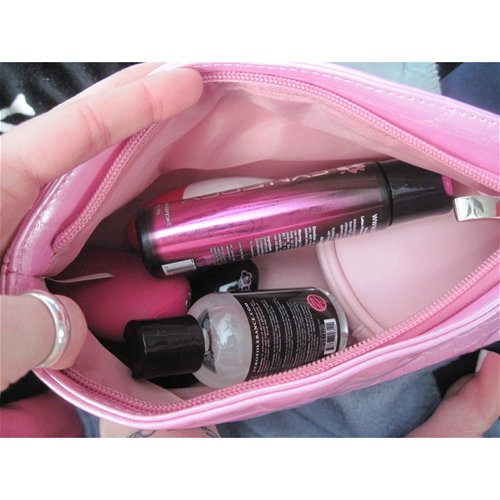 I stuffed it with everything I could from my Toibox and once I had gotten it stuffed but still able to close, I was able to fit
MiMi
,
Siri
,
Nea
,
Pure plug small
,
Fun wand
,
The Dukes
,
The Seed
,
Ridged Rider
,
Blue striped G-spot
, and
Cobalt blue double dong
and it closed with ease.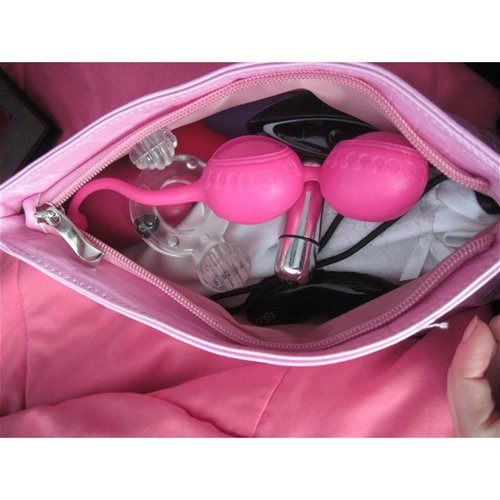 Experience
I've wanted this for a long time, but was never entirely sure just what I'd keep in it. I knew I wanted a new makeup bag with a bit more space for traveling, so I ended up grabbing this to fill that void. It's big enough to hold all the makeup I want to travel with, and even a few toys, condoms, and some lube depending on where we're going. I have plans to pick up a second one so that in the future I can travel with more toys and keep them separate from my makeup, but I just love this bag. It's big enough to hold a lot of stuff, but not so big that it's a pain to take with you anywhere. Love, love, love!
This content is the opinion of the submitting contributor and is not endorsed by EdenFantasys.com

Thank you for viewing
Python print divine carry-on
– storage container review page!