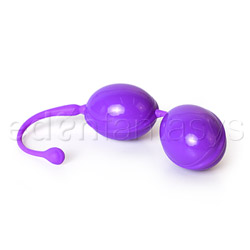 L`amour p.w. pleasure system
Vaginal exerciser
by California Exotic
The only one with balls.
Do your Kegels and get off. What's not to enjoy about these balls? These are something I will actually use!
Published:
Pros:
Weighted, comfortable, and actually remind you to do your Kegels.
Cons:
Retrieval cord can be annoying unless positioned to your comfort.
I was very excited on receiving the assignment to review the L'amour pleasure system. They arrived in a relatively clear plastic container, and I could feel the vibrations of movement before I even opened the cardboard box that contained it. The thought of this made me wonder what the mail lady thought was in the package, which I found quite amusing.

There was no taste or smell to the balls. They were larger than I expected. Though it says they are seamless, there are obvious raised, though slightly more for aesthetic purposes, silicone ridges. They follow the edge of the ABS plastic balls, connect them and then lead off to the string. The retrieval string is about 5 inches long and can be noticed unless positioned while wearing.

The weight of the pleasure system is both noticeable and not noticeable at the same time. They are about 2.25 oz in weight. At first they were a little weird to insert, but with a tad bit of water based lube or even spit it becomes very manageable. The toy is comfortable even with the raised seam and I found I could easily forget they were in, especially while sitting. On the other hand, when I stood I felt the weight towards my opening. Thus leading to the impulse to tighten up. Every time I squeezed I was greeted with a nice slight vibration. I found it to be very effective as a reminder, and pleasurable like the name states.

I have used the pleasure system for a few hours every day since receiving them. I go about my daily business of cleaning and house work. Although when walking around I felt the slight rattle, I used them most while standing still doing the dishes. They are a huge turn-on to have in, but impossible to detect by any outsider. You can't hear them and they don't affect the way you walk.

Because of how erotic I found using the toy was, I did try clitoral masturbation with these in. Between the fullness and vibrations of the balls, added with the use of a bullet, I reached my climax quicker than usual.

Insertion and retrieval were both painless and swift. Cleaning was a breeze with just some soap and water, though I needed to use a little more mindfulness around the seaming details. I stored them back in the plastic container in which they came to avoid rattling, but in a cloth pouch they should be no problem.
Experience
Overall my experience with the L'amour pleasure system was both purposeful and enjoyable. This is a toy I could see myself using regularly as a reminder to do those pesky Kegel exercises we all tell ourselves we will do that always seem to slip our minds.
This product was provided free of charge to the reviewer. This review is in compliance with the FTC guidelines.

Thank you for viewing
L`amour p.w. pleasure system
– vaginal exerciser review page!