Affordable Way to Exercise Vaginal Muscles for Strength and for Health
This set of vaginal exercise balls are not only affordable, but they provide a well made product of safe materials, easy to insert shape, easy to remove retrieval cord, fun and useful inner moving ball bearings and fun colors. Any woman can learn to do her Kegels; exercises that strengthen the vaginal muscles and increase urinary and pelvic floor health. This product provides a fun and stimulating incentive to remember to Kegel.
Published:
Pros:
Well made, easy to clean, strong inner ball bearing, easy to insert
Cons:
N/A
The L'Amoure p.w. Pleasure System by Cal Exotics are a set of insertable balls, meant for use in the vagina to help tone the PC muscles, improve overall vaginal tone and to, hopefully, increase orgasm intensity.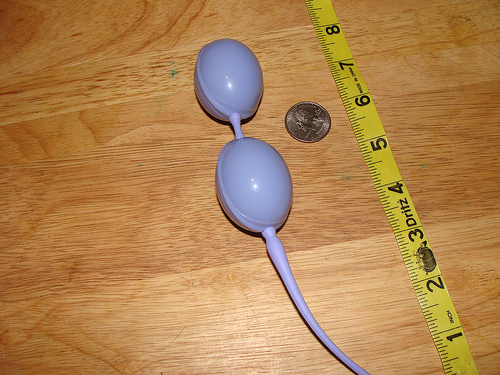 Ben Wa balls have been around for ages. Most were made from metal, wood, glass or cloisonné paint over metal. The original balls did not have a retrieval cord and were usually not connected to each other. Often suspect materials were used to make and decorate these balls. Newer Kegeling balls use more sanitary and safe materials, like this one. The idea is and was to keep the balls in place, while doing Kegal exercises to tone the vagina.
Vaginal exercise balls are not intended for and are not safe for anal use.
Kegals are exercises done inside the vagina with the muscles used to improve sex, childbirth, urinary function etc. To find one's PC or Pubococcygeus muscles, try stopping and starting the flow of urine while urinating. (Do NOT do this with any type of exercise balls in place.) As soon as you find which muscles to use, stop doing this during urination. Excessive Kegeling
during
urination can cause irritation and possible urinary tract infections. Performing this exercise while not urinating will not cause this side effect. The tensing and releasing of these muscles can then be done in sets of 10 or so, 3 sets at a time several times a day. Most will need to start with just a few "tense and release" sets and work up to the maximum.
Proper placement of the balls is important. Do not attempt to randomly shove the balls roughly into the vagina up to the retrieval cord! To do so could result in pain, discomfort and inability to properly obtain the best use of the device. Lubricate the top of the first ball, insert into the vagina gently nestling the ball behind the muscle which you use to hold a tampon in. Continue inserting the device, only inserting the second ball until it is halfway inserted, and the second ball is holding the inner labia slightly open. This will prevent discomfort, cervical bumping and even prevent pain that some women complain about with vaginal exercise balls.
The L'Amour p.w. System's balls are made from hard plastic, with moving beads (I believe they are metal) inside the balls. The retrieval cord and the connection between the two ovular shaped balls is also silicone.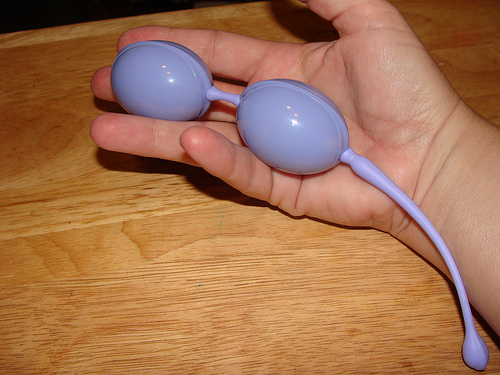 Each plastic ball is about 2 ½ inches long and about 4 ½ inches in circumference. The entire unit is about 8 inches in length, including the well made, well attached silicone retrieval cord. This silicone is an improvement over some sets of ball, which have a nylon or cotton cord, which is a wick for bacteria and could harbor bacteria, yeasts, fungus and other nasty organisms. I do not recommend
any
insertable toy which has nylon or cotton string.
The balls came in a flimsy clear plastic box. There was no odor at all to the toy. No storage sack was provided, this would have been nice. I store mine wrapped in cotton cloth in a bag of with other small toys.
The balls I received were called "blue" but were more lavender in color. They felt cool to the touch and heavy in the hand. The slight vibrations provided by the inner ball bearings were stronger than my experiences with other Kegal Balls. The cord, made from silicone, worked well to remove the balls, and did not irritate at the juncture of the balls and the start of the cord. I found wearing these quite comfortable, slightly stimulating and a pleasant experience all in all.
I found my use of exercise balls seems to increase orgasm strength and helps with urinary health.
I found these balls similar to the
Fun Factory Smart Balls
with a few differences.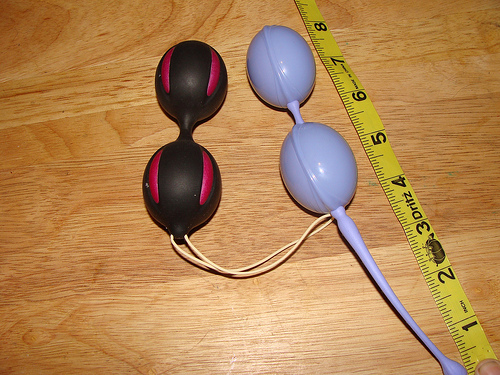 (continued)
Experience
The L'Amour balls are plastic, instead of the silicone and TPR of the Smart Balls; they feel a bit more firm inside the vagina than the Smart Balls. The L'Amour Balls are slightly bigger than the Smart Balls, but not noticeably so. The cord on the L'Amour Balls was found to be more comfortable in use. I also found that the moving metal balls inside the L'Amour Balls were more noticeable, easier to get moving, and felt somewhat more stimulating than the metal balls inside the Smart Balls. In fact, when the box of L'Amour Balls arrived, I could feel the non-powered balls "vibrating" as I carried the package in the house.

These balls were easy to insert with a small amount of water based lubricant. The balls remind you to Kegal and also provide a firm surface on which to flex and relax the muscles. Also the beads inside the balls help with not only feed back from the exercises but with arousal for some women.

The noise from the balls was negligible. It could not be heard outside my body. The toy is not powered by any external source, no batteries, plugs, internal batteries etc. It a simple system, used by women for centuries, improved upon by modern materials and research.

How long to use these balls for maximum advantage is still up for debate. I usually keep mine in place for no more than an hour. I see no advantage to wearing them all day, nor using them outside the house or while using the toilet etc. Hours of use will most likely not increase the muscle strength nor improve orgasm intensity any more than moderate use and may predispose the user to irritation or even infection. A good rule is, at the longest; do not wear the balls any longer than one would use a light absorption tampon.

The balls may be cleaned after every use with hot water and soap available to the user. They should then be wrapped in cloth or stored in a cloth bag to avoid collecting bacteria. Alcohol, bleach or commercial toy cleaner could be used to deep clean these balls if desired. Make sure to rinse the product thoroughly after cleaning, and dry carefully.

Do not use this product if the user has a vaginal infection or sore on or in the vagina of any kind.


It is not recommended to attempt intercourse with these balls in place. Also women with tipped uteruses, fibroids, prolapsed uteri, untreated endometriosis or other medical conditions that effect the uterus and cervix may want to either avoid the toy or ask her doctor if Kegeling while using the balls is recommended. Women who cannot use these types of insertable devices can, however, still perform Kegels without the opposing force of the balls. In fact, most women will benefit from Kegels, no matter what her health status or reproductive goals are.
Follow-up commentary
4 months after original review
These continue to be a great sex of Kegel balls. Their design works well with my body and the materials are safe. I find that using Kegel balls does help with orgasm strength and this set is holding up well.

As long as they are inserted properly (read the full review for instructions; you don't just shove them in and then expect them to work or to be comfortable) they work great.

This particular set has very sensitive inner beads and works well to tighten and tone vaginal muscles. The retrieval cord is easy enough to tuck into panties, if you will be moving around, and I find this set easy to insert and easy to remove.

A win for me.

I think most women who do not have uterine variables will find these quite usable, (after some practice, of course, they do have a learning curve like many toys) and will find they gain vaginal and pelvic floor strength and health.
This product was provided free of charge to the reviewer. This review is in compliance with the FTC guidelines.

Thank you for viewing
L`amour p.w. pleasure system
– vaginal exerciser review page!