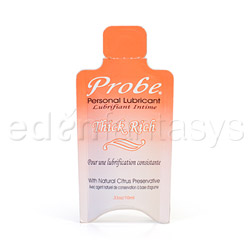 Probe Thick and rich
Lubricant
by Davryan Laboratories
A definite winner for toys and anal use!
Perfect size, great feel, smells nice, and doesn't leave you feeling off about what you're putting on and in you (which is more important to us than anything else!)
Published:
Pros
Absolutely love the packaging, the ingredients, and the size!
Cons
Not a thing!
We're always on the lookout for lubes that travel well (and by this I mean the blister or individual packages of lubes, such as this packaging of 0.33 fl oz of the Probe Thick, as well as Probe's other thinner lube, and Intimate Organics blister back of their organic line, all of which are great lubes by themselves, discounting the convenient packaging. In fact, the only other lube I've really enjoyed that I wished was sold in trial or individual packing is Lelo's Personal Lubricant, but alas this only comes as a sample when you buy their wonderful toys... but I digress). As for travelling well (or carrying with you for anytime usage), I love the packaging. It is a lined paperboard type packaging (think Tetra-Pak, the way a lot of non-plastic or aluminum containers are coming these days that are paper-based and fully recyclable) that has a very simple, and quick to tear off top making dispensing of the product simple and straight forward. On the down side of this convenience is that fact that it's generally a one-time use package. Once you've opened the container, there's no way to re-close or save the contents for another day. Normally, you'd think "can't I just set it on my night stand for another night?" but the problem is another double-edged sword... the contents. More specifically, the lack thereof...

Thick (like the others I mentioned) is a product I prefer because of the very natural ingredients. Let me be clear on this one... I HATE PARABENS!!! I also hate isothiazolinone! Both of these come in a myriad of evil flavors: methylparabens, propylparabens, methylisothiazolinone, methylcrystalisothazolinone, and so many more. What the hell are they? They are preservatives (of the commercial variety) that give the other chemicals (found in traditional lubes, and aren't nearly as bad, but I wouldn't like on my skin) a shelf life so they can be stored for long periods of time. The problem with these nasty things (and don't take my word for it, seek out your own answer on Google) is that they're horrible for your skin, and in most leading counties (other than the US), they've started labeling these things as such. So, my point here is (importantly) that Probe Thick only contains purified water (pretty natural stuff), vegetable glycerin (aka vegetable oils), polyethylene oxide (to make it slick), and grapefruit seed extract (it does smell nice). Pretty simple stuff, the way it should be, and just what you want on and IN you.

Another key component here, is that Probe Thick is "water-based". This comes in to play with your silicone (and other) toys, so you don't have to think twice about what your lubing up with when you play (with your toys).

As for its use, we loved it! It applied well, since it was somewhat thick, and stayed in place. It's not as thick as some of the other lubes intended (or labeled) for "anal" use, but it's thick enough to work very well during use. Cleanup, given it's water-based, is also a breeze.

Overall, this is a great buy, and if you don't need it for travel, then the larger size would work better.
This product was provided at a discounted price in exchange for an unbiased review. This review is in compliance with the FTC guidelines.
Thank you for viewing
Probe Thick and rich
– lubricant review page!