No thank you, Mr. Alien. Probe elsewhere.
The texture of this lubricant simply didn't appeal to me. I loved the all-natural aspect and the fact that it doesn't have much of a smell or taste, but I just can't stand feeling sticky. That being said, this could be a great lubricant for someone else - perhaps someone who likes anal - because of its numerous redeeming qualities.
Published:
Pros:
Unscented
Unflavored
All-natural
pH balanced
Cons:
Stringy
Sticky
Contains glycerin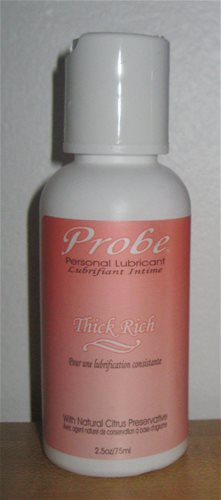 Probe Thick and Rich by Davryan Laboratories is a water-based personal lubricant intended to appeal to those who like all-natural products. It does contain glycerin, so be very careful not to use this vaginally (or at all) if you are prone to yeast infections or allergic reactions. Glycerin is processed as a sugar in the body, and may increase your likelihood of getting an infection. It is paraben-free, with the only ingredients being Purified Water, Vegetable Glycerin, Polyethylene Oxide and Grapefruit Seed Extract. A great lube to look into if you are prone to chemical sensitivities but find Probe's Silky Light (which is formulated to be similar in consistency to saliva) to be too runny.

Because this contains only natural ingredients, it is very safe for oral use - it is marketed as unscented and unflavored, however, so you won't find that it adds much to the experience that a little saliva couldn't do just as well. This clear lubricant works best when you can keep it hydrated, however as it is water-based, it cannot be used in the bath or shower.
Probe Thick and Rich is safe for use with any kind of toy material, as well as being compatible with condoms. It's vegan-friendly and pH balanced, though the Grapefruit Seed Extract - which is a natural preservative and anti-fungal agent - may potentially kill sperm, which means that you should steer clear of this if you are trying to get pregnant. That being said, this is not a spermacide, so please do not use this in place of birth control.
This lubricant is quite thick, however I have found that it gets very sticky straight out of the bottle. A friend of mine compared the texture the the stringy cheese that you get when pulling apart a hot pizza, and that isn't far off. Personally, I like to think of it as Spiderman's Webs having gone incognito mode. The instructions on the bottle recommend that you add water should you need to rehydrate this lubricant, but adding in a bit of water (or saliva, as I did) right away makes this a much slicker product. If you're using this for anal, you may actually find that the stickiness is a good thing, because it doesn't easily slide out of place. Davryan Laboratories claims that this was formulated to resemble a woman's natural lubrication, and I definitely think that they've missed the mark in this case. It reminds me of my last trip to the vet where our veterinarian related to us a story about how one of her (old, male) instructors had been marveling over how a female dog can feel it if you touch the cervix, as if no other females could. Sure, the theoretical science might be there, but really - have you ever been with a woman?
I did have issues with this lubricant drying out rather quickly if exposed to moving air, which makes it quite impractical for us to use in Florida, where we frequently have the fan running to keep things cool. It does rehydrate easily, but having to stop and add a bit of moisture is the last thing that we want to be doing. I do not think that this would work very well for male masturbation or manual stimulation, where the lubricant would be exposed to a large amount of air - it may function for clitoral stimulation as it is a smaller surface area, but it is largely dependent on your technique.
This product claims to be unscented and unflavored, and here is where it really excels! It does taste slightly bitter, but there is no real flavor to be had. It has a very faint, indistinct aroma straight out of the bottle, but when in use, there is no noticeable scent. Not only does it use natural ingredients, but they've chosen ones that are almost entirely fragrance-free!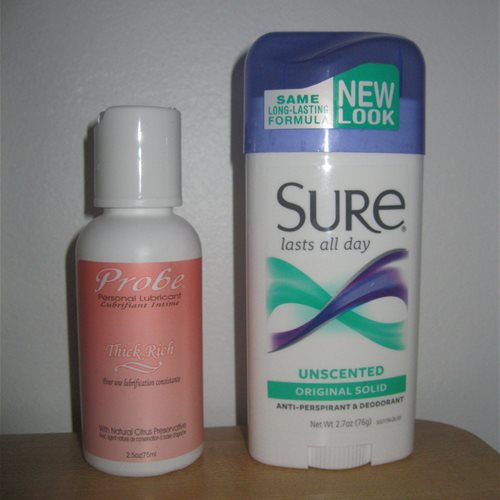 Probe Thick and Rich is available on Eden in a variety of sizes: 10mL (0.33 fl oz), 75 mL (2.5 fl oz), 250 mL (8.6 fl. oz) or 500 mL (17 fl oz). For the smallest size, it comes in an orangey-salmon and white pillow pack. The larger sizes are packaged in an all-white bottle with a white lid and an orangey-salmon and white gradient label. The bottle, which in the middle two sizes has a hinged lid that can easily be opened and closed with one hand, makes for convenient application. The 500 mL bottle comes complete with a pump-action lid, which is the easiest of the three. The bottle is actually surprisingly discreet for a product named "Probe," and would not look out of place in your bathroom among bottles of lotion or hair products.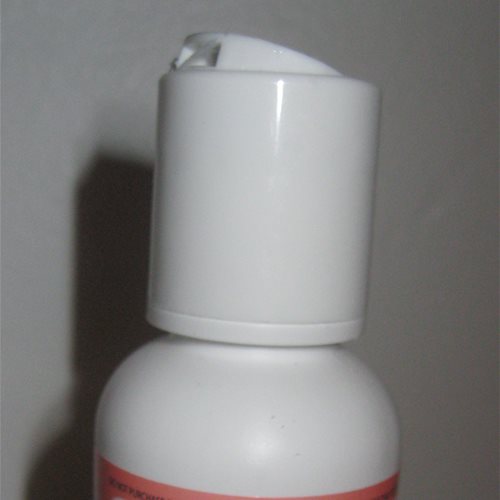 Experience
Shortly after hearing about this lubricant from one friend, I was gifted a bottle by another who realized that the glycerin might give her trouble. Since I am not prone to yeast infections, I was not worried about the ingredients. I was a little wary about trying this out - the friend who had first told me about it had been the one to mention stringy cheese pizza, but I thought that perhaps a different climate might make this lubricant function a bit differently. Sadly, I don't think that it's going to be featuring in my repertoire, as though the stringy consistency is something that I could get past, the sticky feel and how quickly this dry out are both a major turn off. I like the fact that this lubricant is pH neutral, as this minimizes the risk of infection that is increased by the glycerin - I like to think that with the addition of the grapefruit seed oil, things just about balance out. Having looked over the ratings for this product, I've actually begun to wonder if they've changed the formula or if I've simply gotten an old bottle - very few people over a year or so ago have had the problems that seem to be arising lately with this lubricant.
Follow-up commentary
31 months after original review
There is nothing else that needs to be said about this lube. It has long since been chucked and I will not be buying it again.
This content is the opinion of the submitting contributor and is not endorsed by EdenFantasys.com

Thank you for viewing
Probe Thick and rich
– lubricant review page!