Probing good fun
I love Probe Silky Light and Probe Thick and Rich is just as good, but in a thicker consistency. It is wonderful for vaginal use and does not affect the natural PH. It works with your natural lubrication, doesn't require lots of reapplication, dries smoothly absorbing into your skin and contains no harmful chemicals or parabens. Primarily marketed as an anal lube that works just as well vaginally. Not ideal for jacking off.
Published:
Pros:
Slick, stringy, no parabens, lasts a long time, mimmicks natural lubrication, absorbs into skin
Cons:
Dries out if used for handjobs, jacking off or inactivity.
Intro
After having tried Probe silky light, I knew I had to try Probe Thick and Rich to see how it compared to Silky light, which is our current favorite lube for sex. Probe Thick and Rich is designed to mimic the bodies natural lubrication, and it does just that. It's primary use is for anal, but can be used for vaginal sex as well. My gut (and an EF friend) told me to try this one after reading some good reviews, and I have not been disappointed yet. This stuff is amazingly stringy too. That helps it stay put, where you need it.
USE
This is a great lube for PIV or anal sex. It enhances your own natural lubrication without messing up your vaginas natural PH balance or causing irritations or allergic reactions. It is plenty slick and cohesive and has a very natural feeling almost like saliva or vaginal lubrication. We used it for PIV sex with condoms and did not need to reapply at all. IF you are switching positions, you may need to add more occasionally. It felt very natural and worked wonderfully.
Probe Thick and Rich is not the best lube for handjobs or masturbation and requires water or saliva to bring it back to life. It will dry out if exposed to air too long. Used internally, it lasts a long time and is very slick, with a good amount of friction. You don't need a lot of Probe to get the job done and it lasts a long time for internal use. In that sense it is not a do-everything lube.
If you need a jacking lube, try something like Maximus or Jack Aide (see my reviews). Essentially I think this or the Silky Light will be our primary lube for PIV sex and possibly anal (we have not tried anal sex period yet though). Both are great and we haven't decided which is better.
Aftermath
Probe absorbs into your skin and drys up neatly and does not leave you feeling sticky like some lubes do. There is no flaking or perma-lube feeling. It leaves your skin nice and soft. With other lubes, I often have to rinse off in the sink after sex, but Probe just absorbs into your skin and does not feel sticky or gooey. It seems to leave her feeling naturally wet and enhances sex. I wake up feeling clean and natural after using probe the night before.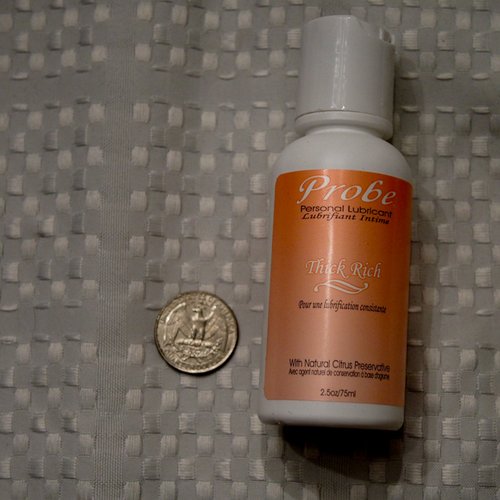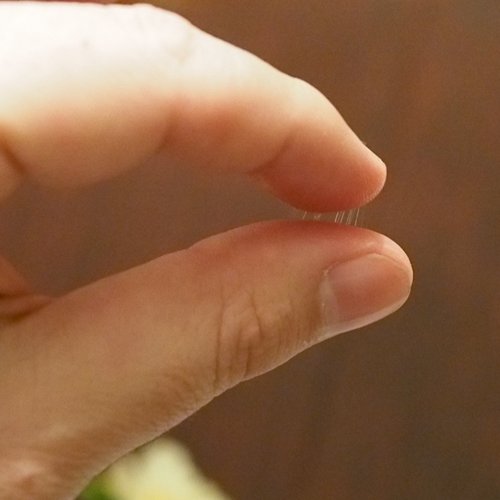 Smell/taste
There is no discernible smell or (to my surprise) taste. I used a good amount of lube on her vagina using toys in between rounds of oral sex and really there was no discernible taste at all. That is a big plus.
I would avoid eating/tasting pretty much any lube if possible, but if you must, it's not really noticeable like other lubes I have tried. Just one more reason to use this lube regularly for sex.
Packaging
Other than the name Probe, this bottle is somewhat discreet like a lotion/cosmetic bottle. It is translucent white plastic and although the name is obvious, it isn't that prominent like some others. It is 4th only to Anal Lube, Jack aide, Boob lube for funny indiscreet names. The font and writing on the label looks more elegant than cheesy though. The bottle has a snap top like hair gel and does tend to dribble a little when dispensing, requiring a rinse off. A pump dispenser might be helpful here which does come with the larger sized bottles. It is easy to get a string of lube on your bedside table/sheets/floor etc., but it wipes up easily. When dispensing, it is difficult to break the string of lube from the bottle like a long thick spider web. You can wrap multiple circles around your penis or dildo to try to get it all off and not waste any. Other reviews have compared probe's consistency to snot, and I can see what they mean (but not in a gross way). For my review, I had the 2.5oz bottle, but will be reordering the larger size when I need more.
Ingredients
Purified water, Vegetable Glycerin, Polyethylene Oxide, Grapefruit seed
The ingredients sound good and natural to me, but I am no scientist and have never been that picky about lubes. Only since joining EF have I tried some new lubes that are not widely available in local stores. Probe contains no parabens for those concerned with allergies or who have sensitive skin. It is PH neutral as well, so anyone with tendencies for UTI/yeast infections might like this one. No petro chemicals are used. I feel perfectly safe using this anywhere on my body or my partners body.
Safety features L-Arginine free / Paraben free / Petro-chemicals free / PH Balanced
Experience
Experience
Performance
A little bit of this goes a long way and only rarely needs some reapplication after 20-30 minutes or more (if at all) and can be revived some with a little water or saliva, if need be. It works just fine for sex with condoms and mimics the real thing. It seems to enhance a woman's natural wetness.

This is very stringy. I have stretched this up to 3 feet like a spider web from the bottle to my hand, because it is so cohesive. The downside of that is you can make a mess dispensing it, but it cleans up easy and is not sticky. It is slick and feels good on your skin. It feels so good you won't care. I can't think of any other complaints other than that. It does not stain sheets either.

Overall rating
Probe Thick and Rich does what it advertises very well and cleans up easily. I love this lube for sex, anal toys and fleshlight play. It really does feel like the real thing. I don't see using this for hand jobs unless I have to, since others will last longer and be more specialized for that use. If this was the only lube I had, I wouldn't hesitate to use it though. It absorbs and dries up nicely after use, so you don't need a special trip to the bathroom/shower to rinse off after use.

It does well for anal toy play and gets the job done, but may not have the lasting power of silicone lubes. However if you need a water based lube without irritants, I highly recommend it.
Follow-up commentary
4 months after original review
Well, I don't use this all that much. I still love the Silky Light from Probe and use it often for vaginal sex and fleshlight use. I did drop the bottle in the bathtub with the cap open and I think water got inside it, so it won't be so thick and rich anymore. I'd say the Jury is still out on this. It works ok, but not sure it's my favorite for anal use. I use silicone or maximus usually. If you are looking for natural safe ingredients though, this one is high on the list.

If I got this again, I'd go for the larger size with the pump.
This product was provided at a discounted price in exchange for an unbiased review. This review is in compliance with the FTC guidelines.

Thank you for viewing
Probe Thick and rich
– lubricant review page!