Exploring New Frontiers
Though this massage oil didn't work out as I hoped for us, frankly it seems like a fantastic value and would highly recommend giving it a try.
Published:
Pros:
Good skin absorbing massage oil. Decently scented. Very inexpensive.
Cons:
Scent might be a bit strong for some.
First, I have to say that you never really start to know your partner until you try new things. We've always used lotion for massages, and never used a massage oil before this. Now what did I learn about my partner? She hates massage oil. I can't tell you the amount of convincing that had to go into using this, either on me, or on her. Her complaint is that she hates the oily feeling after having massage oil used on her. And though I don't mind, I can understand where is is coming from.
The packaging of this product is simple and elegant. It's a purple lable with which text and a white with black text banner on it. It's a very thorough, yet straight to the point label talking about the ingredients and a pitch saying why it's a great massage oil. The other thing that all ways confused me was the actual size of the bottle. I think I was imagining something much bigger when I got it, below with the images of the Sensuous is it side by side the 4.2oz bottle of Sliquid Sea. One thing to note is you probably don't want to use this in conjunction with condoms as it will break down the latex. Here is the list of ingredients... Sweet Almond Oil, Safflower Oil, Sesame Seed Oil, Isopropyl Myristate, Avocado Oil, Myristate Propionate, Jojoba Oil, Macadamia Nut Oil, Kukui Nut Oil, Actiphyte of Rose Hip, Ginseng, Hawaiian White Ginger, Juniper Berry Fragrance, Evening Primrose, Jasmine, Sun Flower Petals, Rosemary, Lavender, Fragrance and Pheromones.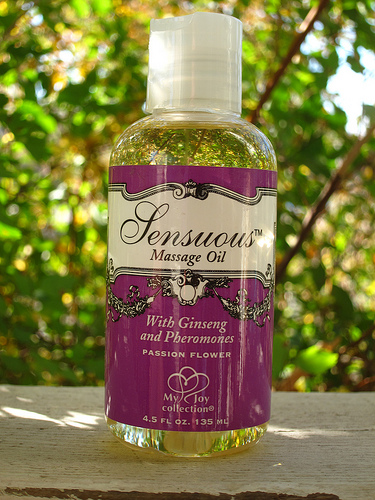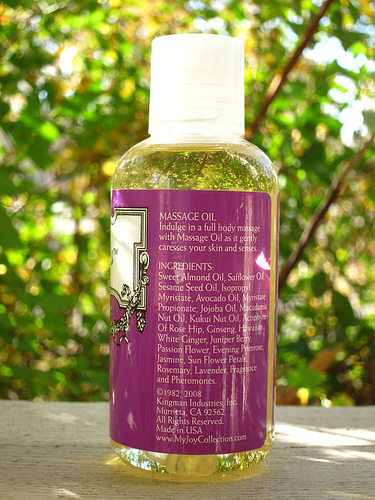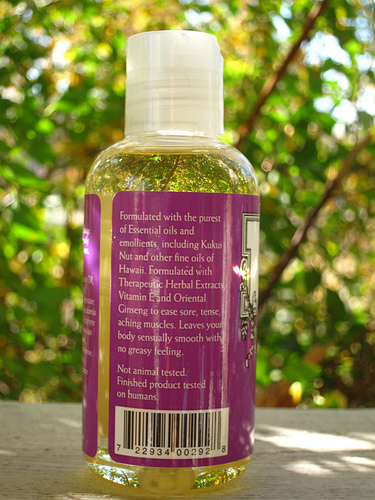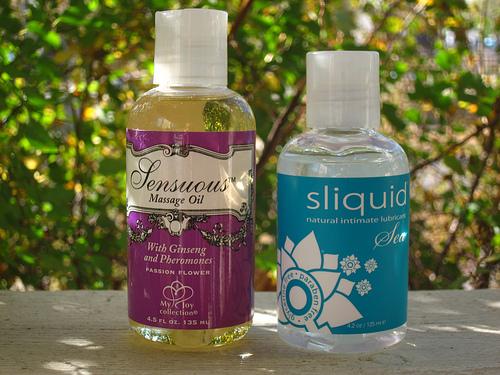 Needless to say the whole act of massage with the oil was slightly contentious, yeah I know who would have thought?! Needless to say, the misses started to relax into it and once she really relaxed found the exeriance quite enjoyable. Frankly though, as soon as she was done, she excused herself and jumped into the shower to clean off. Frankly, I was a bit skeptical of her reaction and felt like I really needed to try out myself. Now, I'll say, I really like massage oil, it makes everything seems a little easier on both the giving and receiving end. I enjoyed the sensation, but I have to admit, there is something about the smell that really keeps me on edge. I can't tell you why, but if I had to place a guess, it would be about my college years at a super left hippy college where there was a large constituency of people who didn't bath and tried to cover their body odor, which usually consisted of natural oils, like lavender or patchouli or other stuff. Oddly, it didn't bother me when I was giving a massage. Now the thing that surprised me was this combination of how it did absorb pretty well into your skin, but at the same time it left you feeling just somewhat oily. I too ended up taking a shower after it's use. I can't tell you if that was because of the oily feeling or more the scent. Now after having some issues with the scent, I was a little reluctant to taste this at first, but I have to say it tasted way better than most of the lubes I have ever tasted. I couldn't quite put a finger on One specific taste, but it wasn't nearly as bad as I was bracing for, and could totally see doing oral play after using this massage oil.
Follow-up commentary
2 months after original review
I wish there was a meh, to meh. Clearly this is great massage oil, but the smell is just a little off putting to us. I just can't get into it, nor can the misses. Maybe we are just too finicky, I've since given it to some friends who absolutely love it, and think the world of it. I can say that it's a product that I recommend, it just wasn't for us.
This product was provided at a discounted price in exchange for an unbiased review. This review is in compliance with the FTC guidelines.

Thank you for viewing
Sensuous
– oil review page!