My multi-use Sensuous wonder-oil!
From sensual massage to a nice oil for your bath, this product can do it all! Leaving the skin moisturized and soft, never greasy or oily, Sensuous Massage Oil is perfect for men and women alike! It smells wonderful, but isn't too strong so those with sensitive noses or who don't want a strong, lingering smell need not worry with this great oil!
Published:
Pros:
Smell.
Consistency.
Many uses.
Not animal tested!
Cons:
Bottle may become messy after use
I came across the
Sensuous Massage Oil
while looking for something I could use for a nice sensual back massage for my lover; and receive one in return! With so many positive reviews and an almost all 5 star rating, I figured that with this one I couldn't go wrong!
One of the first things that I noticed about the product was the list of ingredients! The list was longer than I'd anticipated, but was filled with nothing but great things! The bottle is of course clear plastic, a snap to open and close lid screwed to the top of the bottle. The label was mostly purple, white lettering and a nice design on the front. The oil itself is a straw-yellow color while still in the bottle and seems very watery.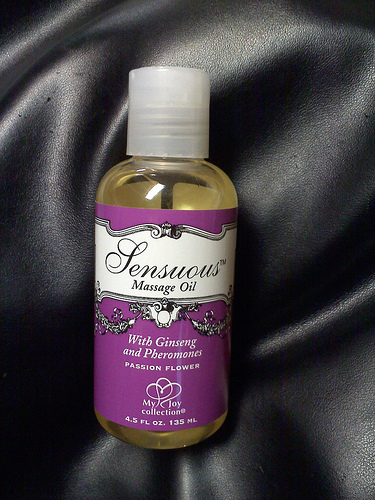 The bottle contains 4.5 Fl. Oz of pure paradise! It does exactly as it promises; leaving the skin feeling sensually smooth and with no greasy feeling! Animal lovers can rejoice because
this product is NOT tested on animals!
. The finished product tested on humans! Quite exciting, indeed!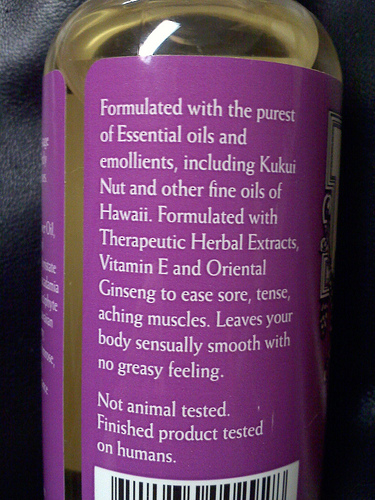 Pouring a dime-sized amount of the oil atop my hand, it seemed just like any other oil. I gently rubbed the product into my skin in circular motions. It rubbed in quite nicely in no time at all. About 10 seconds in I could see a big difference in the amount of oil left on my skin, 20 seconds in almost all of it was rubbed in and within 45 seconds my skin had soaked it all up! There was no greasy feeling at all and no residue either! My skin was left glowing, feeling hydrated and smelling wonderful!
As the title would imply, this oil has many different uses. I will list a few, but I am sure there are more that others may be able to think of!
Sensual Massage
Just pour a generous amount of the oil into your hands or onto your lover's back and shoulders and rub in! With Ginseng as an ingredient this oil is perfect for such uses! Ginseng relaxes muscles naturally and so for those who feel tense or have had a difficult day this is a perfect way to relax!
Itchy, dry skin?
If you have dry skin this product will work wonders for you! Just rub in as you would a lotion to knees, elbows, feet or any other area of the body that tends to be dry, flaky and bothersome! Your skin will drink this right up!
Bath time!
Add a generous amount of this oil to your bath water (or even use on your washcloth after you've washed off with soap) and give your skin a nice treat while you relax in the tub or during a shower!
Hair treatments
Split ends and dryness in your hair can be problematic, but hot oil treatments are a great solution! Just place the bottle in some warm water and once the oil has heated up a bit, pour some into your hands and massage it into the hair/scalp! Then let it sit for a while so your hair can soak it up and wash it out!
Perfume?
I did this, actually. I love the scent of the oil and I am not allowed to wear anything that smells like perfume to work (floral or powder scents), but this is one of the scents I can get away with! I just rub a little bit into my neck area or onto my arms where they are dry and need the hydration anyway and smell great!
This oil is not meant to be used as a lubricant for sex and I really wouldn't suggest to. If you feel that you must, keep in mind that this
is
oil based and is not latex-safe, so be careful around latex condoms! Also, some of the ingredients may cause irritation or UTIs. The product washes off easily, so if you are not planning on using this at all during intercourse you can either shower or just simply wash off with a wet washcloth! Just keep in mind that the product
is
oil based, so of course it will take more than just a quick once-over with the washcloth to completely remove it. It does wash off very well in the shower though!
Those with allergies to nuts will want to be sure to note that there are
nut oils in this product
.
Here is a full list of ingredients!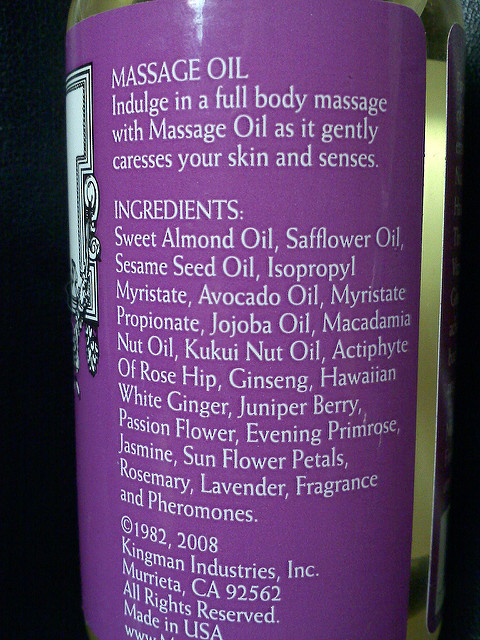 Experience
I first used this product on my lover's back for a sensual massage. He is not a big fan of products that leave him smelling "like a woman", so I was a little nervous when first using this product on him; both of us prepared for him to possibly have to wash it off after use. The product itself smells heavenly in the bottle and while being rubbed in. It did smell like coconut (the kind you use for baking) and vanilla, as well as other types of nuts. I was expecting something a bit more powdery or floral and much stronger than this, but was surprised and in a very good way, I might add! Being prone to headaches, strong floral scents can be troublesome, but this did not bother my nose at all or cause any type of headache even after smelling it for quite awhile! The scent isn't too terribly strong either, so while perched on my love's back to rub it in I could smell the product, but sitting a couple of feet away from him I couldn't smell it at all!

This was good news for him too, because he could enjoy the feeling of replenished skin without smelling like he had bathed in female perfume of some sort!

I found that after a couple of applications to his entire back, a little went a long way! Because this product is so runny, applying a small amount to start with and adding more later on is the best way to go so that it doesn't stain sheets or clothing! The bottle also could tend to get messy from touching it with the oil on your hands, so you'll want to wipe it off after use if this is the case!
Follow-up commentary
3 months after original review
I still have quite a bit of this left even after very regular use. I use this every time I shave my legs, for massages, to keep my elbows and knees hydrated! I still absolutely love the smell, though I've noticed that even if I clean off the bottle after use, it still manages to get oily. I think that as you hold it upside down to pour, some gets somehow trapped between the cap and bottle, and as it sits upright, it leaks down.

Other than that, this is still just as good as when I first got it! Same scent, same great feel on my skin! I plan to get more of this when I run out!
This product was provided at a discounted price in exchange for an unbiased review. This review is in compliance with the FTC guidelines.

Thank you for viewing
Sensuous
– oil review page!