Ooh La La, Ahh Oui Oui!
This product is meant to please the nasal passages as much as it's meant to pamper the skin. If a sensuous massage that leaves your skin feeling moisturized and smelling lovely isn't up your alley, I would suggest you not proceed, because that's exactly what you're going to get with Sensuous Massage Oil, by My Joy collections.
Published:
Pros:
Smells wonderful.
Absorbs nicely into the skin.
Great moisturization.
Cons:
Can stain some fabrics.
Slight residue.
Before I die, I am going to fill a kiddie pool with nothing but Sensuous massage oil, and swim in it. It'll probably cost me a few thousand dollars, but I'll be ready to die, so it'll be worth it! Sensuous is a massage oil, and it lives up to it's name flawlessly. I have read other reviews where individuals claimed this could be used as a lube, but I don't personally enjoy oil based lubricants so I haven't used it as a lube -- though it has gotten mingled around my lady bits a few times and did provide excellent moisturization, without becoming tacky or uncomfortable in the process, so if you do choose to use it as lubrication, that's at your discretion. I, however, would recommend against it for the same reasons I avoid oil-based lubes myself -- they clog the pores and are difficult to clean.
The easiest way I can explain the texture and consistency of Sensual massage oil is olive oil. If you were to dip your fingers in olive oil and then rub it around on your hand, it would react the same way this does when I put a small amount on my hands and rub it in. It does leave a residue left behind -- right now, I can actually see the very distinct outline of my palms on my keyboard where they rest, and see every key that I have pressed. But unlike olive oil, after a few minutes, it rubs in completely to the skin, and feels how it would if you had just applied lotion. A slight residue, but not enough to interfere with your comfort.
The aroma is phenomenal, a blend of almonds, ginseng, and jasmine, though it does also contain many other types of oils (read the ingredients list at the bottom). I didn't find it had any taste really, in smaller quantities. I did, however, find that it tasted bitter and sort of chemically in larger quantities. When I tasted my skin after letting it absorb, it didn't have much flavor. When I tasted it directly, while it was still unabsorbed, it was exactly how I would have imagined it would taste if I tried to eat lotion or shampoo. Slightly soapy, slightly chemically. It isn't bothersome to kiss your partner after you've used this massage oil on them, but I would give it a few minutes to absorb before you go lapping at them too heavily.
I haven't gotten the chance to use this too much, because I tend to prefer the scent and feel of
JimmyJane's Absinthe and Sugarwater
massage candle, but if I didn't own that, this would definitely be my go-to massage oil. And sadly, when my JimmyJane runs out, this will be what I continue to purchase for massage, because it's much more affordable.
It only takes a small bit to get an amazing massage -- about the size of a quarter is enough for a nice back massage. I use about the same amount for each arm and leg. It absorbs fairly quickly, so if you're wanting a long massage, you will need to re-apply it at your discretion. Personally, I like REALLY greasy massages -- it takes longer to absorb, so I get more yummy feel-goods!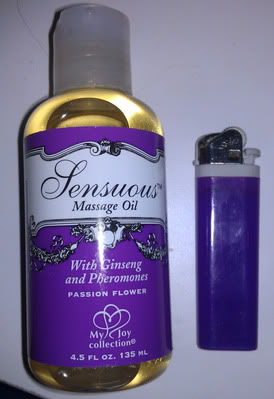 This came in my box of goodies with just the bottle, wrapped in nothing. The bottle is plastic and hard, with a purple label. It's nothing you couldn't have sitting on a nightstand without drawing attention. It isn't labeled for sexual purposes, because it isn't. For travel purposes, however, I would suggest putting it in a zip-lock bag or other protective container, because it's a simple push-top and it's very easy to open, and as it is oil-based, it could very easily ruin anything it saturated accidentally.
Speaking of saturation, I did notice this left a slight discoloration on my sheets after use, but washing it got rid of it. I wouldn't' suggest using this around specific fabrics that tend to show oil. If you want to wash it off of your skin or hands, a thorough washing of soap and water removes it decently.
All in all, I love this product, and will continue to keep it stocked in my home. The scent is wonderful, the feel is great, and it's a very affordable product. This would make a nice gift, and will be gifted to all of my female friends as bridal shower gifts from here on out.
Ingredients:
sweet almond oil, safflower oil, sesame seed oil, isopropyl mysistate, avocado oil, myristate propionate, jojoba oil, macadamia nut oil, kukui nut oil, actiphyte of rose hip, ginseng, hawaiian white ginger, juniper berry, passion flower, evening primrose, jasmine, sun flower petals, rosemary, lavender, fragrance and pheromones.
Follow-up commentary
4 months after original review
I still use this product for my massages, and have even used it a few times on my daughter's rough skin that she gets in a little patch on her thigh, because she's commented that it smells "so pretty". While it will still stain if I'm not careful, that hasn't deterred me from using it.
This product was provided at a discounted price in exchange for an unbiased review. This review is in compliance with the FTC guidelines.

Thank you for viewing
Sensuous
– oil review page!