Tantalize Your Senses With Sensuous!
Sensuous is a great multi-use massage oil I have come to like with repeated use. At only $6.00 you can't go wrong especially if you are on a budget. Don't feel limited to using this just as massage oil; you will be treated with all its available uses to go along with a soothing fragrance. This was my first massage oil and I was delightfully treated to a tantalizing aroma and experience.
Published:
Pros:
Pleasant smell that is not over-powering, Relieved muscles aches, Multiple uses, All natural
Cons:
Did not enjoy the oily feel on my skin, Push top cap can be messy.
Upon receiving my package in the mail, my lovely massage bottle of Sensuous was wrapped in a small plastic bag that was tied off. I was glad to see a seal on the bottle for shipping purposes rather than it leaking out all over the place. The first thing I noticed however was the aroma from this oil, it was fairly subtle and not overpowering like I was thinking it might be. Usually I am sensitive to a lot of smells, however with Sensuous it was a nice soothing smell of passionate oil. For me personally, the aroma has more of a nut fragrance with undertones of floral. In the end though, there can be too much of a good thing and in this case it is the aroma. While I'm not sure if it's a reaction to the scent or not, after breathing in the fragrance for too long it does slightly irritate my nose. I have only had this occur when I get a large dose of the smell from the oil, or if too much is used.
Obviously Sensuous is advertised as massage oil but there are so many uses, some I have tried and others I have not. The oil can be used in; aromatherapy, adding a few drops in the bath tub it becomes a soothing bath oil, can be used to remove makeup, for anti-aging apply a small amount under your eyes, general skin moisturizer, can aid in acne treatment and also can be used as a perfume. At first, my fiancée and I both did a test spot with this oil on our left shoulder blades to see how our skin would react to the oil. I recommend if you purchase this product you do the same if you have sensitive skin.
Please note that Sensuous has a lot of oils derived from nuts, so if you are allergic to nuts I would not recommend using it at all.
After testing the oil and having no reaction it was time to get some massaging going on! At least with Sensuous my fiancée liked the aroma, the oil part she did not enjoy after the massage. The oil is very thin and will run all over the place if you are not careful, so watch out for those bed sheets if using this in bed. You can warm the oil if you like by using one of those oil warmers; this also can make a room smell pleasant of the Sensuous aroma. For the most part it worked for both purposes; the oil will get hot so please be careful. I did a flammability test with the oil; it did not seem to ignite even with direct flame contact on the oil.
Over time I have used many lotions and body butters to massage with, while some are not too bad, none have compared to using Sensuous. Overall it made the whole experience more enjoyable giving and receiving a massage. The oil is thin so it spreads quickly while massaging, I did not feel the need to use much oil or re-apply it. Primarily I used it to massage my fiancée's back and neck, and she also did the same with me. The aroma was not overpowering and the oil quickly absorbed into the skin, however leaving still an oily slick like feel on the skin. We did not enjoy that oily feel and had to scrub off in the shower!
The oil did a good job of relaxing both of us and almost felt as if it was taking our stress away. Sore and achy muscles were no longer an issue and our skin did feel soft after using the oil. I enjoy the fact this is an all natural product and that there are a lot of oils and ingredients. I do wish it had some other way of being dispensed rather than the push cap. Often what happens is that oil will not completely go back inside and drip down the side of the bottle. Generally I will wipe the bottle down after use and always store it upright on the dresser or in a zip lock back just in case it leaks.
Ingredient List:
"Sweet Almond Oil, Safflower Oil, Sesame Seed Oil, Isopropyl Myristate, Avocado Oil, Myristate Propionate, Jojoba Oil, Macadamia Nut Oil, Kukui Nut Oil, Actiphyte of Rose Hip, Ginseng, Hawaiian White Ginger, Juniper Berry Fragrance, Evening Primrose, Jasmine, Sun Flower Petals, Rosemary, Lavender, Fragrance and Pheromones"
Finally, here are two pictures I took, the first is a size comparison to a Starbucks gift card, the second is about 5-10 seconds after rubbing some of the oil between my fingers. I hope you have enjoyed this review of the Sensuous massage oil and thank you for reading!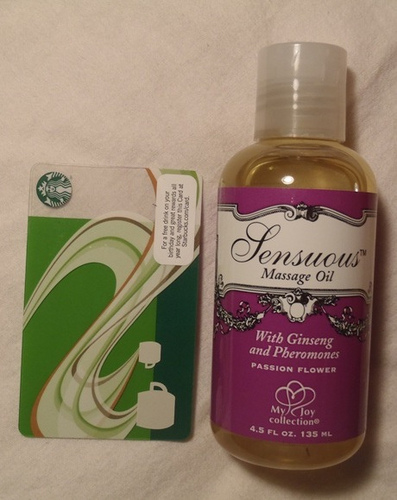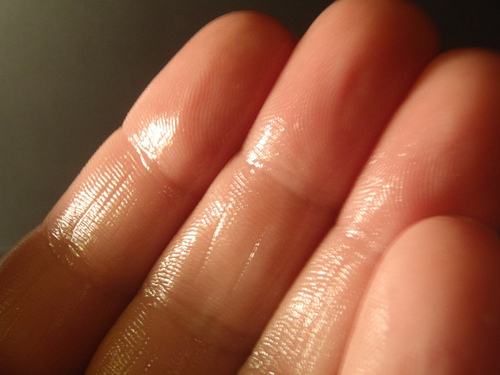 Follow-up commentary
23 days after original review
Ah Sensuous you were so promising at first and smelled great. But overall as I have tried using this product and other forms of massaging products I have began to like this one less and less. This is just a personal preference as I just really do not enjoy the oily slick residue on my skin for long periods afterwards. While it smells great and performs well on the skin, I seem to use it more in a candle oil warmer as an air freshener. But if you don't mind that oily residue on your skin afterwards, then I'm sure you will enjoy this product!
This content is the opinion of the submitting contributor and is not endorsed by EdenFantasys.com

Thank you for viewing
Sensuous
– oil review page!