The Little Jumping Bean, or Uma's 1/2 Sister
Mimi is a rumbly little vibe that carries a great punch. She vibrates almost to the Hitachi level. She is soft, silky and velvety. A great addition to anyone's collection. For beginners to experienced toy users.
Published:
Pros:
Small
Powerful Vibes
Silky finish
Easy to care for Silicone
Cons:
Loud
Introducing MIMI
Mimi is marketed as a discrete massager, she is a clitoral stimulator that is not intended for insertion. She is usable on all of your erogenous zones for males and females! She, like her sister does do 3 somes also, they must have talked about the joys of sliding around a woman's clit while she is being penetrated. So couples won't be disappointed with her. Since she is so rumbly, she is hard to hold on to at higher settings. You can get some funny sensations in your fingers when playing with her for a long period of time. Mimi's goal is to get you happy and keep you coming back. She is good at meeting her goals!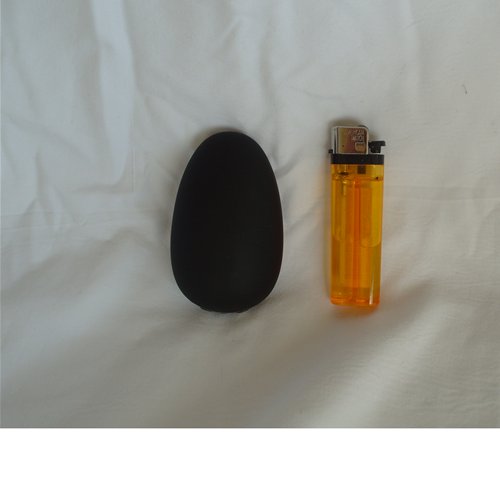 Mimi is 3 inches long and 2 inches wide. She is ¾ of an inch thick throughout her whole body. No curves or bulges here. She resembles a massage stone or a flattened out egg. Her control area is 2 inches wide, on her bottom is her + / ~ / - buttons. The plus and minus buttons are raised but the middle ~ button is level with her and has to be depressed to change her vibe patterns. These buttons can be tricky at times. You press the + button to turn her on and to increase the intensity of the vibrations and you press the - button to turn down the vibrations and to turn her off. The ~ button in the middle is to change her vibe patterns. You have to cycle through her patterns to get to your favorite.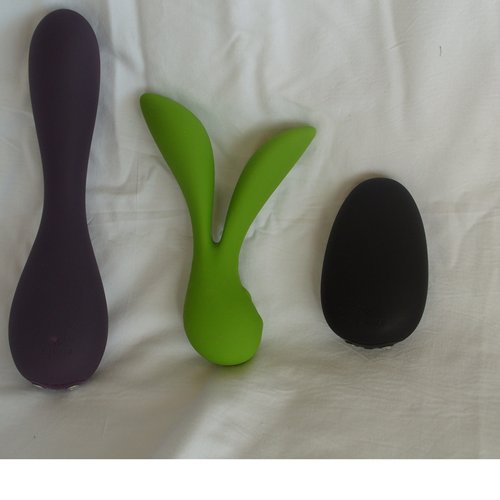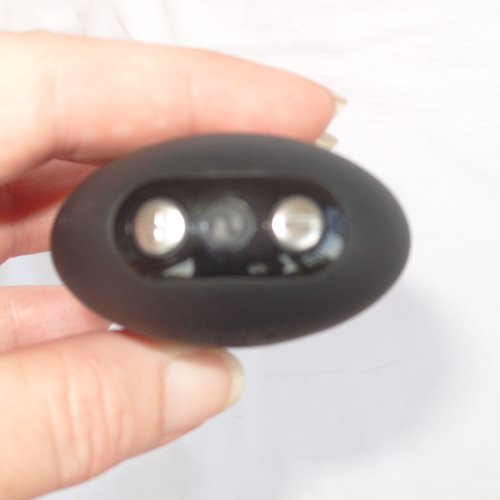 Mimi has 5 vibe settings from weak to strong and her strong is very strong almost to the point of Hitachi strong. She has 5 different patterns. Long pulse, Short pulse, Roller coaster, Fast steady Pulsing, and even faster Pulsing.
Mimi is made of a matte finish silicone, She doesn't have any textures, just smooth. She has an Eden safety rating of 10. She is food grade, hypoallergenic, latex and phthalates free. Mimi does have some drag due to the matte finish so just a touch of water based lube takes care of it. Please don't use any silicone lubes on her as it can hurt her finish. Mimi doesn't come with any tastes or odors. She comes in a choice of purple, pink, lilac, and black. I chose black since she is my first black toy. Mimi doesn't collect lint and hair the way that you would expect the silicone toys to do. She needs to be kept from other silicone toys as she very well try to mate with them and it could also injure her finish.
Mimi cleans up easily with antibacterial soap and water, toy sprays, and Eden wipes. She is easy to clean since she is so smooth. She is completely waterproof. You can use her anywhere. Do not boil her or put her in the dishwasher as this may injure her internal workings.
Mimi is rechargeable so you don't have to worry about any battery issues such as running out of batteries or filling up land fills. She comes with a 54 inch long magnetic charging cable. You simply put the charging piece up to her and she grabs onto it. She takes approximately 2 hours to charge and she does for hours. She doesn't have any loss of power with usage. When she is charging she has a light that flashes and when she is fully charged her light stays constant. The light goes away after you disconnect the power cord. The Je Joue power cables are all the same and you can use one to charge all of your toys.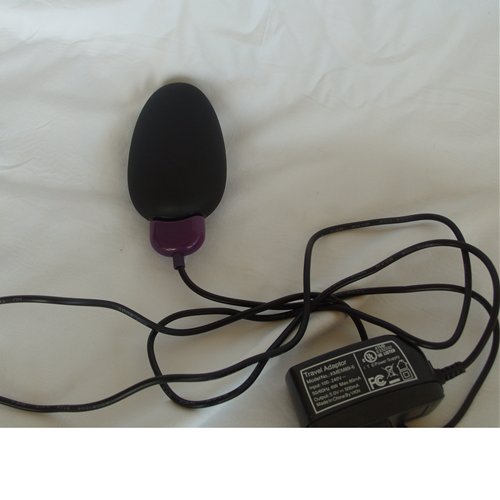 Mimi is travel friendly, she can fit in your pocket or even a small change purse. If TSA did know what she is for I really wouldn't care because she would be a great travel companion. Due to the way you depress her buttons, which can be a pain at times, it would be difficult for Mimi to turn on my herself.
Mimi comes dressed in a classy black box held with a ribbon tie. She has an outer sleeve that states "Vibrate MORE" and this she does.
Experience
Uma's half sister or the magic jumping bean that found it's way into my pants!

Mimi is a sweet little sister to Uma, they both come from the Je Joue family. Unlike Uma, who is fairly quiet, Mimi takes after me and she is loud! She can be heard through the sheets but not through the door. She likes to make noises to left everyone know that she is having a good time. She is rumbly with some powerful vibrations. I found that when I set her on the counter she can do jumping tricks hence the reference to the Jumping Bean. Her entire being rumbles, no pinpoint concentration of power. She is literally half the size of Uma as seen in the photos. Mimi works great all over my body and I actually use it on my husbands sore shoulder at times, she is multipurpose.
Follow-up commentary
4 months after original review
Still one of my top clitoral vibes, have loved it for months. It sits on the night stand and never gets put away. I would suggest it for all toy users.
This product was provided at a discounted price in exchange for an unbiased review. This review is in compliance with the FTC guidelines.

Thank you for viewing
MiMi
– sex toy review page!